Extended 14-core schematic diagram mapping prostate biopsy increases both the cancer detection rate and the accuracy of Gleason Score
Keywords:
Extended 14-core schematic diagram mapping, prostate biopsy increases, cancer detection rate
Abstract
Objective:  To evaluate the effectiveness of extended 14-core schematic diagram mapping prostate biopsy for improving the cancer detection rate (CDR) and
accuracy of Gleason score.
Material and Method:  This study included 184 patients who underwent transrectal ultrasound (TRUS)-guided lateral sextant biopsy (group I) and 196 patients who underwent extended 14-core biopsy (group II). Inclusion criteria for prostate biopsy were elevated serum prostate-specific antigen (PSA) levels (>4.0 ng/ml) and/or suspicious digital rectal examination (DRE).
Results:  Median patient age was 69.68 years (± 7.89) and 70.07 years (± 8.83) for group I and II, respectively. Median pre-biopsy PSA was 18.04 (range: 8.42-22.35) and 15.83 ng/ml (range: 6.54-21.72) for group I and II. Out of the first group, 65 (35.3%) patients had prostate cancer, whereas 78 (40.0%) patients of group II had cancers. The overall cancer detection rate was significantly higher in group II (40.0%) than group I (35.3%), p=0.034, and in particular showed a significant
increase in the cancer detection rate in the subgroup with PSA level between 4-10 ng/ml. Moreover, rising Gleason sum after radical prostatectomy was 1 in 3
(11.1%) patients and 2 in 1 (3.7%) patient.
Conclusion:  Extended 14-core schematic diagram mapping prostate biopsy significantly increased the cancer detection rate of prostate cancer and increased
the accuracy of biopsy Gleason score. Thus, schematic diagram mapping prostate biopsy should be the standard ultrasound guided prostate biopsy in our institute for increasing the cancer detection rate and also for planning treatments.
Downloads
Download data is not yet available.
References
Hodge KK, Mcneal JE, Terris MK, Stamey TA. Random systematic versus directed ultrasound guided transrectal core biopsies of the prostate. J Urol 1989;142:71-5.
Brawer MK. Prostate specific antigen: current status. CA Cancer J Clin 1999;49:264-8.
Norberg M, Egevad L, Holemberg L, Sparen P, Norlen BJ, Busch C. The sextant protocol for ultrasound-guided core biopsies of the prostate underestimates the presence of cancer. Urology 1997;50:562-6.
Ellis WJ, Brawer MK. Repeat prostate needle biopsy: who needs it? J Urol 1995;153:1496-8.
Chen ME, Troncoso P, Jhonston DA, Tang K, Babaian RJ. Optimization of prostate biopsy strategy using computer based analysis. J Urol 1997;158: 2168-75.
BluteML, Bergstralh EJ, Iocca A, Scherer B, zincka H. Use of Gleason score, Prostate specific antigen, seminal vesicle and margin status to predict biochemical failure after radical prostatectomy. J Urol 2001;165:119-23.
Djavan B, Kadesky K, Klopukh B, Marberger M, Roehrborn CG. Gleason scores from prostate biopsies obtained with 18-gauge biopsy needles poorly predict Gleason scores of radical prostatectomy specimens. Eururol 1998;33:261-70.
Eskew LA, Bare RL, McCullough DL. Systematic 5 region prostate biopsy is superior to sextant method for diagnosing carcinoma of the prostate. JUrol 1997;157:199-203.
Cupp MR, Bostwick DG, Myers RP, Oesterling JE. The volume of prostate cancer in the biopsy specimen cannot reliably predict the quantity of cancer in the radical prostatectomy specimen on an individual basis. J Urol 1995;153:1543-8.
Gardner TA, Lemer ML, Schlegel PN. Microfocal prostate cancer: biopsy cancer volume does not predict actual tumor volume. Br J Urol 1998;81:839-43.
Qayyum T, Willder JM, Horgan PG, Edwards J, Underwood MA. Pathological Correlation between Number of Biopsies and Radical Surgery: Does It Make a ifference to Final Pathology? Curr Urol 2013;7:24-7.
Bulbul MA, El-Hout Y, Haddad M, Tawil A, Houjaij A, Diab NB, et al. Pathological correlation between needle biopsy and radical prostatectomy specimen in atients with localized prostate cancer. CUAJ 2007;1:264-6.
Ruijter ET, van de Kaa CA, Schalken JA, Debruyne FM, Ruiter DJ. Histological grade herogeneity in multifocal prostate cancer. Biological and clinical implications. J Pathol 1996;180:295-9.
Haggman M, Nordin B, Mattson S, Busch C. Morphometric studies of intra-prostatic volume relationships in localized prostatic cancer. Br J Urol 1997;80:612-7.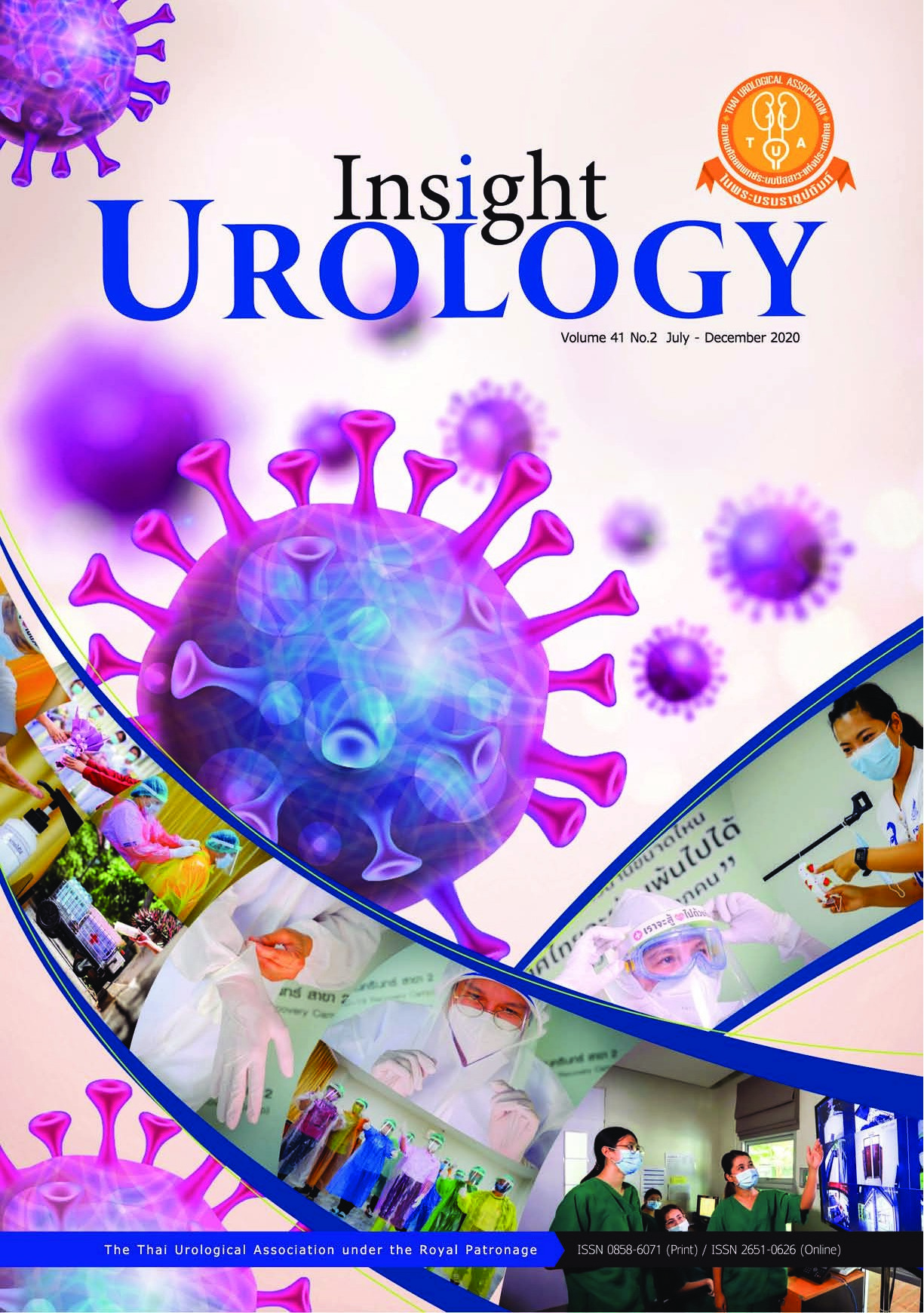 Downloads
How to Cite
Nravejsakul, K., Na song-kha, B., Raksakul, W., Wongumpornwat, T., & Nuanthaisong, U. (2020). Extended 14-core schematic diagram mapping prostate biopsy increases both the cancer detection rate and the accuracy of Gleason Score. Insight Urology, 41(2), 75–80. Retrieved from https://he02.tci-thaijo.org/index.php/TJU/article/view/247858