Experience of Maharaj Nakorn Chiang Mai Hospital in extravesical ureteral reimplantation for vesicoureteral reflux in pediatric patients
Keywords:
Extravesical, ureteral, reimplantation, vesicoureteral reflux, pediatric
Abstract
Objective: The most commonly used technique for vesicoureteral reflux (VUR) treatment in pediatric patients in Maharaj Nakorn Chiang Mai Hospital is extravesical ureteral reimplantation (EUR). This report describes our experience of clinical outcomes of this technique.
Materials and Methods: A total of 30 children underwent EUR for unilateral and bilateral VUR between July 2007 and June 2015. We retrospectively reviewed their medical records. Patient characteristics, operative time, duration of catheter drainage, length of postoperative hospital stay, and perioperative complications were evaluated.
Results: Twenty-two boys and 8 girls with a mean age of 4.4 years (range, 0.5-14.6) were included in the study. Reflux was graded 1 to 5. Fourteen unilateral and 16 bilateral procedures were performed. A Pfannenstiel incision was implemented in the first 20 cases and inguinal incision in the last 10 cases. Mean operative time was 115.5 minutes. Mean duration of catheter insertion was 5.7 days. Mean length of postoperative hospital stay was 6.1 days and mean estimated blood loss was 28.7 ml. Overall success rate was 90%. One patient (3.3%), developed a post- operative urinary tract infection, while 3 cases had persistent VUR after surgery. Acute urinary retention occurred in 1 patient (3.3%) on postoperative day 4 but following catheterization the patient was able to urinate by day 7.
Conclusion: EUR for the treatment of VUR is a simple, safe, and effective procedure. The prevalence of postoperative urinary retention in bilateral reimplantation is low and transient. The inguinal approach is a viable option and as effective as classical procedures.
Downloads
Download data is not yet available.
References
Stansfeld JM. Clinical observations relating to incidence and etiology of urinary tract infections in children. Br Med J 1966;1:631-5.
Olbing H, Claësson I, Ebel K, Seppänen U, Smellie JM, Tamminen-Möbius T, et al. Renal scars and parenchymal thinning in children with vesicoureteral reflux: a 5-year report of the International Reflux Study in Children (European branch). J Urol 1992;148:1653-6.
Elder JS, Peters CA, Arant Jr BS, Ewalt DH, Haw- trey CE, Hurwitz RS, et al. Pediatric Vesicoureteral Reflux Guidelines Panel summary report on the management of primary vesicoureteral reflux in children. J Urol 1997;157:1846-51.
Paquin AJ. Ureterovesical anastomosis: the description and evaluation of a technique. J Urol 1959;82:573-83.
Austin JC, Cooper CS. Vesicoureteral reflux: surgical approaches. Urol Clin North Am 2004;31:543-57.
Belman AB. A perspective on vesicoureteral reflux. Urol Clin North Am 1995;22:139-50.
Houle AM, McLorie GA, Heritz DM, McKenna PH, Churchill BM, Khoury AE, et al. Extravesical non-dismembered ureteroplasty with detrusorrhaphy: A renewed technique to correct vesicoureteral reflux in children. J Urol 1992;148:704-9.
Wacksman J, Gilbert A, Sheldon CA. Results of the renewed extravesical reimplant for surgical correction of vesicoureteral reflux. J Urol 1992;148:359-61.
Fung LCT, McLorie GA, Jain U, Khoury AE, Churchill BM. Voiding efficiency after ureteral reimplantation: A comparison or extravesical and intravesical techniques. J Urol 1995;153:1972-5.
Lapointe SP, Barrieras D, Leblanc B, Williot P. Modified Lich-Gregoir ureteralreimplantation: experience of a Canadian center. J Urol 1988;159:1662-4.
Lich R, Jr, Howerton LW, Davis LA. Recurrent urosepsis in children. J Urol 1961;86554.
Gregoir W, Schulman CC. Extravesical antirefluxplasty. Urologe A 1977;16:124-7.
Heimbach D, Bruhl P, Mallmann R. Lich-Gregoir antireflux procedure; indications and results with 283 vesicoureteral units. Scand J Urol Nephrol 1995;29:311-6.
Austin JC, Cooper CS. Vesicoureteral reflux: surgical approaches. Urol Clin North Am 2004;31:543-57.
King LR. The development of the management of vesicoureteralreflux in the USA. BJU Int 2003; 92:4-6.
Ellsworth PI, Merguerian PA. Detrusorraphy for the repair of vesicoureteral reflux: comparison with the Leadbetter-Politano ureteroneocystostomy. J Pediatr Surg 1995;30:600-3.
Schwentner C, Oswald J, Lunacek A, Deibl M, Koerner I, Bartsch G, et al. Lich-Gregoir Reimplantation Causes Less Discomfort than Politano-Leadbetter Technique: Results of a Prospective, Randomized, Pain Scale-Oriented Study in a Pediatric Population. Eur Urol 2005;49;388-95.
Antoine E, Darius J. Vesicoureteral Reflux. In: Wein AJ, Kavoussi LR, Novick AC, Partin AW, Peters CA, editor. Campbell-Walsh Urology. 10th ed. Philadelphia: Elsevier Saunders; 2011. p. 3267-38.
Palmer JS. Bilateral extravesical ureteral reimplantation in toilet-trained children: short-stay procedure without urinary retention. J Pediatr Urol 2009;2:285- 8.
Zaontz MR, Maisels M, Sugar EC, Firlit CF. Detrusorrhaphy: extravesical ureteral advancement to correct vesicoureteral reflux in children. J Urol 1987;138:947-9.
David S, Kelly C, Poppas DP. Nerve sparing extravesical repair of bilateral vesicoureteral reflux: description of technique and evaluation of urinary retention. J Urol 2004;172:1617-20.
Chen HW, Yuan SF, Lin CJ. Ureteral reimplantation for vesicoureteral reflux: comparison of minimally
invasive extravesical with transvesical and conventional extravesical techniques. J Urol 2004;63;364-8.
Wiygul J, Palmer LS. The inguinal approach to extravesical ureteral reimplantation is safe, effective, and efficient. J Pediatr Urol 2011;7:257-60.
Semmard S. Chaiyaprasithi B. Pneumovesicoscopic Cohen's Cross-trigonal Ureteral Reimplantation for Primary Vesicoureteral Reflux in Children: a Siriraj Hospital 8-year Review. Thai J Urol 2016;37:7-11.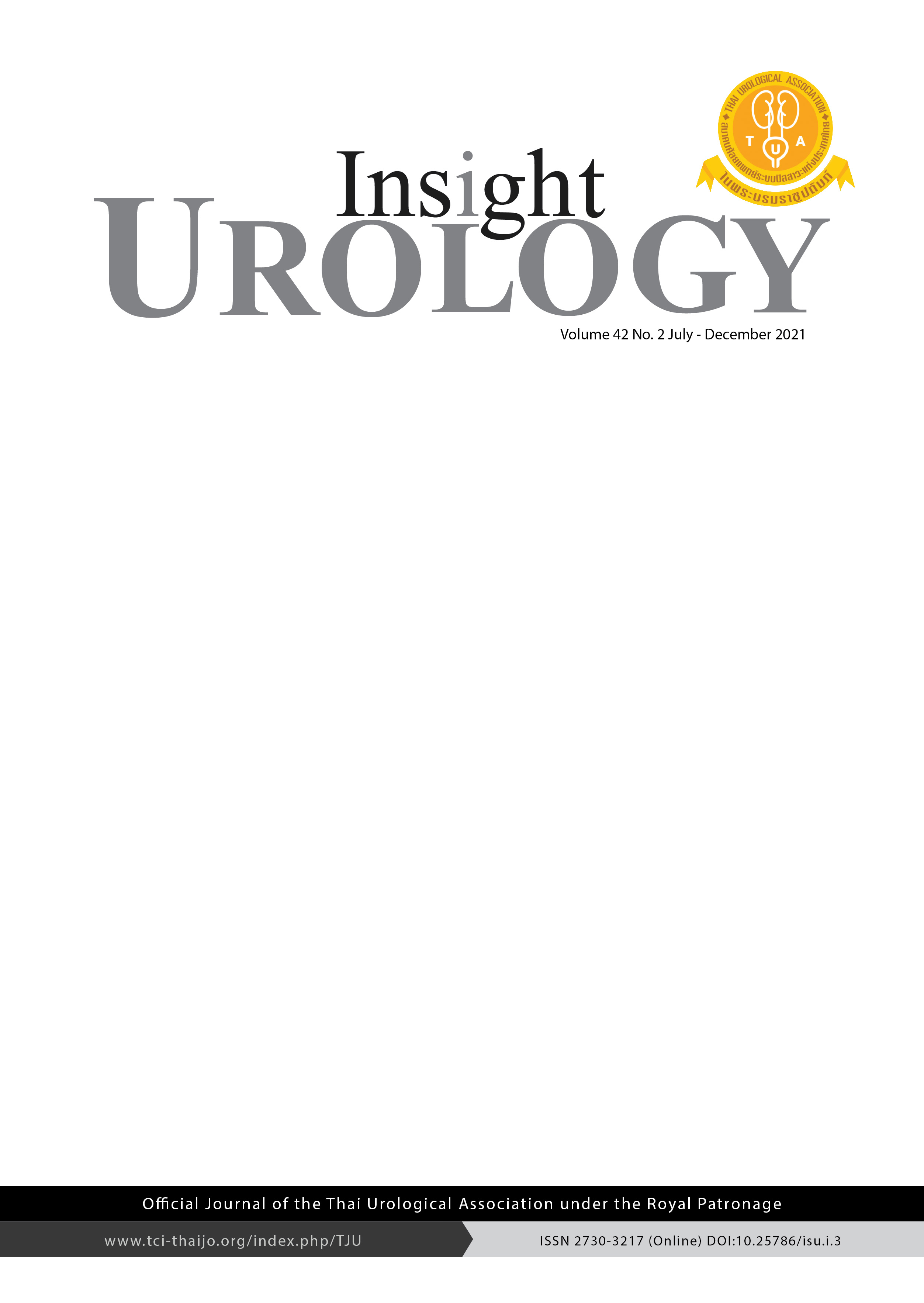 Downloads
How to Cite
Rawiyotai, W., Mahawong, P. ., & Chongruksut, W. (2021). Experience of Maharaj Nakorn Chiang Mai Hospital in extravesical ureteral reimplantation for vesicoureteral reflux in pediatric patients. Insight Urology, 42(2), 90–96. https://doi.org/10.52786/isu.a.29