Etoricoxib Compared with Fentanyl During Extracorporeal Shock Wave Lithotripsy (ESWL)
Keywords:
Etoricoxib, Fentanyl, Extracorporeal Shock Wave Lithotripsy (ESWL)
Abstract
Objective: The purpose of this study is to compare visual pain score and impression out- come between Etoricoxib and Fentanyl during ESWL.
Method: A total of 31 patients scheduled for ESWL received one type of analgesic, either Etoricoxib 120 milligram orally 30 minutes before ESWL or Fentanyl 1 microgram / kilogram intravenously at the beginning of ESWL and change to another in next ESWL session. We com- pared visual pain score, side effect and impression outcome during ESWL.
Results: This study showed no significant difference in the mean of visual pain score be- tween both analgesic drugs (Etoricoxib =5.39, Fentanyl = 6.00; p = 0.227). But in 21 patients (67.74%) had better impression outcome and prefered Etoricoxib for the third ESWL session.
Conclusion: Etoricoxib 120 milligram orally is another alternative for pain control during ESWL. Etoricoxib had equivalent outcome in pain control but more convenient in oral form and had lesser side effect when compared to Fentanyl.
Downloads
Download data is not yet available.
References
Elhilali, Mostafa M, Stoller, et al. Effectiveness and safety of the dornier compact lithotriptor: An evaluative multicenter study. J Urol 1996; 155: 834-8.
Painter, Daniel J, Keeley, et al. New concepts in the treatment of ureteral calculi. Curr Opin Urol. 2001; 11(4): 373-8.
Logarakis, Nick F, Jewett, et al. Variation in clinical outcome following shock wave lithotripsy. J Urol 2000; 163: 721.
Rasmussen YH, Dahl C, Analgesic requirements for ESWL treatment. A double blind study. Scand J Urol Nephrol 1994; 28: 225-7.
Schelling, Gustav, Weber, et al. Patient controlled analgesia for shock wave lithotripsy: The effect of self-administered alfentanil on pain intensity and drug requirement. J Urol 1996; 155: 43-7.
Beloeil H, Corsia G, Coriat P, and Riou B. Remifentanil compared with sufentanil during extracorporeal shock wave lithotripsy with spontaneous ventilation: a Double-blind, Randomized Study. British Journal of Anaesthesia 2002; 89: 567-70.
Ozcan S, Yilmaz E, Buyukkocak U, et al. Comparison of three analgesics for extracorporeal shock wave lithotripsy. Scand J Urol Nephrol 2002; 36; 281-5.
MalmstromK,KoteyP,DesjardinP.J.Arandomized,double-blind,parallel-groupstudycomparingtheanalgesiceffectofetoricoxib to placebo, naproxen sodium, and acetaminophen with codeine using the dental impaction pain model. Clin J Pain 2004; 20: 147- 55.
Curtis S.P, Jennifer, Reicin A.S, et al. Renal effects of etoricoxib and comparator nonsteroidal anti-inflammatory drugs in controlled clinical trials. Clinical Therapeutics 2004; 26: 70-83.
Hunt R.H, Harper S, Rashid F, et al. Complementary studies of the gastrointestinal safety of the cyclo-oxygenase-2-selective inhibitor etoricoxib. Aliment Pharmacol Ther 2003; 17: 201-10.
Tritrakarn T, Lertakyamanee J, Soontrapa S, et al. Both EMLA and placebo cream reduced pain during extracorporeal piezoelectric shock wave lithotripsy with the piezolith 2300. Anesthesiology 2000; 92(4): 1049-54.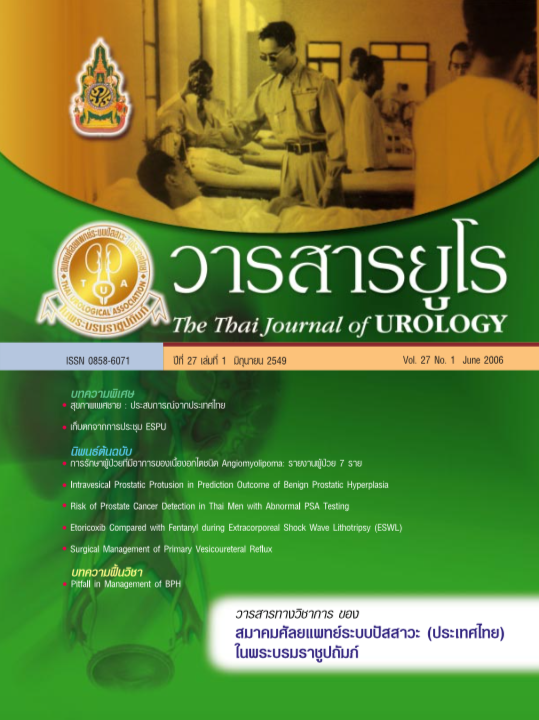 Downloads
How to Cite
Cheewaitsarakul, P., Chaiyaprasithi, B., & Soontrapa, S. (2006). Etoricoxib Compared with Fentanyl During Extracorporeal Shock Wave Lithotripsy (ESWL). Insight Urology, 27(1), 30–33. Retrieved from https://he02.tci-thaijo.org/index.php/TJU/article/view/253747