Perioperative results and complications of living donor nephrectomy in Ramathibodi Hospital
Keywords:
Living Donor Nephrectomy, complication, Perioperative results, การผ่าตัดไตในผู้บริจาคที่มีชีวิต, ภาวะแทรกซ้อน, ผลการผ่าตัด
Abstract
Objective: To determine perioperative results and complications in patients who underwent laparoscopic donor nephrectomy (LDN) compared with open donor nephrectomy (ODN).
Material and methods: We retrospectively reviewed the medical records of living donor nephrectomies between January 2006 and December 2015 for perioperative results and complications.
Results: All 333 living donor nephrectomies were performed successfully, including 183 LDNs and 150 ODNs. There was no statistically significant difference in demographic data. LDNs had a shorter length of hospital stay (4.6 vs 5.3 days, p-value 0.002) and less operative blood loss (100 vs 250 ml, p-value < 0.001) than ODNs. However, ODNs had shorter warm ischemic time (2.2 vs 4.1 minutes, p-value < 0.001) and operative time (146.2 vs 180.1 minutes, p-value < 0.001). Perioperative complications that occurred in these donors included 6 cases of vascular injury, 4 cases of kidney injury, 7 cases of acute renal failure, 2 cases of chyle leaks, 3 cases of anemia with blood transfusion, and 9 cases of miscellaneous complications. None of the living donors died or required re-operation with a mean length of hospital stay of 7.4 days.
Conclusion: Living donor nephrectomy has minimal adverse effects on overall health donor status, although major complications may occur. There was no statistically significant difference between LDN and ODN in terms of complications. Therefore, living donor nephrectomy is a safe and feasible surgical procedure.
การผ่าตัดและภาวะแทรกซ้อนของผู้ป่วยที่ให้การบริจาคไต ในโรงพยาบาลรามาธิบดี
กิตติวุฒิ วุ่นดี, พชรพงศ์ เจนจิตรานันท์, เปรมสันติ์ สังฆ์คุ้ม, เจริญ ลีนานุพันธุ์, กิตติณัฐ กิจวิกัย, วิทย์ วิเศษสินธุ์, ปกเกศ ศิริศรีตรีรักษ์, วิสูตร คงเจริญสมบัติ
หน่วยศัลยศาสตร์ระบบปัสสาวะ ภาควิชาศัลยศาสตร์ คณะแพทยศาสตร์ โรงพยาบาลรามาธิบดี มหาวิทยาลัยมหิดล กรุงเทพ ฯ
บทคัดย่อ
วัตถุประสงค์: เพื่อวิเคราะห์ผลการผ่าตัดและภาวะแทรกซ้อนของผู้ป่วยที่ให้การบริจาคไตแบบส่องกล้องช่วยการผ่าตัด และ การผ่าตัดแบบเปิด
ผู้ป่วยและวิธีการศึกษา: ศึกษาข้อมูลผลการผ่าตัดและภาวะแทรกซ้อนของผู้ป่วย แบบย้อนหลังจากแฟ้มข้อมูลทางการแพทย์ ของผู้ป่วยที่ให้การบริจาคไตระหว่างมกราคม พ.ศ. 2549 ถึง พ.ศ. 2558
ผลการศึกษา: ผู้ป่วยซึ่งได้รับการผ่าตัดเพื่อบริจาคไต จำนวน 333 คน ได้รับการผ่าตัดแบบส่องกล้องช่วยผ่าตัด 183 คน และ ผ่าตัดแบบเปิด 150 คน โดยข้อมูลที่มีความแตกต่างทางสถิติ ได้แก่ จำนวนวันนอนโรงพยาบาล พบว่า การผ่าตัดแบบส่องกล้อง ช่วยผ่าตัดและการผ่าตัดแบบเปิด มีระยะเวลา 4.6 และ 5.3 วันตามลำดับ (p-value 0.002) การศึกษาข้อมูลการเสียเลือดระหว่าง การผ่าตัด พบว่า การผ่าตัดแบบส่องกล้องช่วยผ่าตัดและการผ่าตัดแบบเปิด มีการเสียเลือด 100 และ 250 มิลลิลิตร ตามลำดับ (p-value < 0.001) สำหรับสภาวะขาดเลือดที่อุณหภูมิปกติระหว่างการผ่าตัด พบว่า การผ่าตัดแบบเปิดใช้เวลา 2.2 นาที และ การผ่าตัดแบบส่องกล้องช่วยผ่าตัด ใช้เวลา 4.1 นาที (p-value < 0.001) ส่วนระยะเวลาการผ่าตัด การผ่าตัดแบบเปิดใช้เวลา 146.2 นาที และการผ่าตัดแบบส่องกล้องช่วยผ่าตัด ใช้เวลา 180.1 นาที (p-value < 0.001) ส่วนภาวะแทรกซ้อนของผู้ป่วยที่ เกิดขึ้น ได้แก่ การบาดเจ็บต่อหลอดเลือดใหญ่ 6 ราย, การบาดเจ็บต่อไต 4 ราย, ภาวะไตวายฉับพลัน 7 ราย, ภาวะน้ำเหลืองรั่ว 2 ราย, ภาวะซีดต้องให้เลือด 3 ราย และภาวะแทรกซ้อนเพียงเล็กน้อย 9 ราย ซึ่งภาวะแทรกซ้อนที่เกิดขึ้นทั้งหมดนั้น ไม่มีผู้ป่วย เสียชีวิตและต้องได้รับการผ่าตัดใหม่ โดยมีค่าเฉลี่ยของการนอนโรงพยาบาลของผู้ป่วยที่เกิดภาวะแทรกซ้อน 7.4 วัน
สรุป: การผ่าตัดไตในผู้บริจาคที่มีชีวิต มีผลกระทบเพียงเล็กน้อยต่อสุขภาพโดยรวมของผู้บริจาค ถึงแม้จะเกิดภาวะแทรกซ้อน ที่สำคัญขึ้น แต่ไม่มีความแตกต่างทางด้านสถิติระหว่างการผ่าตัดแบบส่องกล้องช่วยผ่าตัด และการผ่าตัดแบบเปิด ดังนั้น การ ผ่าตัดไตในผู้บริจาคที่มีชีวิต เป็นการผ่าตัดที่ทำได้และมีความปลอดภัย
Downloads
Download data is not yet available.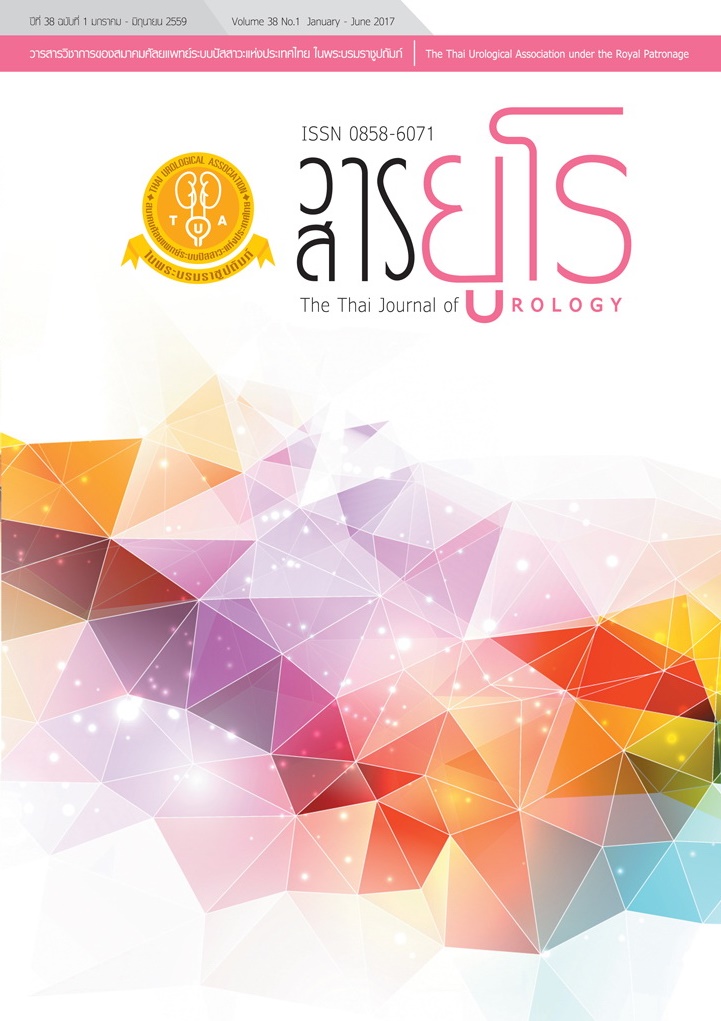 Downloads
How to Cite
Wundee, K., Jenjitranant, P., Sangkum, P., Lee-nanupunth, C., Kijvikai, K., Viseshsindh, W., Sirisreetreerux, P., & Khongcharoensombat, W. (2017). Perioperative results and complications of living donor nephrectomy in Ramathibodi Hospital. Insight Urology, 38(1), 11–19. Retrieved from https://he02.tci-thaijo.org/index.php/TJU/article/view/90693