Emergency Department Visits From Edible versus Inhalable Cannabis
Downloads
Download data is not yet available.
References
Nora D. Volkow, Ruben Baler. Emergency Department Visit From Edible Versus Inhalable Cannabis. Ann Intern Med. 2019;170:569 - 570. doi:10.7326/M19-0542.
Volkow ND, Baler RD, Compton WM, Weiss SR. Adverse health effects of marijuana use. N Engl J Med. 2014;370:2219 - 27. [PMID: 24897085] doi:10.1056/NEJMra1402309.
Gummin DD, Mowry JB, Spyker DA, Brooks DE, Osterthaler KM, Banner W. 2017 annual report of the American Association of Poison Control Centers' National Poison Data System (NPDS): 35th annual report. Clin Toxicol (Phila). 2018;56:1213 - 415. [PMID: 30576252] doi:10.1080/15563650.2018.1533727.
Monte AA, Shelton SK, Mills E, Saben J, Hopkinson A, Sonn B, et al. Acute illness associated with cannabis use, by route of exposure. An observational study. Ann Intern Med. 2019;170:531 - 7. doi:10.7326/M18-2809
Allen JH, de Moore GM, Heddle R, Twartz JC. Cannabinoid hyperemesis: cyclical hyperemesis in as sociation with chronic cannabis abuse. Gut. 2004;53:1566 - 70. [PMID: 15479672].
Volkow ND, Swanson JM. Variables that affect the clinical use and abuse of methylphenidate in the treatment of ADHD. Am J Psychiatry. 2003;160:1909 - 18. [PMID: 14594733].
Noble MJ, Hedberg K, Hendrickson RG. Acute cannabis toxicity. Clin Toxicol (Phila). 2019:1 - 8. [PMID: 30676820] doi:10.1080/15563650.2018.1548708.
Vandrey R, Raber JC, Raber ME, Douglass B, Miller C, Bonn-Miller MO. Cannabinoid dose and label accuracy in edible medical cannabis products. JAMA. 2015;313:2491 - 3. [PMID: 26103034] doi:10.1001/jama.2015.6613.
Stott CG, White L, Wright S, Wilbraham D, Guy GW. A phase I study to assess the effect of food on the single dose bioavailability of the THC/CBD oromucosal spray. Eur J Clin Pharmacol. 2013;69:825 - 34. [PMID: 23052407] doi:10.1007/s00228-012-1393-4.
Zgair A, Wong JC, Lee JB, Mistry J, Sivak O, Wasan KM, et al. Dietary fats and pharmaceutical lipid excipients increase systemic exposure to orally administered cannabis and cannabis-based medicines. Am J Transl Res. 2016;8:3448 - 59. [PMID: 27648135].
Damkier P, Lassen D, Christensen MMH, Madsen KG, Hellfritzsch M, Potte3rd A. Interaction between warfarin and cannabis. Basic Clin Pharmacol Toxicol. 2019;124:28 - 31. [PMID: 30326170] doi:10.1111/bcpt.13152.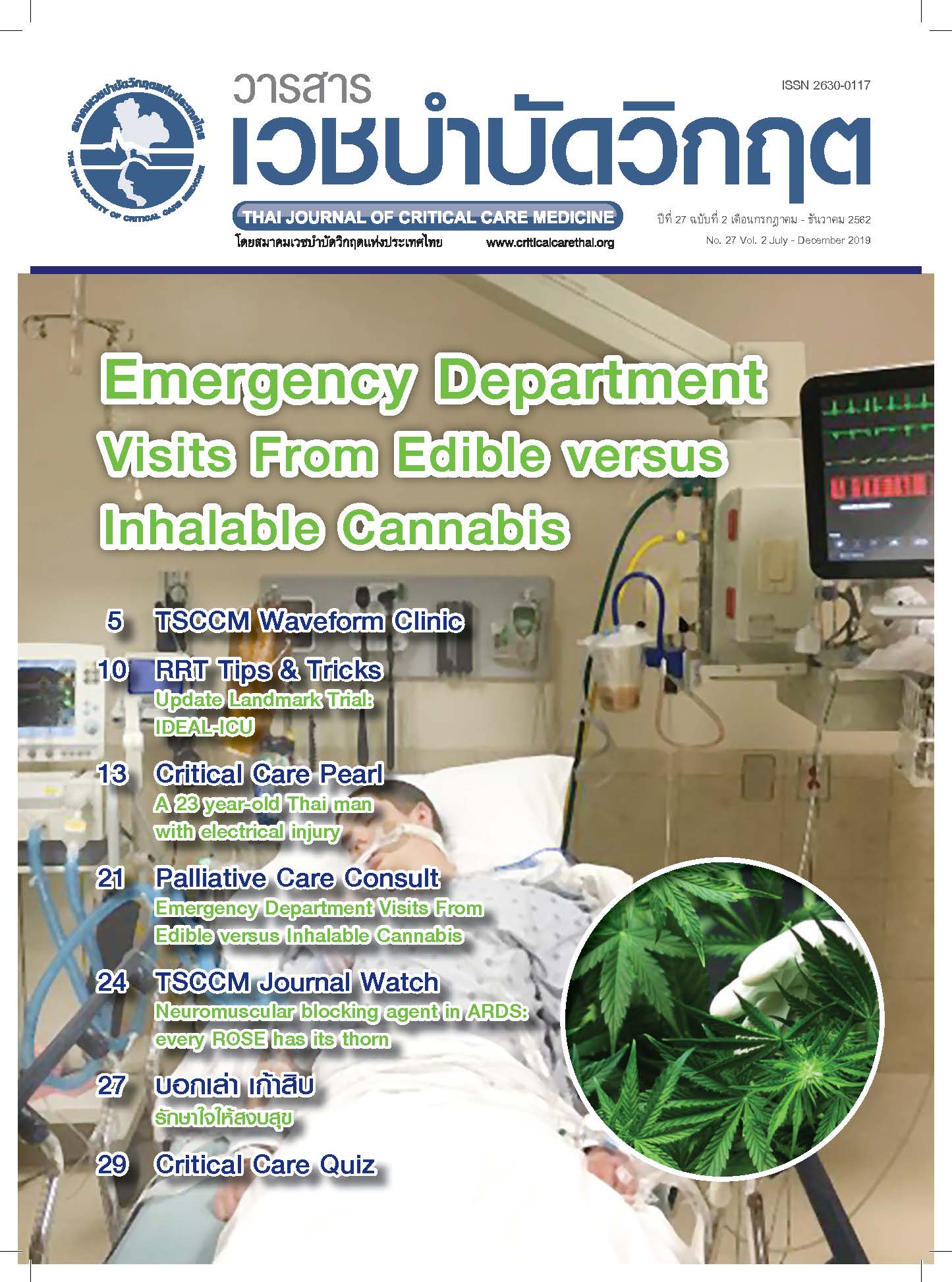 Downloads
How to Cite
1.
หมอกเจริญพงศ์ ฉ. Emergency Department Visits From Edible versus Inhalable Cannabis. Clin Crit Care [Internet]. 2019 Dec. 30 [cited 2023 Jun. 5];27(2):21-3. Available from: https://he02.tci-thaijo.org/index.php/ccc/article/view/250347
Section
Palliative Care Consult