Wearing a HAT for sepsis. Should we?
Downloads
Download data is not yet available.
References
Rudd KE, Johnson SC, Agesa KM, Shackelford KA, Tsoi D, Kievlan DR, et al. Global, regional, and national sepsis incidence and mortality, 1990 - 2017: analysis for the global burden of disea se study. Lancet 2020; 395: 200 - 211.
Seymour CW, Rea TD, Kahn JM, Walkey AJ, Yealy DM, Angus DC. Severe sepsis in pre-hospital emergency are. Am J Respir Crit Care Med 2012; 186: 1264 - 1271.
Reinhart K, Daniels R, Kissoon N, Machado FR, Schachter RD, Finfer S. Recognizing sepsis as a global health priority – A WHO resolution. N Engl J Med 2017; 377: 414 - 417.
Rhodes A, Evans LE, Alhazzani W, Levy MM, Antonelli M, Ferrer R, et al. Surviving sepsis campaign: International guidelines for management of sepsis and septic shock: 2016. Crit Care Med 2017 ; 45: 486 - 552.
Bulger EM, Maier RV. Antioxidants in critical illness. Arch Surg 2001; 136: 1201 - 1207.
Marik PE, Khangoora V, Rivera R, Hooper MH, Catravas J. Hydrocortisone, vitamin C, and thiamine for the treatment of severe sepsis and septic shock: a retrospective before-after study. Chest 2017; 151: 1229 - 1238.
Donnino MW, Carney E, Cocchi MN, Barbash I, Chase M, Joyce N, et al. Thiamine deficiency in critically ill patients with sepsis. J Crit Care 2010; 25: 576 - 581.
Rubin R. Wide interest in a vitamin C drug cocktail for sepsis despite lagging evidence. JAMA 2019; 322: 291 - 293.
Fowler AA 3rd, Truwit JD, Hite RD, Morris PE, DeWilde C, Priday A, et al. Effect of vitamin C infusion on organ failure and biomarkers of inflammation and vascular injury in patients with sepsis and severe acute respiratory failure: The CITRIS-ALI randomized clinical trial. JAMA 2019; 322: 1261 - 1270.
Fujii T, Luethi N, Young PJ, Frei DR, Easywood GM, French CJ, et al. Effect of vitamin C, hydrocortisone, and thiamine vs hydrocortisone alone on time alive and free of vasopressor support among patients with septic shock. The VITAMINS randomized clinical trial. JAMA 2020; 323: 423 - 431.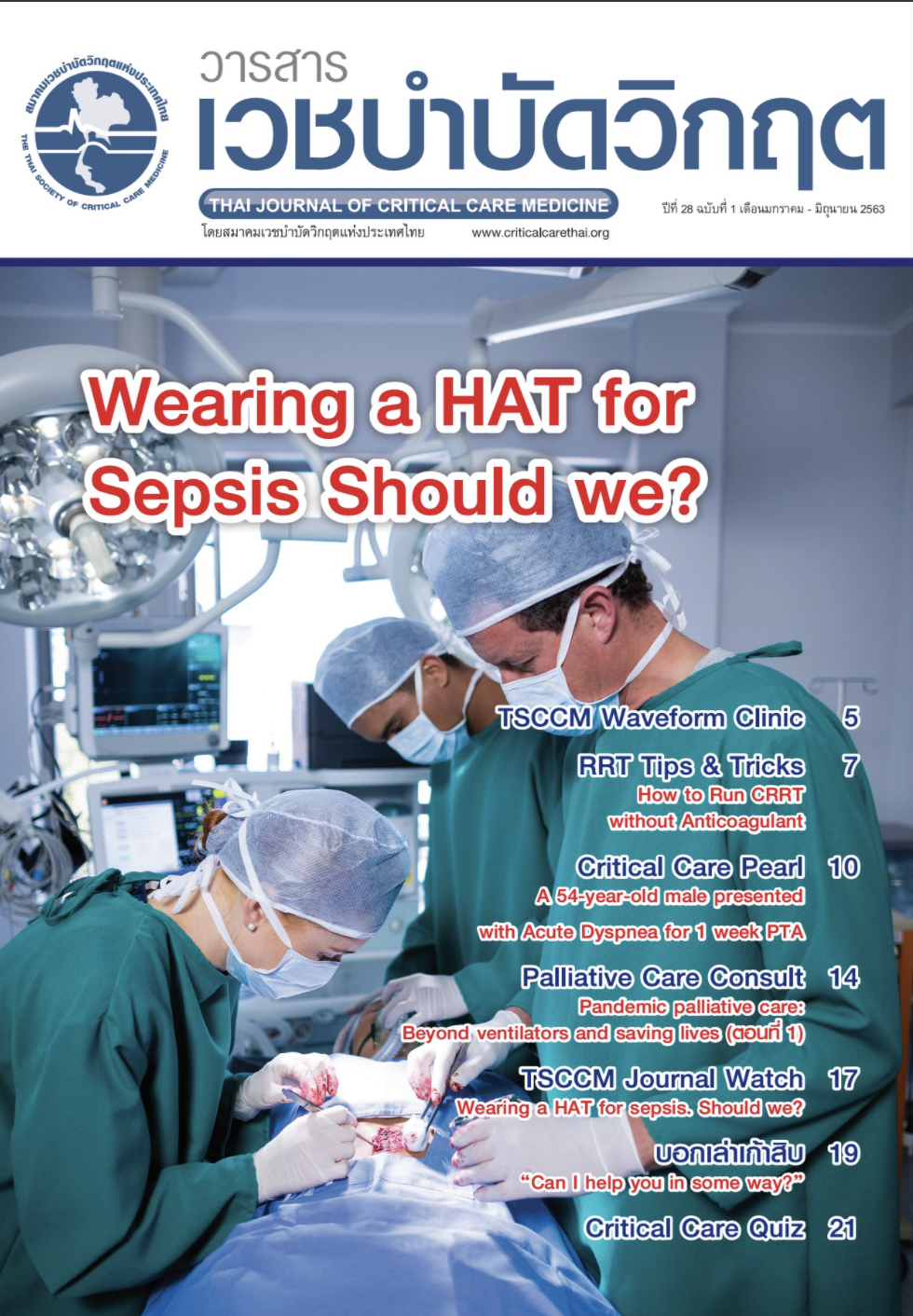 Downloads
How to Cite
1.
วัชรสินธุ์ เ. Wearing a HAT for sepsis. Should we?. Clin Crit Care [Internet]. 2020 Jun. 29 [cited 2023 Mar. 27];28(1):17-8. Available from: https://he02.tci-thaijo.org/index.php/ccc/article/view/250355
Section
TSCCM Journal Watch