ภาวะหัวใจหยุดเต้นกะทันหัน
Downloads
Download data is not yet available.
References
1. Deo R, Albert CM. Epidemiology and genetics of sudden cardiac death. Circulation 2012;125:620-37.

2. Perkins GD, Handley AJ, Koster RW, et al. European Resuscitation Council Guidelines for Resuscitation 2015: Section 2. Adult basic life support and automated external defibrillation. Resuscitation 2015;95:81-99.

3. Hua W, Zhang LF, Wu YF, et al. Incidence of sudden cardiac death in China: analysis of 4 regional populations. J Am Coll Cardiol 2009;54:1110-8.

4. Kitamura T, Iwami T, Kawamura T, et al. Nationwide improvements in survival from out-of-hospital cardiac arrest in Japan. Circulation 2012;126:2834-43.

5. Engdahl J, Holmberg M, Kalson BW, et al. The epidemiology of out-of-hospital 'sudden' cardiac arrest. Resuscitation 2002;52:235-45.

6. Writing Group Members, Mozaffarian D, Benjamin EJ, et al. Heart Disease and Stroke Statistics-2016 Update: A Report From the American Heart Association. Circulation 2016;133:e38-360.

7. Kitamura T, Iwami T, Kawamura T, et al. Nationwide public-access defibrillation in Japan. N Engl J Med 2010;362:994-1004.

8. Iwami T, Kawamura T, Hiraide A, et al. Effectiveness of bystander-initiated cardiaconly resuscitation for patients with outof-hospital cardiac arrest. Circulation 2007;116:2900-7.

9. American Heart Association. CPR & ECC Guidelines [Internet]. 2017 [updateed 2017 November; cited 2017 Dec 20]. Available from: URL : https://eccguidelines.heart.org/index.php/circulation/cpr-ecc-guidelines-2/

10. Chen M, Wang Y, Li X, et al. Public Knowledge and Attitudes towards Bystander Cardiopulmonary Resuscitation in China. Biomed Res Int 2017;2017:3250485.

11. Taniguchi T, Omi W, Inaba H. Attitudes toward the performance of bystander cardiopulmonary resuscitation in Japan. Resuscitation 2007;75:82-7.

12. Anderson ML, Cox M, AI-Khatib SM, et al. Rates of cardiopulmonary resuscitation training in the United States. JAMA Intern Med 2014;174(2):194-201.

13. Folke F, Lippert FK, Nielson SL, et al. Location of cardiac arrest in a city center: strategic placement of automated external defibrillators in public locations. Circulation 2009;120:510–7.

14. Valdes SO. Public Access Defibrillation Programs: Improving Outcomes Worldwide. J Am Heart Assoc 2015;4:e002631.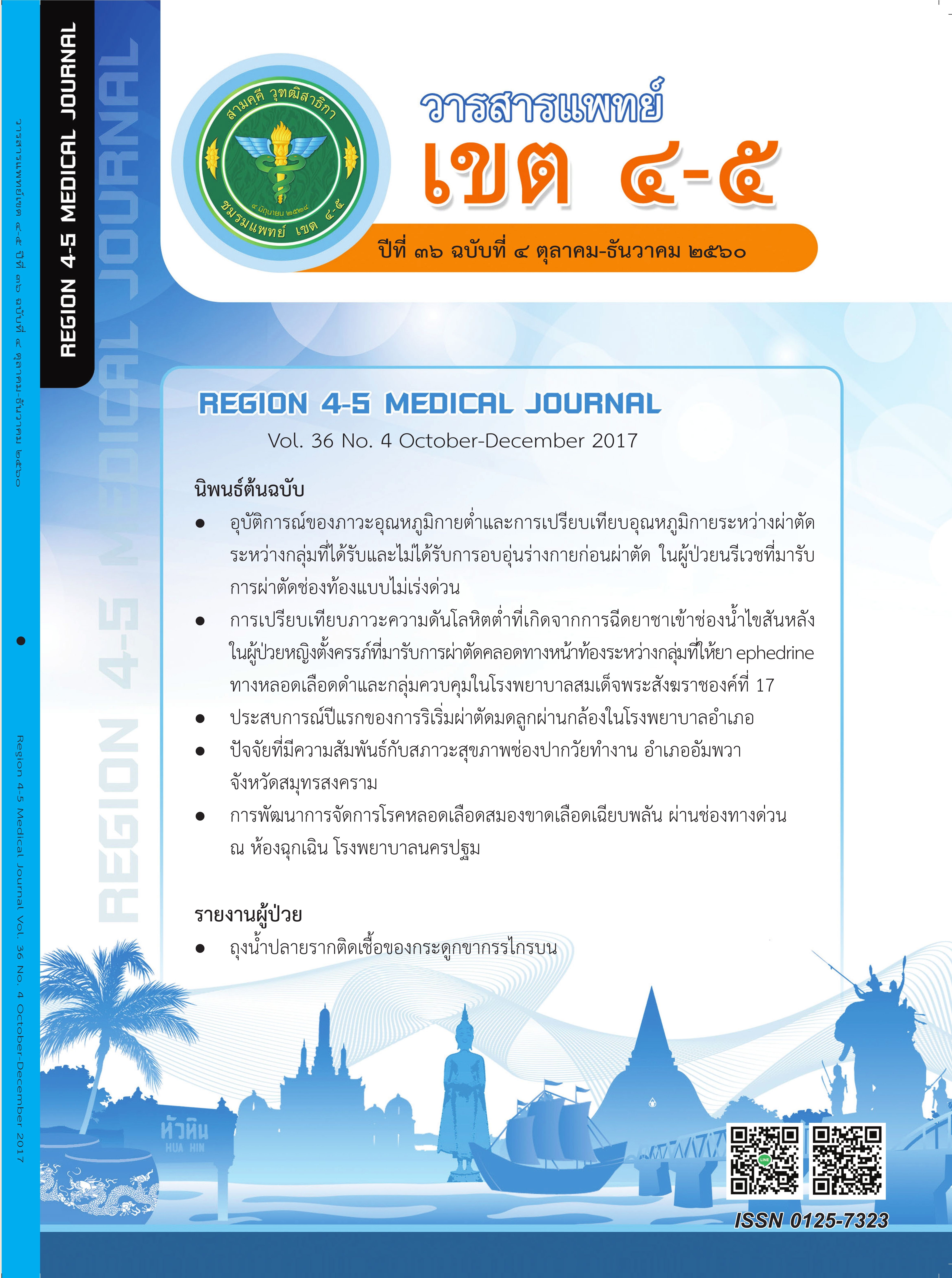 Downloads
License
ลิขสิทธิ์บทความเป็นของผู้เขียนบทความ แต่หากผลงานของท่านได้รับการพิจารณาตีพิมพ์ลงวารสารแพทย์เขต 4-5 จะคงไว้ซึ่งสิทธิ์ในการตีพิมพ์ครั้งแรกด้วยเหตุที่บทความจะปรากฎในวารสารที่เข้าถึงได้ จึงอนุญาตให้นำบทความในวารสารไปใช้ประโยชน์ได้ในเชิงวิชาการโดยจำเป็นต้องมีการอ้างอิงถึงชื่อวารสารอย่างถูกต้อง แต่ไม่อนุญาตให้นำไปใช้ในเชิงพาณิชย์