An assessment of the aerobic bacteria in chronic suppurative otitis media patients in Mahasarakham Hospital
Keywords:
Chronic suppurative otitis media, Bacteria, Antimicrobial sensitivity
Abstract
Objective: To understand the bacterial aetiology and antimicrobial susceptibility of chronic suppurative otitis media, witha view to identify better empirical treatment for chronic suppurative otitis media in Mahasarakham hospital.
Method: This descriptive, prospective, cross-sectional study was conducted in chronic suppurative otitis mediapatients attending the outpatient department of Mahasarakham hospital. Pus from middle ear was collectedusing sterile suction equipment, and sent for aerobic culture and antimicrobial sensitivity testing withdisk diffusion method. Antibiotic choice was based on oral and ototopical antibiotics commercially availablein Thailand.
Results: Within the study period, 92 patients were diagnosed with chronic otitis media. The most commonlyencountered organisms were Pseudomonas aeruginosa (31.17%), other Pseudomonas species (15.58%)and Klebsiella pneumoniae (10.39%). Staphylococcus aureus was found in only 9.09% of cases. Concerningantimicrobial sensitivity, Pseudomonas species were the most antibiotic-resistant. Gentamycin, ciprofl oxacin,ofl oxacin and polymyxin B showed good inhibition of bacteria on culture plates.
Discussion and conclusion: Organisms isolated in this study showed greater antibiotic resistance than those from previous studies in Thailand. Non-ototoxic ototopical ear drops currently available for the treatment of chronic suppurative otitis media did not cover the common causative organism well enough. Pseudomonas species werethe most common cause of chronic suppurative otitis media in the current study. The organisms appearto be more antibiotic-resistant than previous studies in Thailand have shown.
Key words: Chronic suppurative otitis media, Bacteria, Antimicrobial sensitivity
Downloads
Download data is not yet available.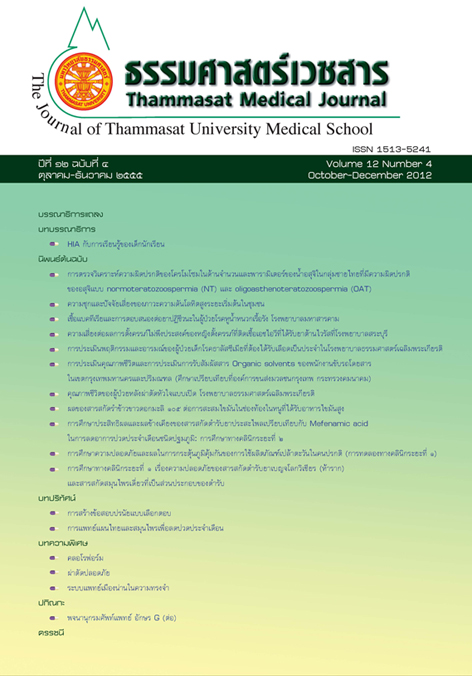 Downloads
Section
Original Articles