The comparative study of the effi cacy and side effect of Prasaplai extract versus Mefenamic acid on relieving primary dysmenorrhea.: A clinical phase II trials.
Keywords:
ประจำเดือน, ปวดประจำเดือน, สารสกัดตำรับยาประสะไพล, Menstruation, Dysmenorrhea, Prasaplai extract
Abstract
Objective: To study the effi cacy of pain relief and side effects of ethanolic extract of prasaplai on relieving primarydysmenorrhea comparing with mefenamic acid.
Method: Double blinded randomized controlled trial: clinical phase ll. The data was analyzed by descriptive andinferential statistics. The two group participants aged 18-25 years diagnosed primary dysmenorrhea bygynaecologist were suitable for inclusion criteria. First group was given prasaplai extract at dose 200mg x 2 capsules 3 times per day immediately after meals, 3 days before menstruation and continuedup to 5 days. Second group (control group) was given mefenamic acid 250 mg x 2 capsules 3 timesper day immediately after meals, 3 days before menstruation and continued up to 5 days.
Results: There were 64 volunteers who were recruited and randomly divided in 2 groups. The result revealedthe fi rst group (32 volunteers) was given prasaplai. The second group (27 volunteers) was givenmefenamic acid as there were 5 volunteers dropped out. After the two groups were completedmedication in 3 months, there were no change of other symptoms and signs. Blood chemistry, liverfunction test and renal function test showed within normal limit. The effi cacy of pain relief in givenprasaplai and mefenamic acid groups showed that the pain decrease was statistically signifi cant differentduring treatment and follow up, comparing with baseline (p < 0.05). Comparing the effi cacy of painreduction between both groups showed that the mean of pain level decreased with no signifi cantdifference. For side effects only occurred in mefenamic acid, especially gas pain and discomfort.In addition, the group was given prasaplai had no severe side effect. Only one case complainedof plai's smell.
Conclusion: The extract of prasaplai reduced dysmenorrhea as effective as mefenamic acid (with no signifi cantdifference) even stop medication for 1 month. Pain symptom and side effect in taken the extractvolunteers were less than mefenamic acid group.
Key words: Menstruation, Dysmenorrhea, Prasaplai extract
Downloads
Download data is not yet available.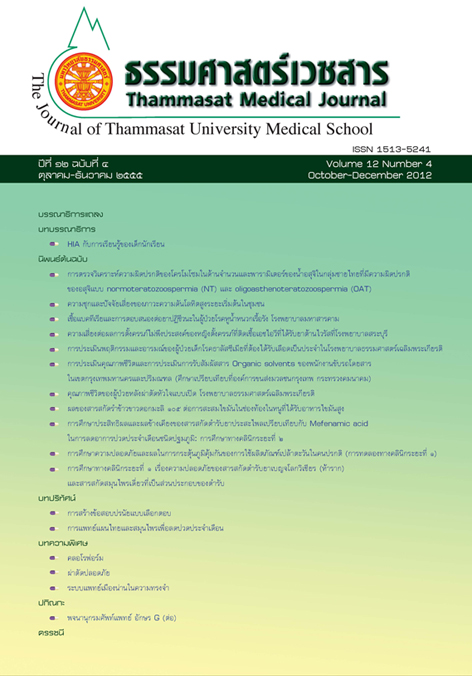 Downloads
Section
Original Articles