Cytotoxic activity of local Thai vegetables against breast and prostate cancer cells
Keywords:
Thai vegetables, Prostate cancer, Breast cancer, Cytotoxic activity
Abstract
Introduction: Nowadays ThaiHealth launched campaign to promote more consumption of vegetables and fruits. WHO recommends the intake of a minimum of 400 g of fruits and vegetables per day for the prevention of heart diseases and some types of cancer. The aim of this study was to evaluate the cytotoxic activity of popular local Thai vegetables.

Method: Forty kinds of Thai vegetables were selected. The fresh Thai vegetables were divided into 2 parts. The first part was squeezed and filtered. Then the filtrates were dried by freeze dryer (aqueous extract). The second part was extracted by maceration with 95% ethanol for 3 days and then filtered. The filtrates were evaporated by rotary evaporator. All the extracts were tested for
cytotoxic activity against the human breast (MCF-7) and prostate (PC3) cancer cell lines using sulforhodamine B (SRB) assay.

Results: The aqueous extract of Parkia timoriana seeds showed the highest cytotoxic activity against breast cancer cells followed by the ethanolic extract of Piper sarmentosum leaves with the
IC50 values as <1 and 7.77 μg/mL, respectively. For prostate cancer cells, 8 extracts exhibited high cytotoxic activity such as the ethanolic extracts of Anethum graveolens, P. sarmentosum leaves, Tiliacora triandra leaves, Solanum torvum fruits and Cratoxylum formosum, the aqueous extracts of Telosma minor flowers, P. timoriana fruits and Gnetum gnemon leaves with IC50
values were 2.80, 5.45, 9.09, 12.09, 12.32, 7.08, 9.85 and 13.77 μg/mL, respectively.

Conclusion: The aqueous extract of P. timoriana seeds and the ethanolic extracts of P. sarmentosum leaves exhibited high cytotoxic activity against two types of cancer cells (MCF-7 and PC3). And some of local Thai vegetables extracts also showed high cytotoxic activity such as A. graveolens, T. triandra leaves, S. torvum fruits and C. formosum, T. minor flowers and G. gnemon leaves.
This study supported the using these vegetables as food to be cancer treatment.
Downloads
Download data is not yet available.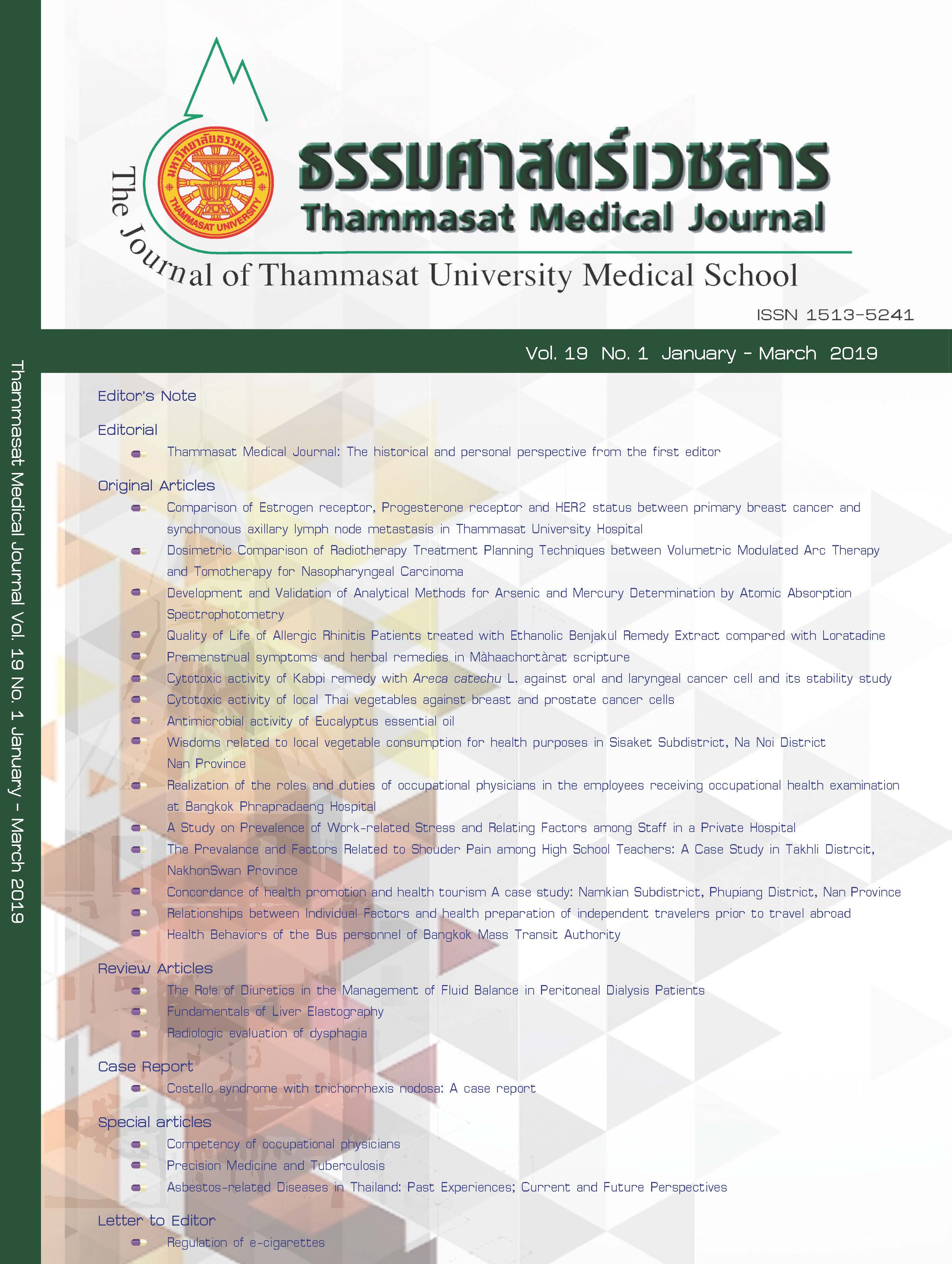 Downloads
Section
Original Articles