Clinical Trial Phases I and II of Malvastrum Coromandelianum as Adjunctive Treatment in Type 2 Diabetes
Keywords:
Clinical trial phases I and II, diabetic mellitus type 2, malvastrum coromandelianum (MC), การวิจัยทางคลินิกระยะที่ 1, การวิจัยทางคลินิกระยะที่ 2, โรคเบาหวานชนิดที่ 2, สมุนไพรหญ้าเทวดา
Abstract
     The objectives of this study were to determine short-term safety, efficacy and side effects of water extract of Malvastrum coromandelianum (MC).
     Clinical trial phase I was conducted in 10 healthy volunteers, divided into 2 groups equally. Group 1 and group 2 were received 500 milligrams and 1,000 milligrams of MC respectively. The tablet was taken only once 30 minutes before breakfast. Symptoms monitoring, physical examination and laboratory test were carried out and followed up for 2 weeks. The results revealed that subjects had no abnormal detected and no hypoglycemia as well as normal blood chemistry.
      Clinical trial phase II was conducted in 30-type 2 diabetics (Inclusion criteria: fasting plasma glucose (FPG) 150-250 mg/dl, HbA1C 7.5-9%, and no severity complication) divided into 2 phases; run-in phase for evaluated compliance of MC and trial phase. In run-in phase, placebo was administered once daily 30-minutes before breakfast for 4 weeks. Then, in trial phase, the MC-900 mg-capsule was administered once daily 30- minutes before breakfast for 12 weeks. During the experiment, the subjects had physical examination and laboratory tests (FPG, HbA1C, insulin levels, red blood cell count and white blood cell count, platelets, and for urine, renal function, liver function, mineral level, and blood lipid levels) before (day 0) and after administrating MC in the 2nd, 4th, 8th, and 12thweeks.  The results of FPG and HbA1C before and after administrating MC of the 12th week were not different. Calculation of the functional of beta cell and insulin resistant through insulin level was also not different. However, in the 4th week, the FPG of 6 subjects were less than 80 mg/dl, the physician had to reduce the dose of conventional medicine. The compliance of MC administered was 98.66%. There was no adverse effect of MC during this experiment.
Key words : Clinical trial phases I and II, diabetic mellitus type 2, malvastrum coromandelianum (MC)
Downloads
Download data is not yet available.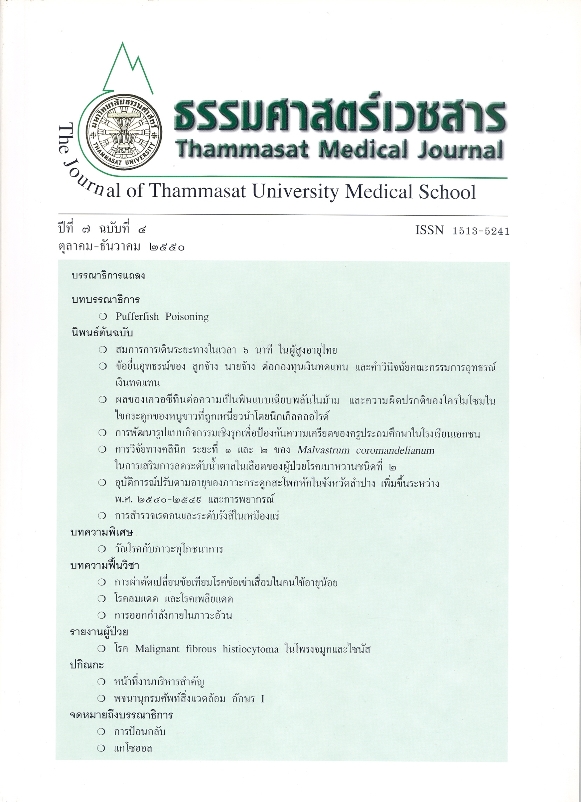 Downloads
Section
Original Articles