Positive predictive values of cytological cervical diagnosis of high grade squamous intraepithelial lesions from the Thammasat University Hospital
Keywords:
High-grade Squamous Intraepithelial, Lesion Cervical cytology, Pathology
Abstract
Introduction: To determine and update positive predictive values of cervical paps smear among patients who were diagnosed High-grade Squamous Intraepithelial Lesion (HSIL) for Cervical Intraepithelial Neoplasia (CIN) grades 2, 3 or invasive squamous cell carcinoma (SCC) in Thammasat University Hospital which was reported to be 84% in 2012.
Methods: For this retrospective study of patients who were diagnosed HSIL ± Human papilloma virus infection and ± glandular involvement from cytology including conventional and liquid base smear with cervical histological report within 6 months after the cytological diagnosis from 1st January 2014 to 31st December 2017. All cases which were reported less severe than CIN grade 1 are re-diagnosed by a general pathologist to confirm the discordant.
Results: There are 84 patients who specify inclusion and exclusion criteria. The positive predictive values of HSIL for CIN2 or CIN3 are 73.8% and 79.7% for CIN2+ (CIN2, CIN3 and invasive squamous cell carcinoma (SCC)).
Conclusion: The PPV of HSIL for CIN2+ is lower than the previous study from the same hospital and cytological report needs to correlate with clinical findings and colposcopic examination for the best diagnostic value. The factors that may affect the PPV in this study such as gaps between cytology and histology, biopsy procedure, cytological preparation and spontaneous regression of disease.
Downloads
Download data is not yet available.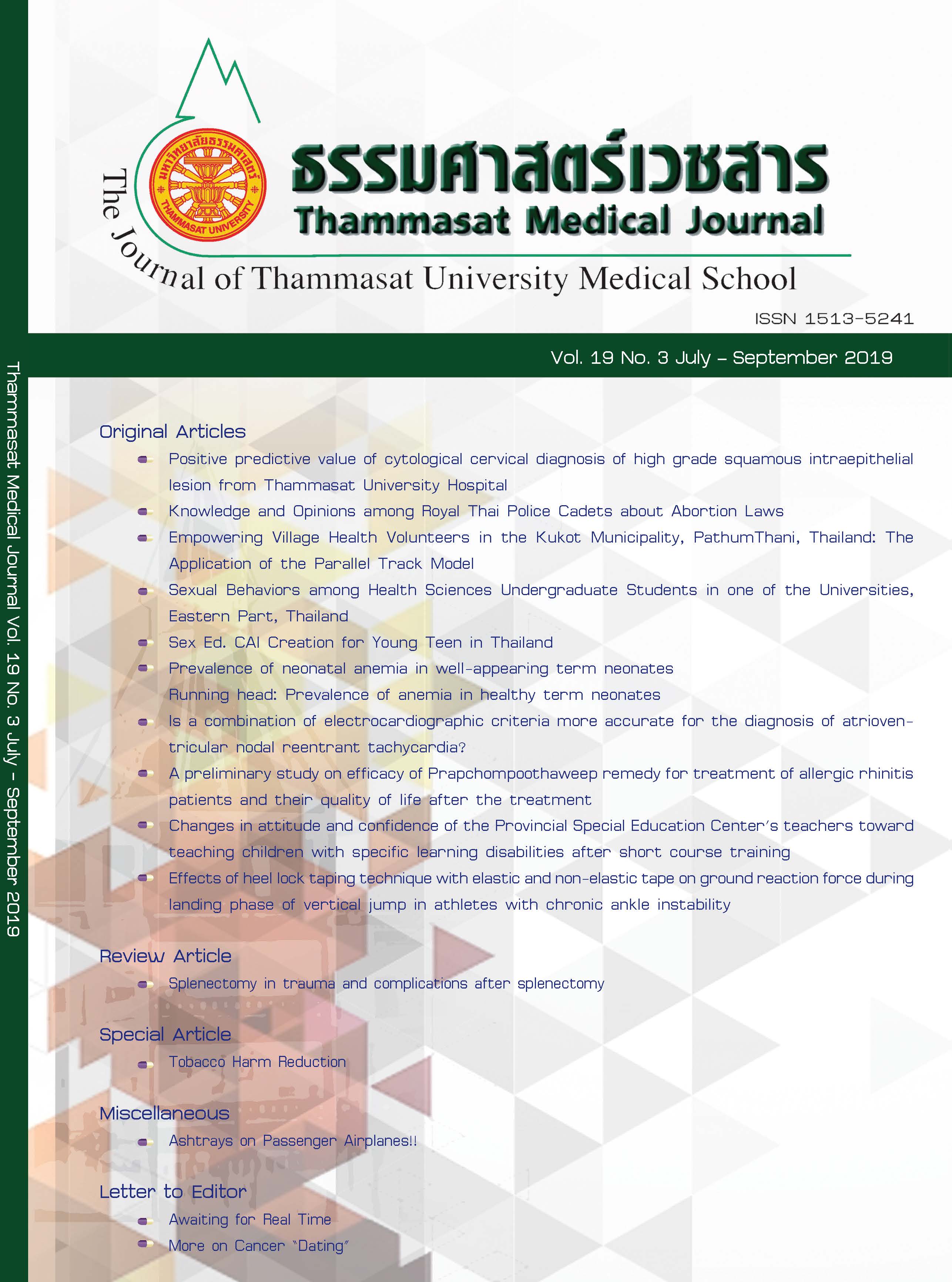 Downloads
Section
Original Articles