Changes in attitude and confidence of the Provincial Special Education Center's teachers toward teaching children with specific learning disabilities after short course training
Issarapa Chunsuwan

Department Pediatric, Faculty of Medicine, Thammasat University, Pathum Thani, 12120, Thailand

Tiraya Lerthattasilp

Department of Psychiatry, Faculty of Medicine, Thammasat University, Pathum Thani, 12120, Thailand

Tippawan Hansakunachai

Department Pediatric, Faculty of Medicine, Thammasat University, Pathum Thani, 12120, Thailand
Keywords:
learning disabilities, dyslexia, teacher attitude, training program, Thailand
Abstract
Introduction: In Thailand, children with specific learning disabilities (SLD) are among majority of the children with special need who need support from teachers by providing appropriate learning strategies. However, many teachers assigned to teach these children have not been adequately prepared. Our research aimed to measure the effectiveness of short course training on changing attitudes and confidence toward teaching children with SLD.
Method: This prospective pre-and post-study was conducted among the teachers of the Provincial Special Education Center (PSEC). The one-day training program was provided by multidisciplinary specialists from the Thammasat University Hospital. Questionnaire on attitudes and confidence toward teaching children with SLD were answered by teachers, pre-and post-trained to measure effectiveness of the program.
Result: 49 teachers attended the training and completed pre-and post-training questionnaires. Most of them teach in parallel and/or resource classrooms. Only 18% of teachers were trained about SLD in college and 96% disclosed their need for more training about SLD. Questionnaires revealed significant positive changes in: confidence to identify children who has SLD, attitude
that children with SLD do not have low ability and can be successful adults, belief that the SLD is a solvable problem, and diagnosis of SLD can help teachers understand how to support these
students. However, the factors of sex, age, educational background and teaching experience did not reveal significant correlation with changing in scores indicating attitude or confidence
toward teaching children with SLD.
Conclusion: Teachers of PSEC generally have good attitude toward teaching children with SLD, however they are not adequately prepared. These short-course training could help them feel more
confidence to identify children with SLD and enhance their positive attitude about ability and future success of these children.
Downloads
Download data is not yet available.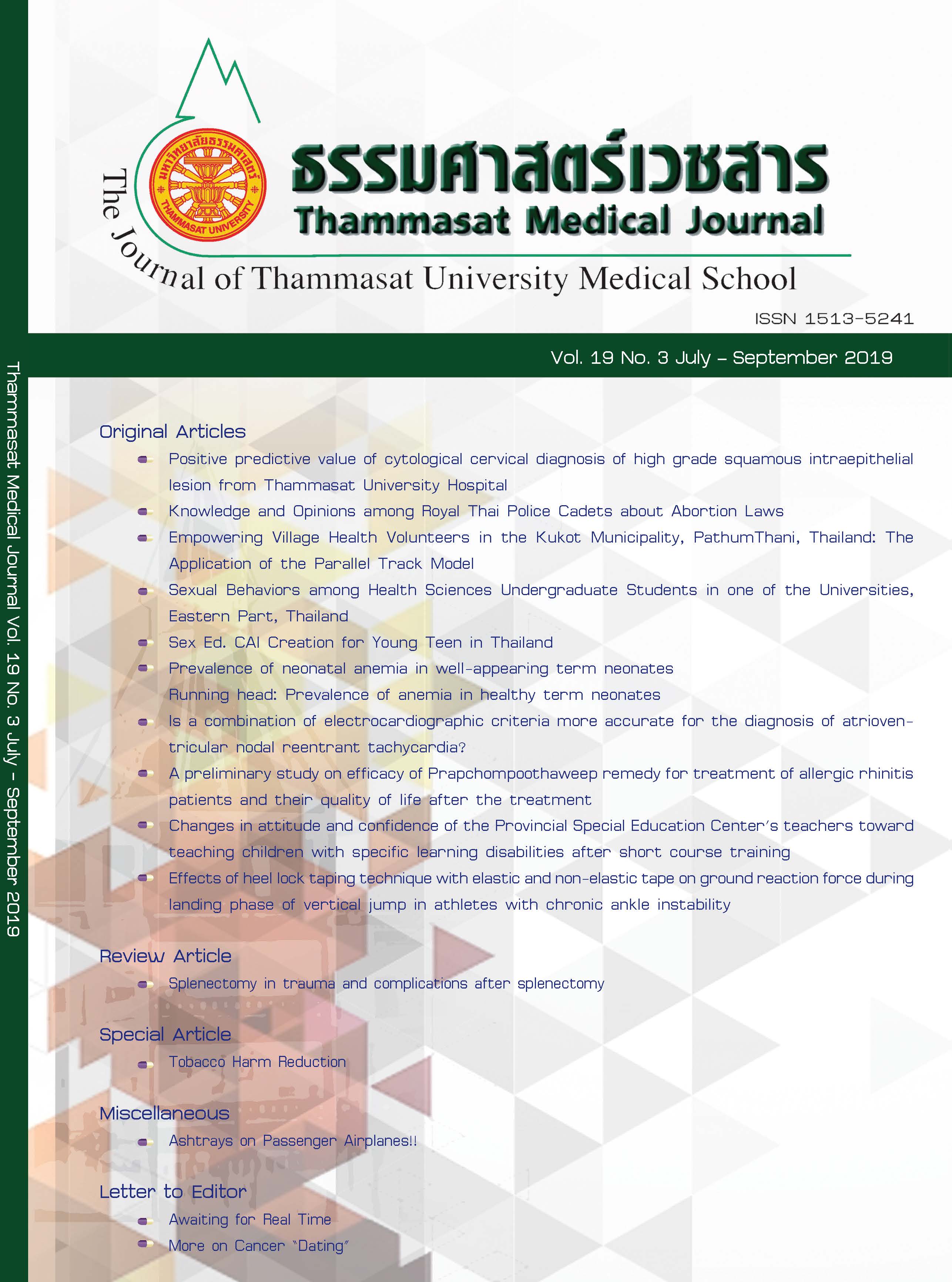 Section
Original Articles