The association between operation time and post-operative pain in endoscopic sinonasal surgery. Short title: Operative time and post-op pain after ESS
Yossawee Wangworawut

Department of Otolaryngology–Head and Neck Surgery, Thammasat University, Pathumthani, Thailand

Peter H. Hwang

Department of Otolaryngology–Head and Neck Surgery, Stanford University School of Medicine, Palo Alto, CA
Keywords:
Endoscopic sinus surgery, Endoscopic sinus surgery, Pain, Pain, Post-operative pain, Post-operative pain, Operation time, Operation time, Association, Association, And opioid usage, And opioid usage
Abstract
Background: United States is now in the midst of opioid crisis. To reduced perioperative opioid usage, is mean to reduce post-operative pain. This study try to find the association between operative time and post-operative pain in patient who received endoscopic sinonasal surgery. We also aim to study other factors that may play a role in post-operative pain.
Method: We performed a retrospective review of 624 patients, who have sinonasal disease and received endoscopic surgery from the same surgeon, in a tertiary care rhinology clinic from 2015 – 2018. Demographic data, diagnosis, duration of disease, Lund-Mackay CT score, operation, operation time, having bone drill, blood lost, time in PACU, and length of hospital stay were reviewed.
For pain measurement we use patient self-reported visual analog scale from one to ten. Post-operative pain scale, intra-operative and post-operative analgesic usage were reviewed.
Result: One minute increasing in operation time will increase post-operative pain scale by 0.002 point (P = 0.037). When matched by same operation type, operation time still shows positive correlate with post-operative pain scale but lost its significant. Factors which positively associated with higher post-operative pain including: African American race; female; younger age (≤45 year old); and high BMI (all are P < 0.05). Increasing in duration of disease by ten months will decrease post-operative pain scale by 0.05 point (P = 0.011).
Conclusion: Operative time is associated with post-operative pain in endoscopic sinonasal surgery. The shorter the operation time, the less post-operative pain. Multiple factors both biological and psychological play a role in characterized individual pain experiences.
Downloads
Download data is not yet available.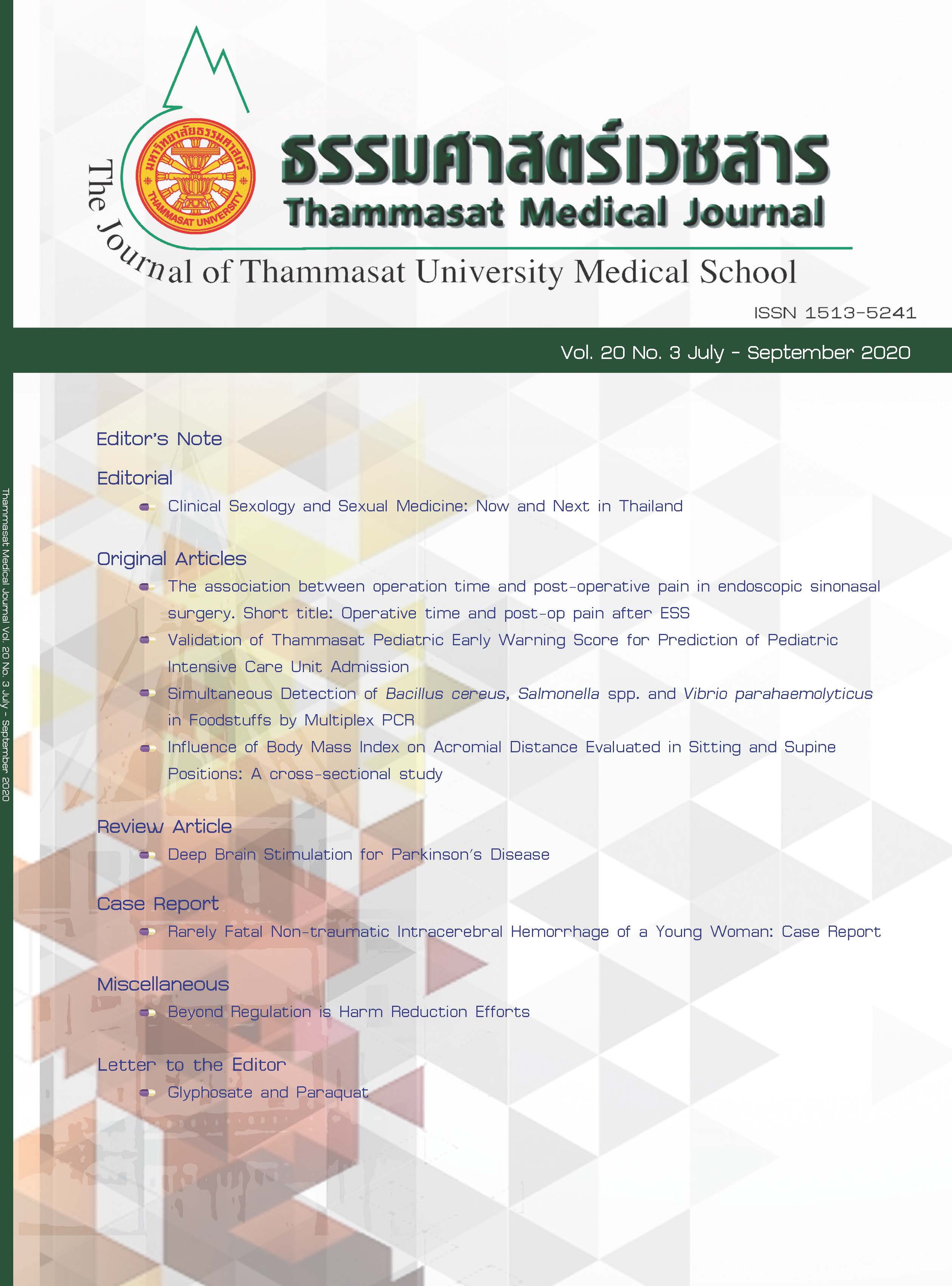 Section
Original Articles