Simultaneous Detection of Bacillus cereus, Salmonella spp. and Vibrio parahaemolyticus in Foodstuffs by Multiplex PCR
Phornphan Sornchuer

Division of Microbiology and Immunology, Department of Preclinical Science, Faculty of Medicine, Thammasat University, Pathumthani, Thailand

Rattana Tiengtip

Laboratory Section, Department of Preclinical Science, Faculty of Medicine, Thammasat University, Pathumthani, Thailand

Kittirat Saharat

Laboratory of Biochemistry, Chulabhorn Research Institute, Bangkok, Thailand
Keywords:
Multiplex PCR, Food-borne pathogen, Bacillus cereus, Salmonella, Vibrio parahaemolyticus
Abstract
Introduction: Food-borne disease is a serious public health concern worldwide. Bacillus cereus, Salmonella spp. and Vibrio parahaemolyticus are the most common examples of food-borne pathogens. The rapid detection of food-borne pathogens is becoming increasingly critical for ensuring the safety of consumers.
Methods: Current study, the multiplex polymerase chain reaction (PCR) assay was employed for simultaneous detection of B. cereus, Salmonella spp. and V. parahaemolyticus in various foodstuffs. A total of 90 samples were collected from various foodstuffs in Pathumthani Province of Thailand.
Results: The overall contamination rates of B. cereus, Salmonella spp. and V. Parahaemolyticus for food samples collected in this study were 87.8% (79/90), 4.4% (4/90) and 31.1% (28/90), respectively. Most of the food samples were contaminated with one species of pathogen except salads. Approximately 41.7% of salads were contaminated with at least 2 species of pathogen. Among these, three food-borne pathogens were simultaneously detected in one salad sample.
Conclusion: This study suggests that the multiplex PCR method is suitable for rapid identification of these three food-borne pathogens in foodstuffs in order to reduce the risk of food-borne disease outbreaks.
Downloads
Download data is not yet available.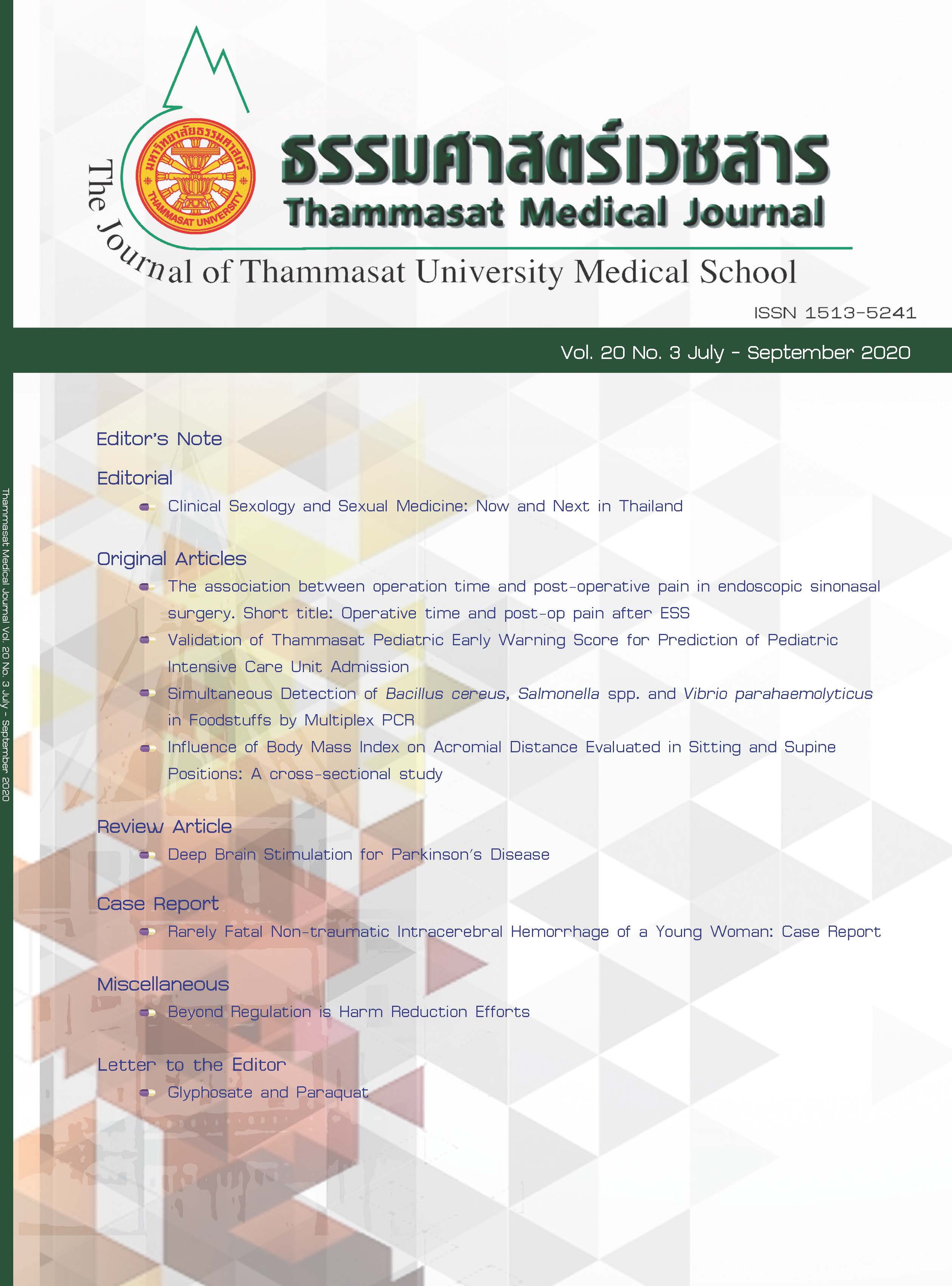 Section
Original Articles