Prevalence and Factors Affecting First and Recurrent Hip Fracture in the Elderly: A Retrospective Study from Inpatients at Thammasat University Hospital
Keywords:
Hip fracture, Elderly, Complications
Abstract
Background: Hip fracture is more common in the elderly people. Many patients were admitted to Thammasat University Hospital (TUH). However, there are no prevalence study of elderly people with hip fracture.
Objective: To determine the prevalence of hip fractures in elderly people from inpatient charts at TUH and to provide guidance to physical therapists for appropriate rehabilitation after hip fracture surgery.
Method: Questionnaire forms were used to retrieve data from 491 medical charts at TUH from the years 2011–2016. The parameters included elderly with hip fractures, causes of fractures, body mass index, underlying diseases, treatment types, complications, and length of stay in the hospital.
Results: Hip fractures were most common in female patients aged over 80 years. The prevalent cause of hip fracture was falling (88%). Most common areas of fracture were femoral neck (48%) and intertrochanteric line (48%). About 96% of the cases were first time hip fractures. Surgery was the main treatment for hip fractures (87%). Complications after treatment were not found
in 84% of all patients. Common complications in the remaining patients were urinary tract infection, pneumonia, and bed sore. Patients older than 80 years spend more time in the
hospital than younger patients.

Conclusion: Based on the TUH data hip fracture was a predominant health problem of elderly females. Routine treatment was by surgery. Complications after either surgical or conservation treatment were rarely observed. Elderly patients, who stay in the hospital a long time, might need to consult physical therapists to establish a rehabilitation plan after surgery and during non-surgical treatment.
Downloads
Download data is not yet available.
References
1. Williamson S, Landeiro F, McConnell T, et al. Costs of fragility hip fractures globally: a systematic review and meta-regression analysis. Osteoporos Int. 2017;28(10):2791-2800.
2. Shanpradub W. Complications of hip fractures in the elderly: The yearbook of orthopedic review. Bangkok: Rungsilp Printing Inc; 2010.
3. Pipatyaokul R. Outcome after hip fracture in elderly patients. Medical Journal of Srisaket Surin Buriram Hospitals. 2016;31(2):71-83.
4. Woratanarat P, Wajanavisit W, Lertbusayanukul C, et al. Cost analysis of osteoporotic hip fractures. J Med Assoc Thai. 2005;88(suppl 5):S96-S104.
5. Lau EM, Suriwongpaisal P, Lee JK, et al. Risk factors for hip fracture in Asian men and women: The Asian osteoporosis study. J Bone Miner Res. 2001;16(3):572-580.
6. Kanis JA, Oden A, McCloskey EV, et al. IOF Working Group on Epidemiology and Quality of Life. A systematic review of hip fracture incidence and probability of fracture worldwide. Osteoporos Int. 2012;23(9):2239–2256.
7. Wade SW, Strader C, Fitzpatrick LA, et al. Sex and age specific incidence of non-traumatic fractures in selected industrialized countries. Arch Osteoporos. 2012;7:219-227.
8. Pérez-CastrillónJL, Martín-Escudero JC, Alvarez Manzanares P, et al. Hypertension as a risk factor for hip fracture. Am J Hypertens. 2005;18(1):146-147.
9. Lipsitz LA. Abnormalities of blood pressure homeostasis that contribute to falls in the elderly. Clin Geriatr Med. 1985;1(3):637-648.
10. Lipscombe LL. The risk of hip fractures in older individuals with diabetes a population-based study. Diabetes care. 2007;30(4):835-841.
11. Nyman JS, Even JL, Jo CH, et al. Increasing duration of type 1 diabetes perturbs the strength-structure relationship and increases brittleness of bone. Bone. 2011; 48(4):733-740.284.
12. De Laet C, Kanis JA, Oden A, et al. Body mass index as a predictor of fracture risk: a metaanalysis. Osteoporos Int. 2005;16(11):1330-1338.
13. Piet Geusens, Tineke van Geel, Joop van den Bergh. Can hip fracture prediction in women be estimated beyond bone mineral density measurement alone? Ther Adv Musculoskelet Dis. 2010;2(2):63-77.
14. Rojanasthien S, Luevitoonvechkij S. Epidemiology of hip fracture in Chiang Mai. J Med Assoc Thai. 2005;88(Suppl 5):S105-S109.
15. Onwukamuche CK, Ekezie J, Anyanwu GE, et al. Mechanisms of Hip Fracture in Owerri, Nigeria, and its associated variables. Ann Med Health Sci Res. 2013;3(2):229-232.
16. Karagas MR, Lu-Yao GL, Barrett JA, et al. Heterogeneity of hip fracture: age, race, sex and geographic patterns of femoral neck and trochanteric fractures among the US elderly. Am J Epidemiol. 1996;143(7):677-682.
17. Eileen Tay. Hip fractures in the elderly: Operative versus Non-operative management. Singapore Med J. 2016;57(4):178-181.
18. Chariyalertsak S, Suriyawongpisal P, Thakkinstain A. Mortality after hip fractures in Thailand. Int Orthop. 2001;25(5):294-297.
19. Carpintero P, Ramón Caeiro J, Carpintero R, et al. Complications of hip fractures: A review. World J Orthop. 2014;18(5):402-411.
20. Cho HM, Lee K, Woongbae Min, et al. Survival and functional outcomes after hip fracture among nursing home residents. J Korean Med Sci. 2016;31(1):89-97.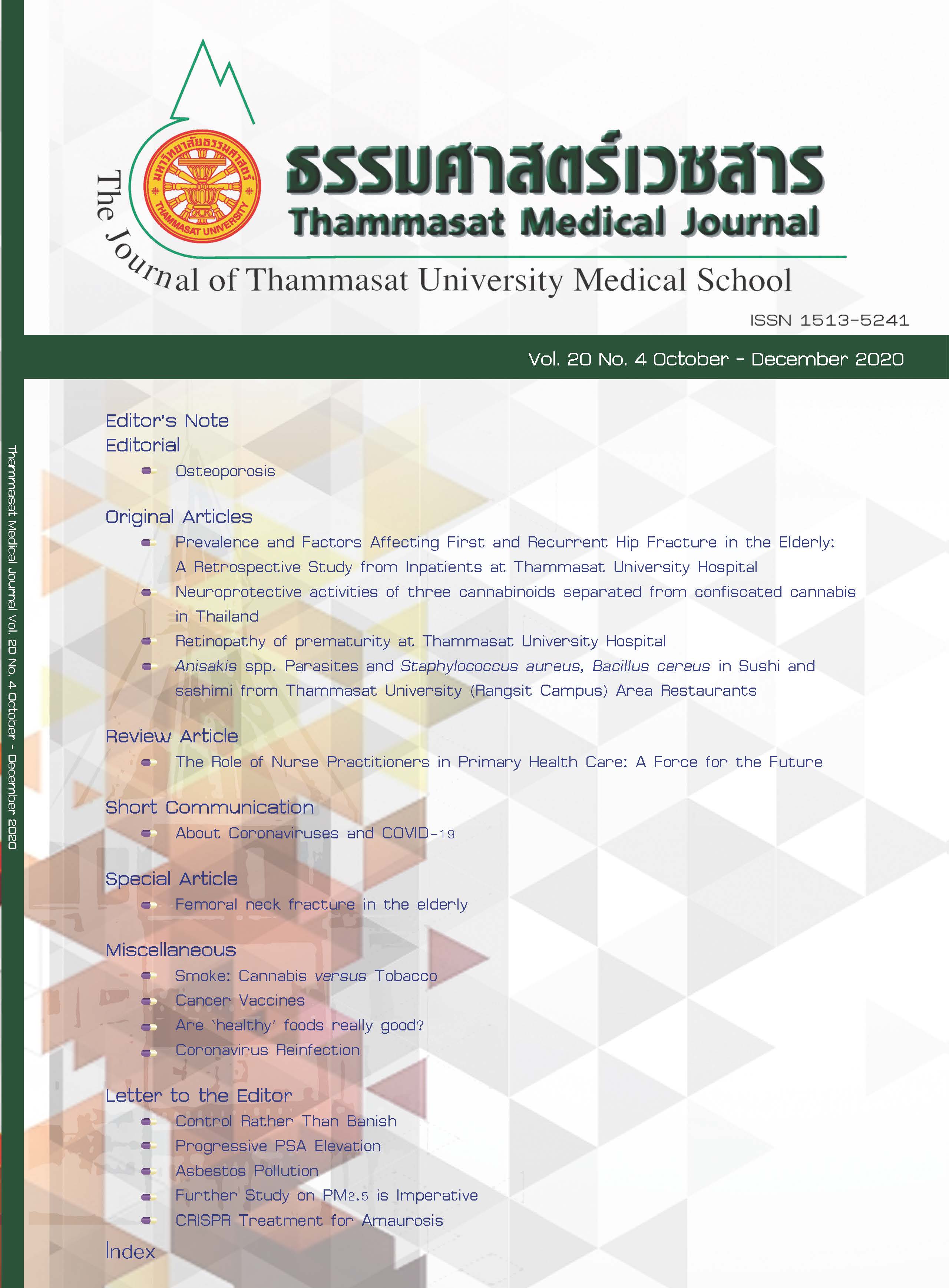 Downloads
Section
Original Articles