Neuroprotective activities of three cannabinoids separated from confiscated cannabis in Thailand
Keywords:
Cannabis sativa, Cannabinoids, Neuroprotective
Abstract
Introduction: The female flower of Cannabis sativa L. (Cannabinaceae) contains many cannabinoids that possesses the psychological effects. Therefore, the scientific studies were still in dispute
between usefulness and uselessness.

Method: The present study was designed to isolate the major cannabinoids compounds from confiscated cannabis and examine the neuroprotective activities using two models; serum deprivation method and co-administration of hydrogen peroxide assay.

Results: Three cannabinoids (CBD, CBN and THC) were isolated from the confiscated cannabis. CBD and CBN significantly protected the cultured neurons from the death caused by deprived
serum under H2O2 induced oxidative stress. Significant difference was observed between the percentage of neuron viability when treated with 10 ng/ml (31.8 nM) CBD or 100 ng/ml (322nM) CBN under oxidative stress conditions.

Conclusion: CBD was effective as a neuroprotective substance against neurodegenerative disorders such as Parkinson's and Alzheimer's diseases.


Downloads
Download data is not yet available.
References
1. Cannabis sativa L. The Plant List Website. http://www.theplantlist.org/tpl1.1/record/kew-2696480. Published 2013. Accessed May 26, 2020.
2. The United Nations Office on Drugs and Crime (UNODC). Booklet 5 Cannabis and Hallucinogens. United Nations, June 2019.
3. Bureau of Narcotics Control. Narcotics Act B.E. 2522. Ministry of Public Health, Bangkok, Thailand;1979.
4. Bureau of Narcotics Control. Narcotics Act (No. 7) B.E. 2562, Ministry of Public Health, Nontaburi, Thailand;2019.
5. Zivovinovic S, Alder R, Allenspach, M.D., et al. Determination of cannabinoids in Cannabis sativa L. samples for recreational, medical, and forensic purposes by reversed-phase liquid chromatography-ultraviolet detection. J Anal Sci Technol. 2018;9:27.
6. Jones-Villeneuve EMV, McBurney MW, Rogers KA, Kalnins VI. Retinoic acid induces embryonal carcinoma cells to differentiate into neurons and glial cells. J Cell Biol. 1982;94:253-262.
7. MacPherson PA, McBurney MW. P19 embryonal carcinoma cells: a source of cultured neurons amenable to genetic manipulation. Methods 1995;7:238-252.
8. Jones-Villeneuve EMV, Rudnicki MA, Harris JF, McBurney MW. Retionic acid-induced neuronal differentiation of embryonal carcinoma cells. Mol Cell Biol. 1983;3:2271-2279.
9. Tadtong S, Kanlayavattanakul M, Lourith N. Neuritogenic and neuroprotective activities of fruit residues. Nat Prod Commun. 2013;8:1583-1586.
10. Supasuteekul C, Nonthitipong W, Tadtong S, Likhitwitayawuid K, Tengamnuay P, Sritularak B. Antioxidant, DNA damage protective, neuroprotective, α-glucosidase inhibitory activities of flavonoid glycoside from leaves of Garcinia gracilis. Rev Bras Farmacogn. 2016;26:312-320.
11. Tadtong S, Chatsumpun N, Sritularak B, Jongbunprasert V, Ploypradith P, Likhitwitayawuid K. Effects of oxyresveratrol and its derivatives on cultured P19-derived neurons. Trop J Pharm Res. 2016;15:2619-2628.
12. Supasuteekul C, Tadtong S, Putalun W, Tanaka H, Likhitwitayawuid K, Tengamnuay P, Sritularak B. Neuritogenic and neuroprotective constituents from Aquilaria crassna leaves. J Food Biochem. 2017;e12365.
13. Puksasook T, Kimura S, Tadtong S, Jiaranaikulwanitch J, Pratuangdejkul J, Kitphati W, Suwanborirux K, Naoki Saito N, Nukoolkarn V. Semisynthesis and biological evaluation of prenylated resveratrol derivatives as multi-targeted agents for Alzheimer's disease. J Nat Med. 2017;71:665-682.
14. Tangsaengvit N, Kitphati W, Tadtong S, Bunyapraphatsara N, and Nukoolkarn V. Neurite outgrowth and neuroprotective effects of Quercetin from Caesalpinia mimosoides Lamk. on cultured P19-derived neurons. Evid Based Complement Alternat Med. 2013;1-7
15. Saingam W, Sakunpak A. Development and validation of reverse phase high performance liquid chromatography method for the determination of delta-9-tetrahydrocannabinol and cannabidiol in oromucosal spray from cannabis extract. Revista Brasileira de Farmacognosia. 2018;28:669-672.
16. Marsicano G, Moosmann B, Hermann H, Lutz B, Behl C. Neuroprotective properties of cannabinoids against oxidative stress: role of the cannabinoid receptor CB1. J Neurochem. 2002;80:448-456.
17. El-Remessy AB, Khalil IE, Matragoon S, et al. Neuroprotective effect of (-)Delta9-tetrahydrocannabinol and cannabidiol in N-methyl-D-aspartate-induced retinal neurotoxicity: involvement of peroxynitrite. Am J Pathol. 2003;163:1997-2008.
18. Kim J, Choi JY, Seo J, Choi IS. Cannabis and Cannabinoid Research. ahead of print. http://doi.org/10.1089/can.2019.0102.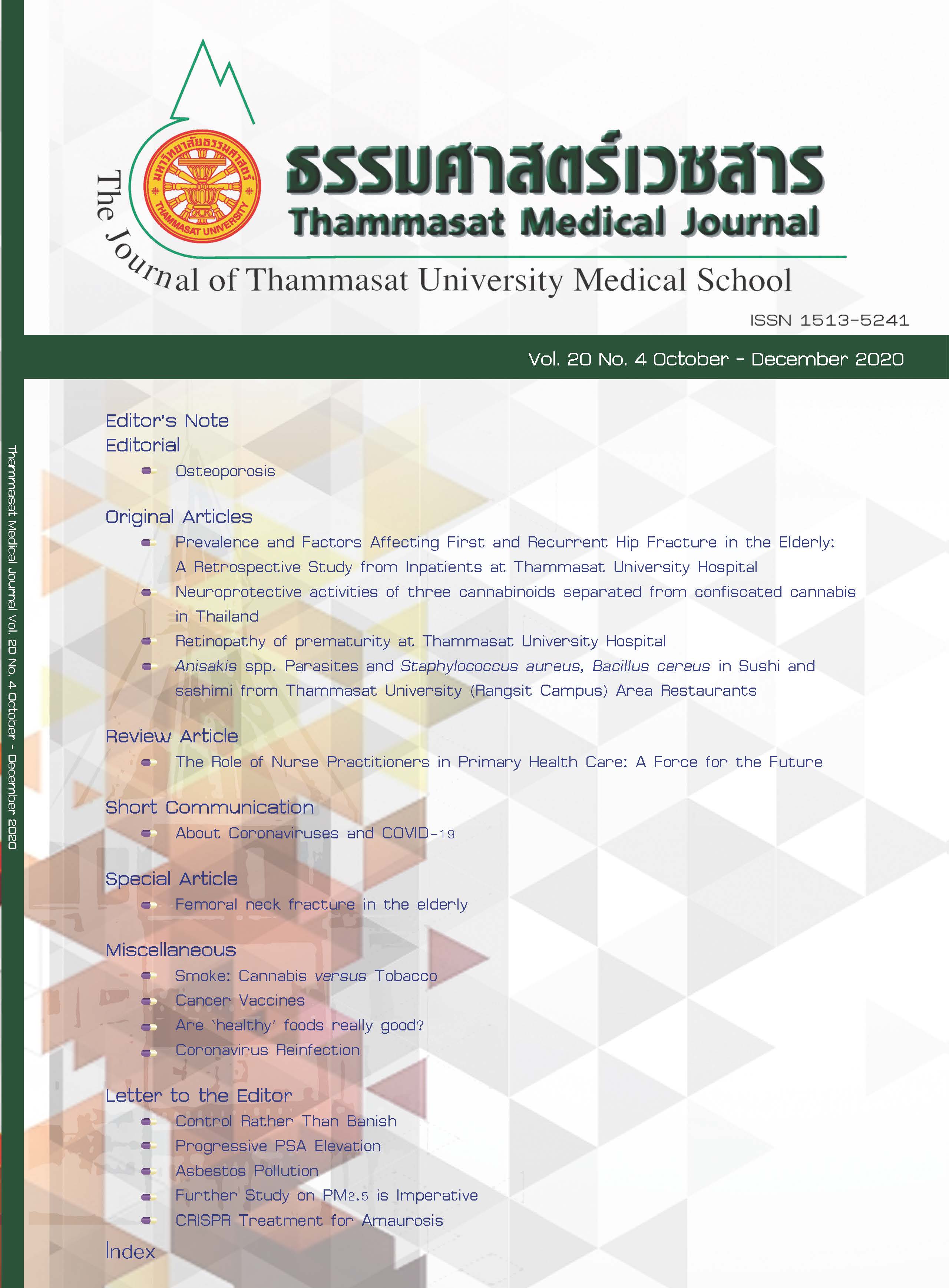 Downloads
Section
Original Articles