Nurses' Role in Caring for Liver Cancer after Treatment by Radiofrequency Ablation
Keywords:
Liver cancer, radiofrequency ablation, nurses' role
Abstract
          Hepatocellular carcinoma is a type of cancer frequently found worldwide. Data in Thailand
from the National Cancer Institute in 2017 showed the number of patients with liver cancer to be
the second highest, following breast cancer. Liver cancer is mostly found in middle-aged patients.
Currently, liver cancer is treated using various guidelines, most of which divided patients into groups
that can be operated on and that cannot be operated on. Radiotherapy with radiofrequency ablation
inserts a probe (needle) through the skin into malignant liver tumors. The needle delivers heat to
damage and eradicate cancer tissues. It thus plays a role in standard patient care and yields
effectiveness close to that obtained via surgery. The objective of this article is to provide knowledge
about nursing care for patients with liver cancer after radiofrequency ablation. This article describes
the liver cancer situation, liver cancer risk factors, clinical characteristics, stage of liver cancer,
diagnosis, liver cancer treatment, radiofrequency ablation treatment, criteria for radiofrequency
ablation treatment, restrictions or limitations in treatment, and nurses' roles in holistic care for liver
cancer patients having radiofrequency ablation, including consideration of physical, psychological,
emotional and social aspects before and after treatment to help keep patients safe and to improve
patients' quality of life.
Downloads
Download data is not yet available.
References
Anekar, A. A. & Cascella, M. (2020). WHO Analgesic ladder. Retrieved June 3, 2021, from: https://www.ncbi.nlm.nih.gov/books/NBK554435/

Audomsan, R. (2002). Nursing care of patients with hepatocellular carcinoma and transarterial oily chemoembolization. Rama Nurse Journal, 8(3), 224-234. [In Thai]

Chaiterakit, R. (2018). Liver and bile duct cancer. Bangkok: Text and Journal Publication. [In Thai]

Cheng, J., Chen, S. L., Zimmerman, N., Dalton, J. E., LaSalle, G., & Rosenquist, R. (2016). A new radiofrequency ablation procedure to treat sacroiliac joint pain. Pain Physician, 19(8), 603-615.

Ding, J., Jing, X., Liu, J., Wang, Y., Wang, F., Wang, Y., Du, Z. (2013). Complications of thermal ablation of hepatic tumors: Comparison of radiofrequency and microwave ablative techniques. Clinical Radiology, 68(6), 608-615.

Doherty, J. U., Gluckman, T. J., Hucker, W. J., Januzzi, J.L., Ortel, T. L., Saxonhouse, S. J., Spinler, S. A. (2017). ACC expert consensus decision pathway for periprocedural management of anticoagulation in patients with nonvalvular atrial fbrillation. Journal of American College of Cardiology, 69(7), 871-898.

Fongchan, S., Vorapongsathorn, S., Bhavabudananda, P., & Chooratna, K. (2019). Liver cancer prevention and control. Thai Cancer Journal, 39(2), 64-74. [In Thai]

Fujiwara, N., Friedman, S. L., Goossens, N., &Hoshida, Y. (2018). Risk factors and prevention of hepatocellular carcinoma in the era of precision medicine. Journal of hepatology, 68(3), 526-549.

International Agency for Research on Cancer. (2020). Thailand source: Globocan 2020. Retrieved 18 May 2021 from https://gco.iarc.fr/today/data/factsheets/populations/764-thailand-fact-sheets.pdf

Lee, D. H., Lee, J. M., Lee, J. Y., Kim, S.H., Yoon, J.H., Kim, J. K., Choi, B. I. (2014) Radiofrequency ablation of hepatocellular carcinoma as frst-line treatment: Long-term results and prognostic factors in 162 patients with cirrhosis. Radiology, 270(3), 900-909.

Mansoori, A. A., & Jain, S. K. (2015). Molecular links between alcohol and tobacco induced DNA damage, gene polymorphisms and patho-physiological consequences: A systematic review of hepatic carcinogenesis. Asian Pac J Cancer Prev, 16(12), 4803-4812.

Meekaew, M. (2018). Effcacy of radiofrequency ablation (RFA) and transarterial chemoembolization (TACE) in the management of unresectable early and intermediate stages of HCC. Journal of the Department of Medical Services, 43(1), 69-73. [In Thai]

National Cancer Institute. (2016). Current concept in management of cholangiocarcinoma. Bangkok: Offce of National buddhism Press. [In Thai]

National Cancer Institute. (2019). Hospital-based cancer registry 2019. Bangkok: NewThaammada Press (Thailand) Co., Ltd. [In Thai]

Ratna, A. & Mandrekar, P. (2017). Alcohol and cancer: Mechanisms and therapies. Biomolecules, 7(3), 61.

Sangdit B. (2015). Hepatocellula carcinoma prevention and control measures inThailand. Royal Thai Army Medical Journal, 68(4), 193-201. [In Thai]

Thai Association for the Study of the Liver. (2019). Thailand guideline for management of hepatocellular carcinoma. Nontaburi:Parbpim limited partnership. [In Thai]

Watanakit, N., Adulpatcharaporn, S., & Petchkongkaew, A. (2014). Microorganism to degrade the bioavailability of aflatoxin B1. Naresuan University Journal: Science And Technology, 22(2), 1-11. [In Thai]

Yongmanitchai, C. (2014). Handle hepatocellular carcinoma and keep it under control. Bangkok: Inspire Printing. [In Thai]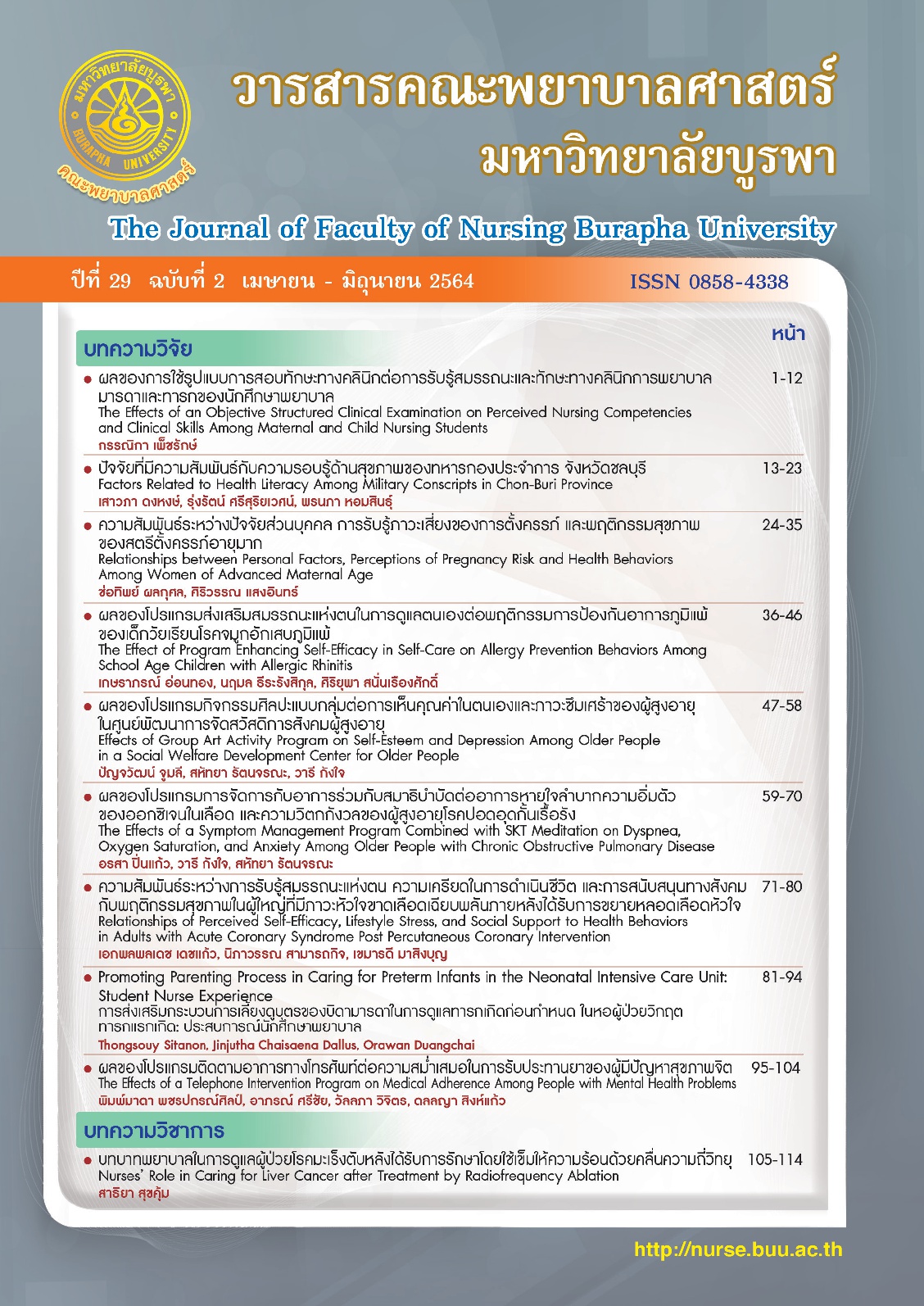 How to Cite
Sukkum, S. (2021). Nurses' Role in Caring for Liver Cancer after Treatment by Radiofrequency Ablation. he ournal of aculty of ursing urapha niversity, 29(2), 105-114. etrieved from https://he02.tci-thaijo.org/index.php/Nubuu/article/view/251850
This work is licensed under a Creative Commons Attribution-NonCommercial-NoDerivatives 4.0 International License.