Spontaneous Rupture of Pheochromocytoma Managed by Transarterial Embolization and Laparoscopic Adrenalectomy: A Case Report
Keywords:
Spontaneous rupture, pheochromocytoma, transarterial embolization, laparoscopic adrenalectomy
Abstract
Spontaneous rupture of pheochromocytoma is a very rare complication. Approximately 55 cases have been
reported in the literature. Patients usually present with a clinical triad of severe vasoconstriction, tachycardia and
labile hypertension due to massive release of catecholamines. Emergency adrenalectomy is associated with high
mortality, but accurate diagnosis and good preoperative preparation can significantly improve postoperative
prognosis.
Downloads
Download data is not yet available.
References
1. Forty J, Dale RF. Ruptured pheochromocytoma: a case
report. J R Coll Surg Edinb 1989;34:109-10.

2. Kobayashi T, Iwai A, Takahashi R, Ide Y, Nishizawa K, Mitsumori
K. Spontaneous rupture of adrenal pheochromocytoma:
review and analysis of prognostic factors. J Surg Oncol
2005;90:31-5.

3. Okutur K, Küçkler K, Öztekín E, Borlu F, Erdem L, Demeír G. A
rare cause of acute abdomen: Ruptured adrenal
pheochromocytoma. Turk J Gastroenterol 2010;21:467-9.

4. Chan MKY, Tse HW, Mok EPT. Ruptured phaeochromocytoma-
a lesson in acute abdomen. Hong Kong Med J
2003;9:221-3.

5. Maruyama M, Sato H, Yagame M, Shoji S, Terachi T, OsamuraRY. Spontaneous rupture of pheochromocytoma and its
clinical feature: a case report. Tokai J Exp Clin Med 2008;33:
110-5.

6. Van Way CW 3rd, Faraci RP, Cleveland HC, Foster JF, Scott
HW Jr. Hemorrhagic necrosis of pheochromocytoma
associated with phentolamine administration. Ann Surg
1976;184:26-30.

7. Suzuki T, Mori C, Asakage H, Akaza H, Kawabe K, et al.
Pheochromocytoma with remission following phentolamine
induced shock. Urology 1984;23:582-4.

8. Ejerblad S, Hemmingsson A. Haemorrhage into a
pheochromocytoma in an anticoagulant-treated patient.
Acta Chir Scand 1981;147:497-500.

9. Brody IA, Shock after administration of prochlorperazine in
patient with pheochromocytoma; report of a case with
spontaneous tumor destruction. J Am Med Assoc 1959;
169:1749-52.

10. Bunuan HD, Alltree M, Merendino KA. Gel foam embolization
of a functioning pheochromocytoma. Am J Surg 1978;136:
395-8.

11. Baguet JP, Hammer L, Tremel F, Mangin L, Mallion JM.
Metastatic phaeochromocytoma: risks of diagnostic needle
puncture and treatment by arterial embolisation. J Hum
Hypertens 2001;15:209-11.

12. Pua U, Wong DE. Transarterial embolisation of spontaneous
adrenal pheochromocytoma rupture using polyvinyl alcohol
particles. Singapore Med J 2008;49:e126-30.

13. Habib M, Tarazi I, Batta M. Arterial embolization for ruptured
adrenal pheochromocytoma. Curr Oncol 2010;17:65-70.

14. Hanna JS, Spencer PJ, Savopoulou C, Kwasnik E, Askari R.
Spontaneous adrenal pheochromocytoma rupture
complicated by intraperitoneal and shock. World J Emerg
Surg 2011;6:27-33.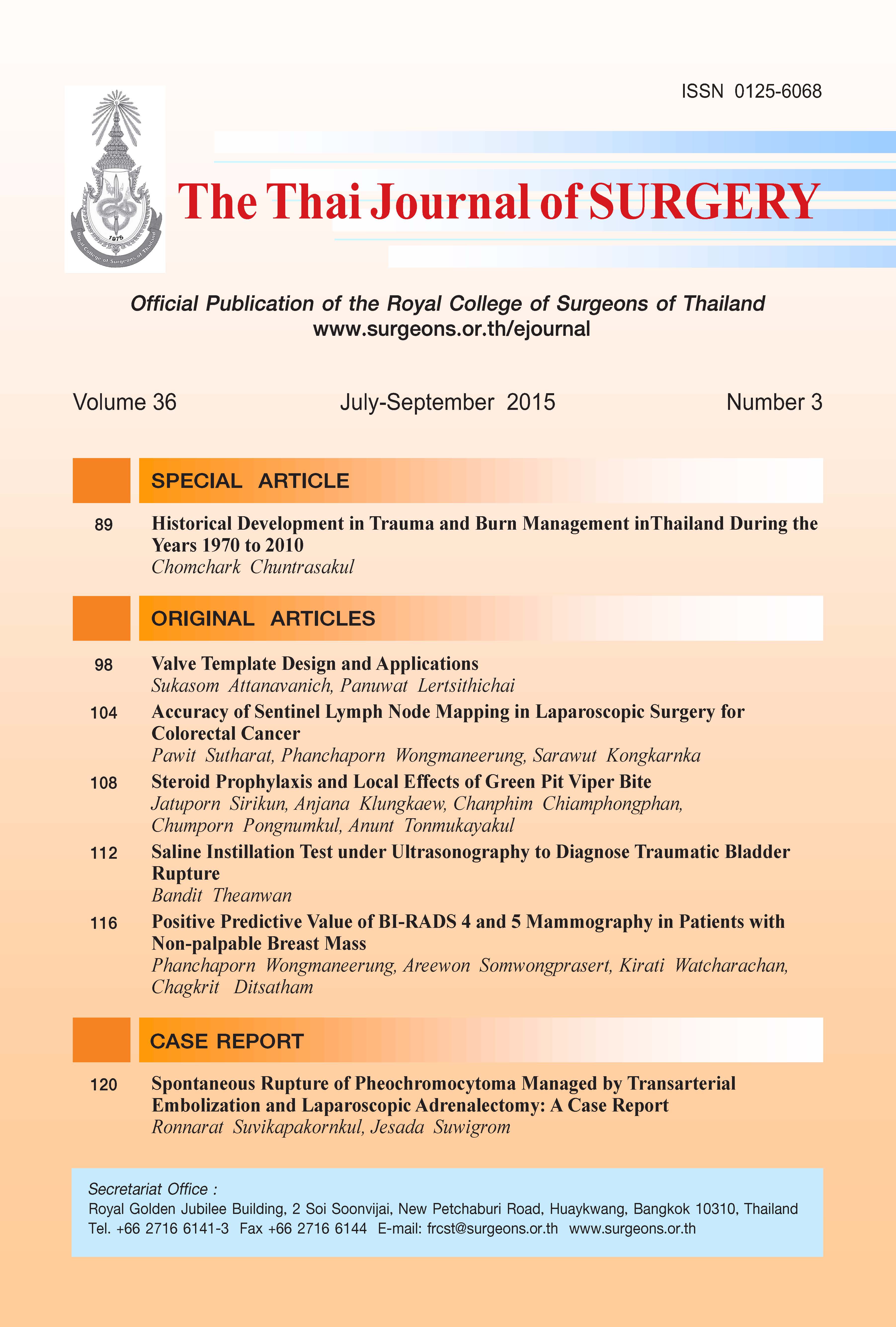 Downloads
How to Cite
1.
Suvikapakornkul R, Suwigrom J. Spontaneous Rupture of Pheochromocytoma Managed by Transarterial Embolization and Laparoscopic Adrenalectomy: A Case Report. Thai J Surg [Internet]. 2015 Sep. 30 [cited 2022 Sep. 27];36(3). Available from: https://he02.tci-thaijo.org/index.php/ThaiJSurg/article/view/226164
License
Articles must be contributed solely to The Thai Journal of Surgery and when published become the property of the Royal College of Surgeons of Thailand. The Royal College of Surgeons of Thailand reserves copyright on all published materials and such materials may not be reproduced in any form without the written permission.