Robot-assisted Laparoscopic Esophagomyotomy Versus Laparoscopic Esophagomyotomy for Treatment of Esophageal Achalasia: Siriraj Experience
Keywords:
Esophageal achalasia, laparoscopic esophagomyotomy, robotic-assisted esophagomyotomy, complications
Abstract
Background: Laparoscopic esophagomyotomy (LEM) has become the standard treatment for achalasia.
Recently, robot-assisted laparoscopic esophagomyotomy (RA-LEM) is emerging as a safe alternative to conventional
LEM. We hypothesized that RA-LEM may reduce intraoperative complications compared with LEM.
Objective: To compare RA-LEM with LEM in terms of intraoperative complications for the treatment of
achalasia.
Patients and Methods: A total of 42 patients underwent surgical treatment of achalasia at Siriraj Hospital between
1 December 2001 and 30 November 2013. A retrospective review of demographic data, perioperative course,
complications, and hospital stay was performed. Patients were divided into 2 groups: group A (RA-LEM) consisted of
29 patients and group B (LEM) consisted of 13 patients. Operative time, estimated blood loss, duration of stay,
intraoperative and postoperative complication were analyzed.
Results: We could not demonstrate significant differences in esophageal perforation (13.8 vs. 15.4%; P = 0.999),
aspiration (6.9 vs. 0%; P = 0.999) and operative time (195 ± 42 vs 197 ± 45 minutes; P = 0.999) between RA-LEM and
LEM groups. There were significant reductions in blood loss (26.90 ± 45.13 vs 74.62 ± 45.21 ml; P < 0.001) and
postoperative length of stay (4.10 ± 1.18 vs 7.92 ± 6.43 days; P < 0.001).
Conclusions: There was no significant reduction in intraoperative and postoperative complication between RALEM
and LEM. We concluded that robotic surgery is equivalent in feasibility and safety to conventional LEM. RA-LEM
may be associated with less blood loss and shorter hospital stay.
Downloads
Download data is not yet available.
References
1. Podas T, Eaden J, Mayberry M, et al. Achalasia: a critical
review of epidemiological studies. Am J Gastroenterol.
1998;93:2345-7.

2. Goldblum JR, Whyte RI, Orringer MB, et al. Achalasia. A
morphologic study of 42 resected specimens. Am J Surg
Pathol 1994;18:327-37.

3. Brewer LA, 3rd. History of surgery of the esophagus. Am J
Surg. 1980 ;139:730-43.

4. Heller E. Extramuköse Kardioplastik beim chronischen
Kardiospasmus mit Dilatation des Ösophagus. Mitt Grenzgeb
Med Chir 1914;27:141-9.

5. Zaaijer JH. Cardiospasm in the aged. Ann Surg 1923;77:615-
7.

6. Pellegrini C, Wetter LA, Patti M, et al. Thoracoscopic esophagomyotomy.
Initial experience with a new approach
for the treatment of achalasia. Ann Surg 1992;216:291-6.

7. Shimi S, Nathanson LK, Cuschieri A. Laparoscopic
cardiomyotomy for achalasia. J R Coll Surg Edinb 1991;36:152-
4.

8. Yaghoobi M, Mayrand S, Martel M, et al A. Laparoscopic
Heller's myotomy versus pneumatic dilation in the treatment
of idiopathic achalasia: a meta-analysis of randomized,
controlled trials. Gastrointest Endosc 2013;78:468-75.

9. Campos GM, Vittinghoff E, Rabl C, et al. Endoscopic and
surgical treatments for achalasia: a systematic review and
meta-analysis. Ann Surg 2009;249:45-57.

10. Horgan S, Galvani C, Gorodner MV, et al. Robotic-assisted
esophagomyotomy versus laparoscopic esophagomyotomy
for the treatment of esophageal achalasia: multicenter
study. J Gastrointest Surg 2005;9:1020-9.

11. Melvin WS, Dundon JM, Talamini M, et al. Computerenhanced
robotic telesurgery minimizes esophageal
perforation during Esophagomyotomy. Surgery 2005;138:553-8.

12. Galvani C, Gorodner MV, Moser F, et al. Laparoscopic
Esophagomyotomy for achalasia facilitated by robotic
assistance. Surg Endosc 2006;20:1105-12.

13. Huffmanm LC, Pandalai PK, Boulton BJ, et al. Robotic
Esophagomyotomy: a safe operation with higher
postoperative quality-of-life indices. Surgery 2007;142:613-
8.

14. Shaligram A, Unnirevi J, Simorov A, et al. How does the robot
affect outcomes? A retrospective review of open,
laparoscopic, and robotic Esophagomyotomy for achalasia.
Surg Endosc 2012;26:1047-50.

15. Hunter JG, Trus TL, Branum GD, Waring JP. Laparoscopic
esophagomyotomy and fundoplication for achalasia. Ann
Surg 1997;225:655-64.

16. Patti MG, Arcerito M, De Pinto M, et al. Comparison of
thoracoscopic and laparoscopic Esophagomyotomy for
achalasia. J Gastrointest Surg 1998;2:561-6.

17. Finley RJ, Clifton JC, Stewart KC, et al. Laparoscopic
Esophagomyotomy improves esophageal emptying and
the symptoms of achalasia. Arch Surg 2001;136:892-6.

18. Zaninotto G, Costantini M, Molena D, et al. Minimally invasive
surgery for esophageal achalasia. J Laparoendosc Adv
Surg Tech A 2001;11:351-9.

19. Bloomston M, Serafini F, Rosemurgy AS. Videoscopic
esophagomyotomy as first-line therapy for severe achalasia.
Am Surg 2001;67:1105-9.

20. Sharp KW, Khaitan L, Scholz S, et al. 100 consecutive minimally
invasive Heller myotomies: lessons learned. Ann Surg 2002;
235:631-8.

21. Eckardt VF, Gockel I, Bernhard G. Pneumatic dilation for
achalasia: late results of a prospective follow up investigation.
Gut 2004;53:629-33.

22. Gockel I, Sgourakis G, Drescher DG, et al. Impact of minimally
invasive surgery in the spectrum of current achalasia
treatment options. Scand J Surg 2011;100:72-7.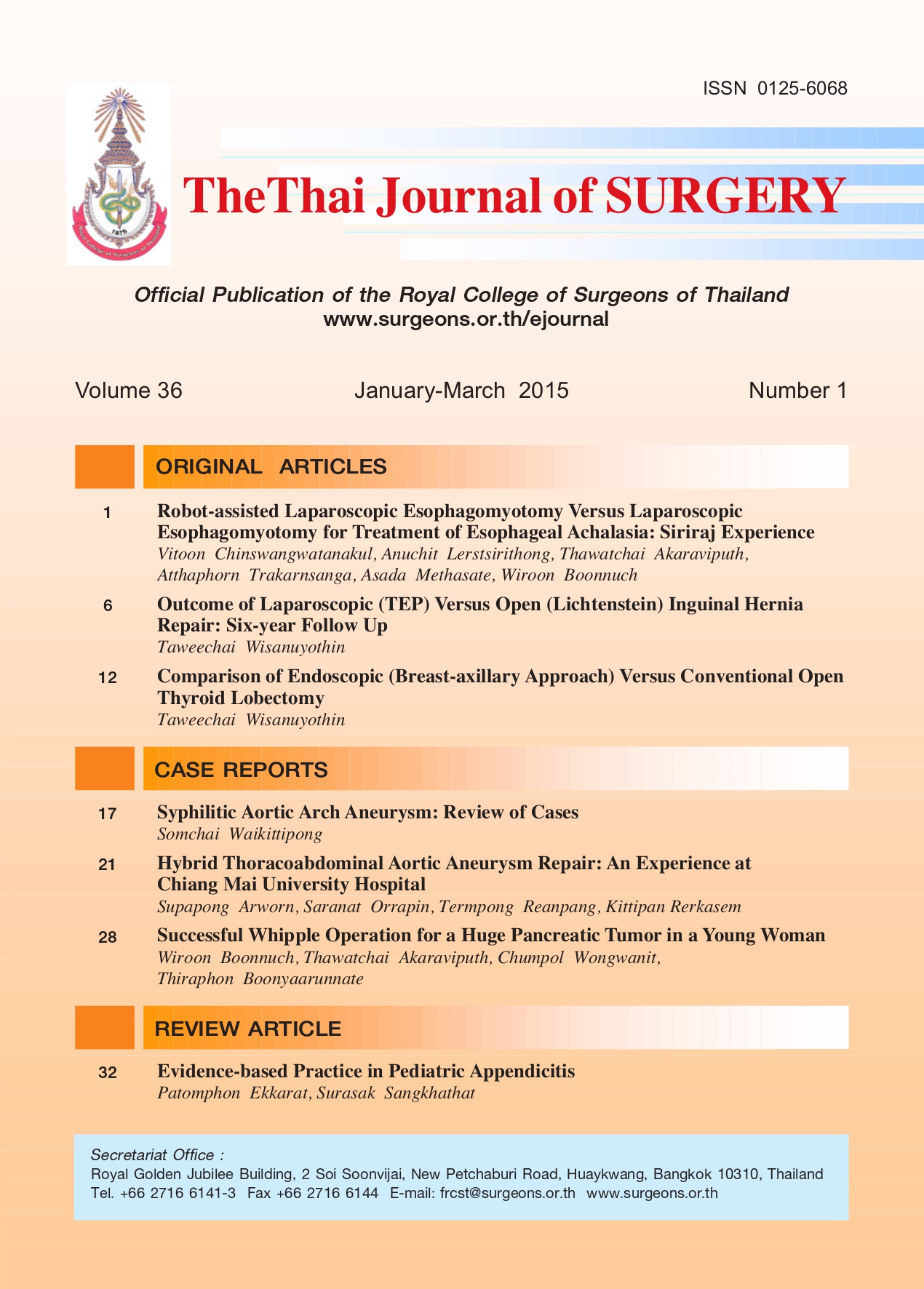 Downloads
How to Cite
1.
Chinswangwatanakul V, Lerstsirithong A, Akaraviputh T, Trakarnsanga A, Methasate A, Boonnuch W. Robot-assisted Laparoscopic Esophagomyotomy Versus Laparoscopic Esophagomyotomy for Treatment of Esophageal Achalasia: Siriraj Experience. Thai J Surg [Internet]. 2015 Mar. 30 [cited 2023 Feb. 1];36(1). Available from: https://he02.tci-thaijo.org/index.php/ThaiJSurg/article/view/226231
Section
Original Articles
License
Articles must be contributed solely to The Thai Journal of Surgery and when published become the property of the Royal College of Surgeons of Thailand. The Royal College of Surgeons of Thailand reserves copyright on all published materials and such materials may not be reproduced in any form without the written permission.