Syphilitic Aortic Arch Aneurysm: Review of Cases
Keywords:
Syphilis, Aortic arch aneurysm
Abstract
Syphilitic aortic aneurysms are uncommon today. Four cases of syphilitic aortic arch aneurysm are reported.
The first case presented with upper airway obstruction. The second case presented with chest pain. The third case presented with dysphagia. And the last case presented with hoarseness. Three cases were successfully treated with aortic arch replacement. Pathophysiology and clinical manifestations of syphilitic aortic aneurysm are also reviewed.
Downloads
Download data is not yet available.
References
1. Brockbank EM. Syphilis and aneurysm. BMJ 1925;2:606-7.

2. Jackman JD Jr, Radolf JD. Cardiovascular syphilis. Am J Med
1989;87:425-33.

3. Kent ME, Romanelli F. Reexamining syphilis: an update on
epidemiology, clinical manifestations, and management.
Ann Pharmacother 2008;42:226-36.

4. Kampmeier RH, Morgan HJ. The specific treatment of syphilitic
aortitis. Circulation 1952;5:771-8.

5. Duncan JM, Cooley DA. Surgical considerations in aortitis.
Part 3: Syphilitic and other forms of aortitis. Tex Heart Inst J
1983;10:337-41.

6. Heggtveit H. Syphilitic aortitis. A clinico-pathologic autopsy
study of 100 cases, 1950 -1960. Circulation 1964;24:346-55.

7. Leung JSM, Mok CK, Leong JCY, et al. Syphilitic aortic aneurysm
with spinal erosion. J Bone Joint Surg Br 1977;59-B:89-92.

8. Fulton JO, Zilla P, De Groot KM, et al. Syphilitic aortic aneurysm
eroding through the sternum. Eur J Cardiothorac Surg
1996;10:922-4.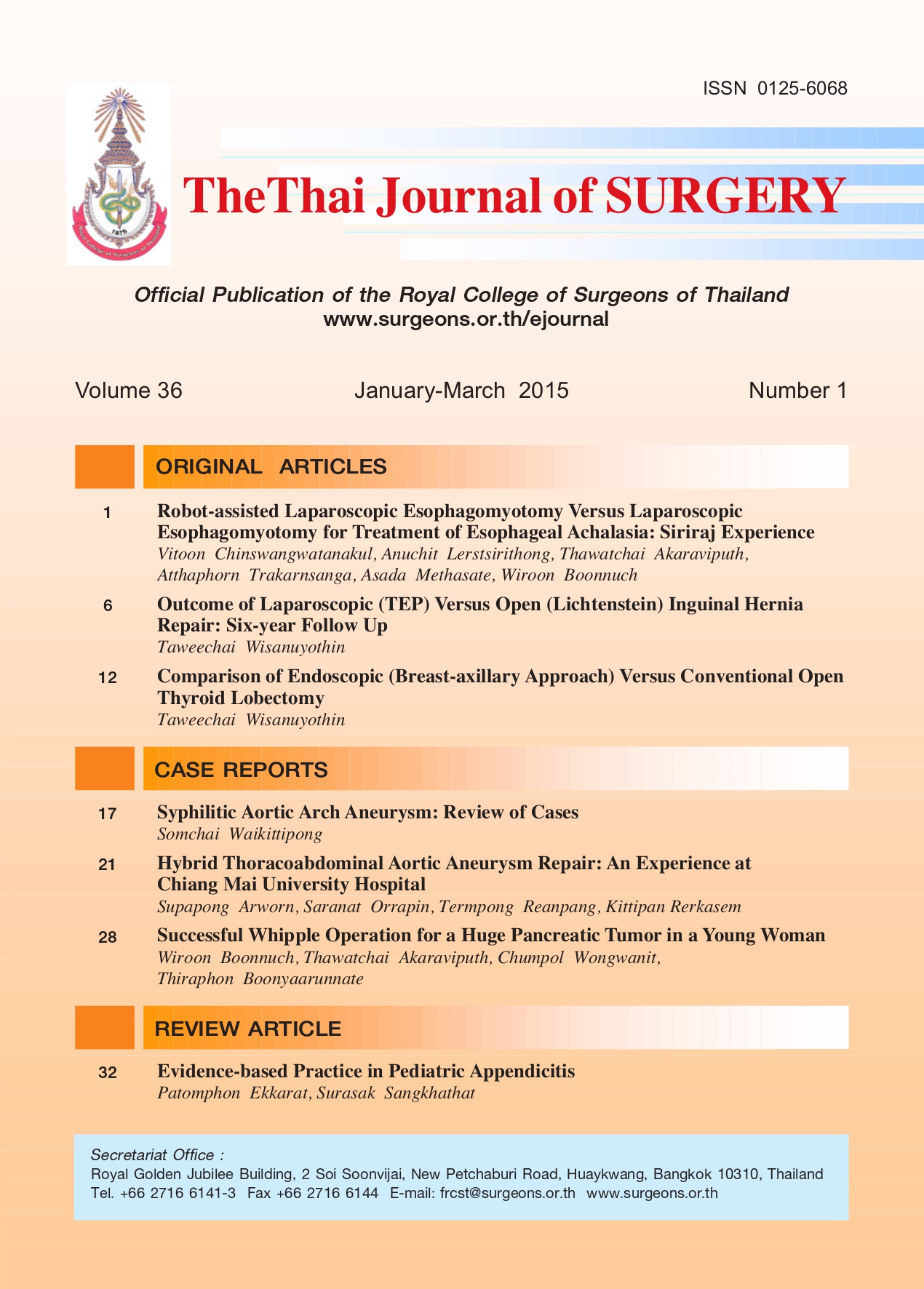 Downloads
How to Cite
1.
Waikittipong S. Syphilitic Aortic Arch Aneurysm: Review of Cases. Thai J Surg [Internet]. 2015 Mar. 30 [cited 2022 Nov. 28];36(1). Available from: https://he02.tci-thaijo.org/index.php/ThaiJSurg/article/view/226254
License
Articles must be contributed solely to The Thai Journal of Surgery and when published become the property of the Royal College of Surgeons of Thailand. The Royal College of Surgeons of Thailand reserves copyright on all published materials and such materials may not be reproduced in any form without the written permission.