Hybrid Thoracoabdominal Aortic Aneurysm Repair: An Experience at Chiang Mai University Hospital
Keywords:
Thoraco-abdominal aneurysm, hybrid repair, visceral de-branching
Abstract
Purpose: To present a case series of patients with thoracoabdominal aortic aneurysm (TAAA) who were treated
with the hybrid repair technique.
Materials and Methods: From January 2009 to April 2013, TAAA patients who were treated with the hybrid repair
technique were retrospectively reviewed.
Results: There were three cases of hybrid repair performed during the study period. Aneurysm morphology
included type IV TAAA in two patients and suprarenal in one patient. The average aneurysm diameter was 82.6 mm
(range 73 to 91 mm). Technical success was obtained in all patients. Graft thrombosis occurred at a rate of 30% (3 in
10 visceral bypass grafts), which resulted in mesenteric ischemia and transient renal insufficiency. The average hospital
length of stay was 53 days, with a median ICU stay of 11.3 days.
Conclusion: Hybrid surgery could be considered a bridging measure between open and fenestrated/ branched
endograft. The surgical technique will remain a robust and adaptable method of treating this complex and lifethreatening
disease in individuals with unfavorable anatomy.
Downloads
Download data is not yet available.
References
1. Isselbacher EM. Diseases of the aorta. In: Braunwald E, Zipes
DP, Libby P, Bonow RO, editors. Braunwald's Heart Disease: A
Textbook of Cardiovascular Medicine. 7th ed. Philadelphia WB Saunders; 2004.

2. Merck, November 2005: Merck Manual for Healthcare
Professionals: Aneurysms [online] available at http://
www.merck.com/mmpe/sec07/ch079/ch079b.html
[accessed 15.11.14]

3. Rectenwald JE, Huber TS, Martin TD, et al. Functional outcome
after thoracoabdominal aortic aneurysm repair. J Vasc Surg
2002;35:640-47.

4. Cowan Jr JA, Dimick JB, Henke PK, et al. Surgical treatment of
intact thoracoabdominal aortic aneurysms in the United
States: hospital and surgeon volume-related outcomes. J
Vasc Surg 2003;37:1169-74.

5. Chuter TAM, Gordon RL, Reilly LM, et al. An endovascular
system for thoracoabdominal aortic aneurysm repair. J
Endovasc Ther 2001;8:25-33.

6. Chuter TA, Rapp JH, Hiramoto JS, et al. Endovascular treatment
of thoracoabdominal aortic aneurysms. J Vasc Surg 2008;47:
6-16.

7. Greenberg RK, Lytle B. Endovascular repair of thoracoabdominal
aneurysms. Circulation 2008;117:2288-96.

8. Park KH, Lim C, Lee JH, et al. Suitablity of endovascular repair with current stent graft for abdominal aortic aneurysm in
Korean patients. J Korean Med Sci 2011;26:1047-51.

9. Fulton JJ, Farber MA, Marston WA, et al. Endovascular stentgraft
repair of pararenal and type IV thoracoabdominal
aortic aneurysms with adjunctive visceral reconstruction. J
Vasc Surg 2005;41:191-98.

10. Black SA, Wolfe JH, Clark M. ComplexTAAAs endovascular
exclusion with visceral revascularization. J Vasc Surg
2006;43(6):1081-89.

11. Quinones-Baldrich WJ, Panetta TF, Vescera CL, et al. Repair of
type IV thoracoabdominal aneurysm with a combined
endovascular and surgical approach. J Vasc Surg 1999;30:
555-60.

12. Rimmer J, Wolfe JH. Type III TAAA repair: a combined surgical
and endovascular approach. Eur J Vasc Endovasc Surg
2003;26:677-9.

13. Hughs GC, Barfield ME, Shah AA, et al. Staged total abdominal
debranching and thoracic endovascular aortic repair for
thoracoabdominal aneurysm. J Vasc Surg 2012;56:621-9.

14. Farber MA, Ford PF. Hybrid procedures for TAAA. Semin Vasc
Surg 2009;22:140-4.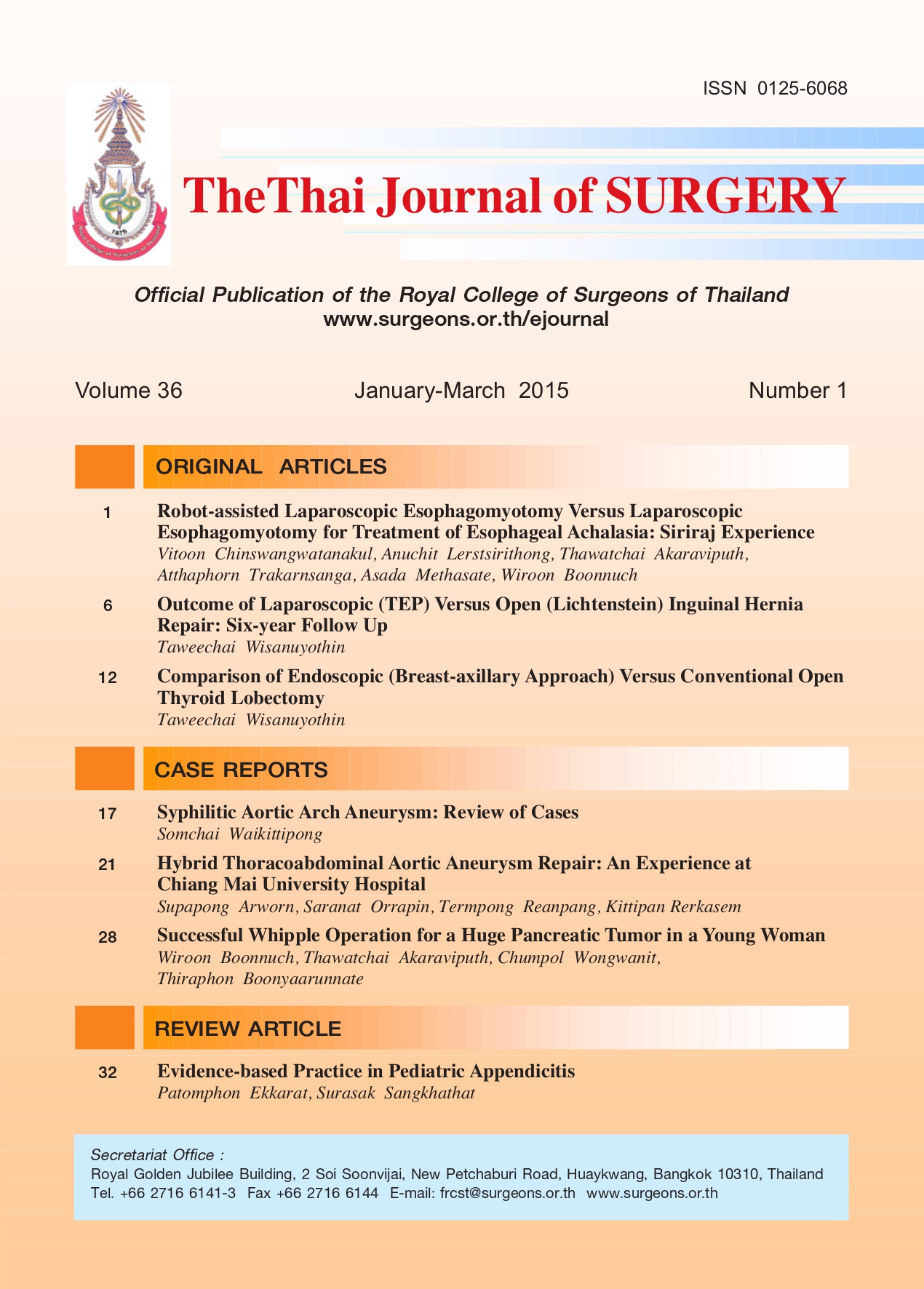 Downloads
How to Cite
1.
Arworn S, Orrapin S, Reanpang T, Rerkasem K. Hybrid Thoracoabdominal Aortic Aneurysm Repair: An Experience at Chiang Mai University Hospital. Thai J Surg [Internet]. 2015 Mar. 30 [cited 2023 Feb. 1];36(1). Available from: https://he02.tci-thaijo.org/index.php/ThaiJSurg/article/view/226256
License
Articles must be contributed solely to The Thai Journal of Surgery and when published become the property of the Royal College of Surgeons of Thailand. The Royal College of Surgeons of Thailand reserves copyright on all published materials and such materials may not be reproduced in any form without the written permission.