Pancreatic Ascites in Young Patient Successfully Treated with Pancreatic Duct Stenting: Report of A Case
Keywords:
Pancreatic ascites, Pancreatic duct stenting, Endoscopic treatment
Abstract
Pancreatic ascites is a rare complication after an attack of pancreatitis. Very few cases of pancreatic ascites occurring in young people have been reported in the literature. The treatment of pancreatic ascites is still controversial, ranging from conservative treatment to endoscopically stenting and even surgery. ERCP is mandatory to identify the site of leakage before considering further treatment. We herein report a case of young patient with pancreatic ascites who was successfully treated by endoscopic pancreatic stenting.
Downloads
Download data is not yet available.
References
1. Gomez-Cerezo J, Cano B, Suarez l, et al. Pancreatic Ascites: Study of Therapeutic Options by Analysis of Case Reports and Case Series between the Years 1975 and 2000. Am J Gastroenterol 2003;98:568-77.

2. Athow AC, Wilkinson ML, Saunders AJ, et al. Pancreatic ascites presenting in infancy, with review of the literature, Dig Dis Sci 1991; 36: 245-50.

3. Rubin SZ, Ein SH. The unusual presentation of pancreatitis in infancy. J Pediatr Surg 1979; 14: 146-8.

4. Filston HC, McLeod ME, Bolman RM III, et al. Improved management of pancreatic lesions in children aided by ERCP. J Pediatr Surg 1980; 15: 121-8.

5. Bloss RS, Cooley DA. Pancreaticojejunostomy for fulminating pancreatitis and pancreatic ascites in a Jehovah's Witness, J Pediatr Surg 1981; 16: 79-81.

6. Rao SS, Riley SA, Foster PN, et al. Hereditary pancreatitis presenting with ascites. Postgrad Med J 1986; 62: 1151-2.

7. Uchiyama T, Yamamoto T, Mizuta E, et al. A collected review of 37 cases in Japan. Hepatogastroenterology 1989;36:244-8.

8. Mucklow ES, Freeman NV. Pancreatic ascites in childhood. Br J Clin Pract 1990; 44: 248-51,

9. Rushforth JA, Beck JM, McMahon M, et al. Resolution of pancreatic ascites with octreotide. Arch Dis Child 1993; 68:135-6.

10. Johst P, Tsiotos GG, Sarr MG. Pancreatic ascites: A rare complication of necrotizing pancreatitis. A case report and review of the literature. Int J Pancreatol 1997;22: 151-4.

11. Bracher GA, Manocha AP, DeBanto JR, et al. Endoscopic pancreatic duct stenting to treat pancreatic ascites. Gastrointest Endosc 1999; 49: 710-5.

12. Eckhauser F, Raper SE, Knol JA, et al. Surgical management of pancreatic pseudocysts, pancreatic ascites, and pancreaticopleural fistula. Pancreas 1991;6 (Suppl 1): S66-S75.

13. Kozarek RA, Jiranek GC, Traverso LW. Endoscopic treatment of pancreatic ascites. Am J Surg 1994; 168: 223-6.

14. da Cunha JE, Machado M, Bacchella T, et al. Surgical treatment of pancreatic ascites and pancreatic pleural effusions. Hepatogastroenterology 1995; 42: 748-51.

15. Munshi IA, Haworth R, Barie PS. Resolution of refractory pancreatic ascites after continuous infusion of octreotide acetate. Int J Pancreatol 1995; 17: 203-6.

16. Ohge H, Yokoyama T, Kodama T, et al. Surgical approaches for pancreatic ascites: Report of three cases. Surg Today 1999;29:458-61.

17. Gislason H, Gronbech JE, Soreide O. Pancreatic ascites: treatment by continuous somatostatin infusion. Am J Gastroenterol 1991; 86:519-21.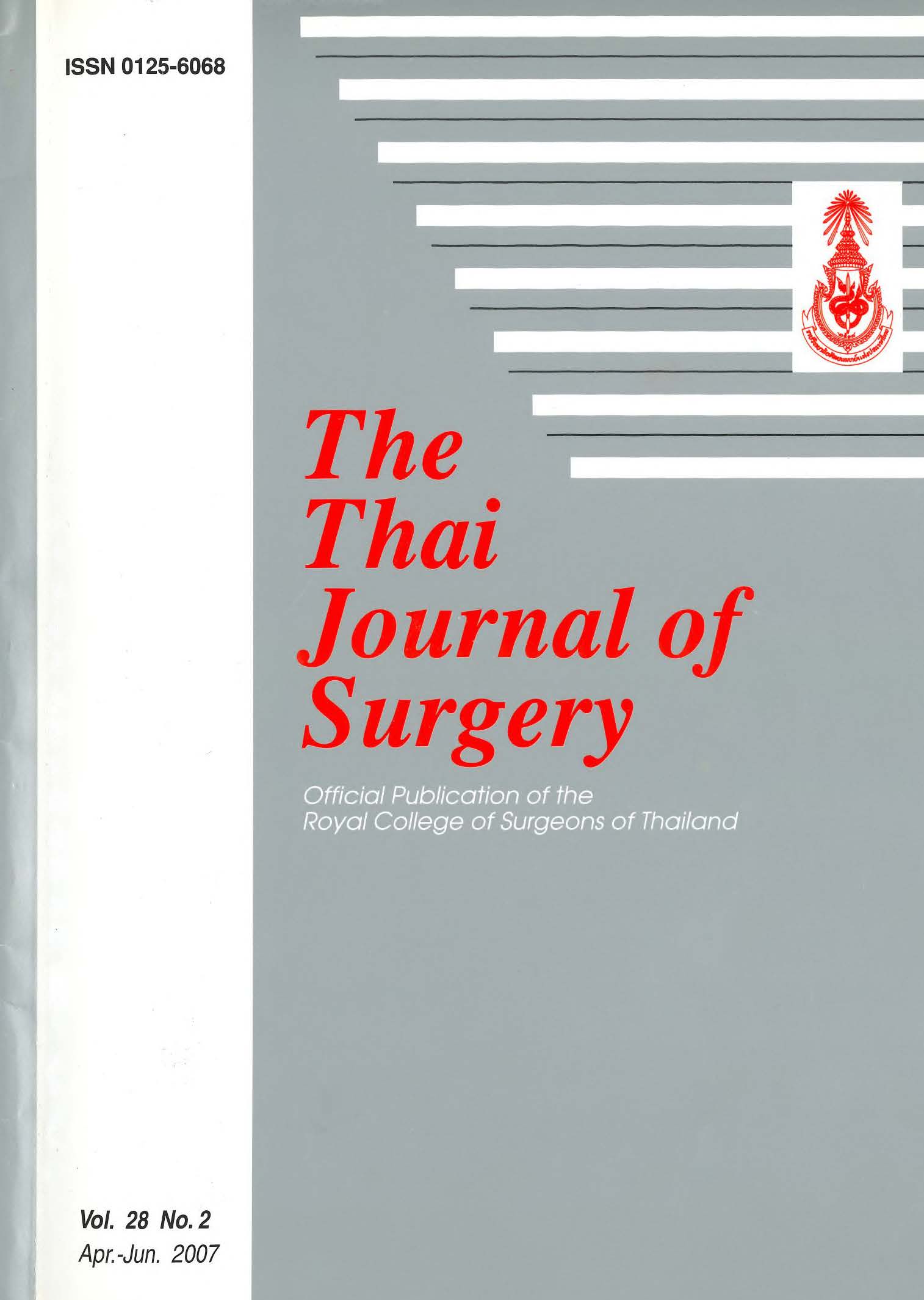 Downloads
How to Cite
1.
Suwanthanma W, Kongdan Y, Suwanreungsri V. Pancreatic Ascites in Young Patient Successfully Treated with Pancreatic Duct Stenting: Report of A Case. Thai J Surg [Internet]. 2007 Jun. 29 [cited 2022 Sep. 28];28(2):48-50. Available from: https://he02.tci-thaijo.org/index.php/ThaiJSurg/article/view/241142
License
Articles must be contributed solely to The Thai Journal of Surgery and when published become the property of the Royal College of Surgeons of Thailand. The Royal College of Surgeons of Thailand reserves copyright on all published materials and such materials may not be reproduced in any form without the written permission.