Risk Factors for Postoperative Complications of Pancreaticoduodenectomy at Ramathibodi Hospital
Abstract
Objectives: To identify preoperative and intraoperative risk factors for postoperative complications following pancreaticoduodenectomy at Ramathibodi Hospital.
Patients and Methods: Existing medical records of 68 patients who underwent pancreaticoduodenectomy during the 15-year period from 1989 to 2003 at Ramathibodi Hospital were reviewed. Demographic, preoperative and intraoperative factors, as well as various postoperative infectious, wound and anastomotic complications, were analyzed. Statistical associations between these risk factors and postoperative complications were assessed.
Results: There was a 38% (26 of 68) incidence of postoperative infectious, wound and anastomotic complications. Increased postoperative complications were observed in patients with older age, low preoperative albumin level, high preoperative total bilirubin level, preoperative pancreatitis, evidence of biliary tract lithiasis, preoperative sepsis, malignancy, increased blood loss and portal vein injury; but none of these associations was statistically significant. Preoperative stenting of obstructed common bile duct was associated with decreased risk of complications, but this was also not statistically significant. The only factor associated with a significant increased risk of complications was prolonged operative time (Odds ratio: 1.43 per hour increase, 95% Cl: 1.04 to 1.98).
Conclusions: Due to the small sample size of this study, only one risk factor, ie, increased operative time, was found to be significantly associated with an increased risk of postoperative infectious, wound and anastomotic complications in patients undergoing pancreatoduodenectomy.
Downloads
Download data is not yet available.
References
1. Srivastava S, Sikora SS, Kumar A, Saxena R, Kapoor VK. Outcome following pancreaticoduodenectomy in patients undergoing preoperative biliary drainage. Dig Surg 2001; 18:381-7.

2. Leffler J, Poloucek P. Impaired healing of pancreatic anastomosis. Rozhl Chir 2001; 80: 432-6.

3. Gouma DJ. Rates of complications and death after pancreaticoduodenectomy: risk factor and the impact of hospital volume. Ann Oncol 1999;10 (Suppl 4): 257-60.

4. Sohn TA. Post pancreaticoduodenectomy complications. J Gastrointest Surg 2000;4: 258-67.

5. Tocchi A. Pancreatic fistula after pancreaticoduodenectomy: incidence, significance and treatment, G Chir 2002; 23: 185-9.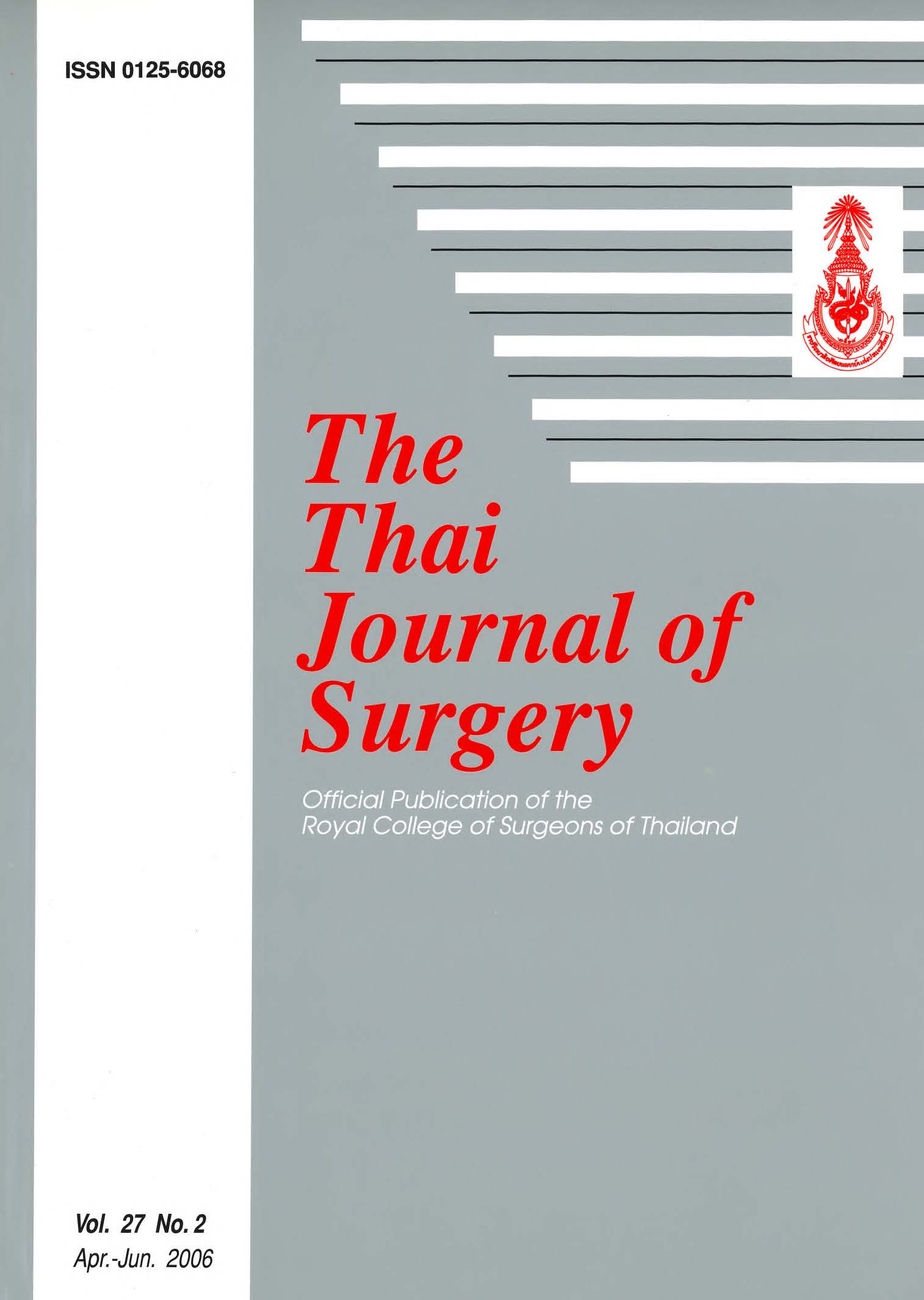 Downloads
How to Cite
1.
Asavakesmanee N, Lertsithichai P, Samritpradit P. Risk Factors for Postoperative Complications of Pancreaticoduodenectomy at Ramathibodi Hospital. Thai J Surg [Internet]. 2006 Jun. 30 [cited 2022 Oct. 1];27(2):74-6. Available from: https://he02.tci-thaijo.org/index.php/ThaiJSurg/article/view/242036
Section
Original Articles
License
Articles must be contributed solely to The Thai Journal of Surgery and when published become the property of the Royal College of Surgeons of Thailand. The Royal College of Surgeons of Thailand reserves copyright on all published materials and such materials may not be reproduced in any form without the written permission.