Comparison of Various Nutritional Screening Methods in Patients Undergoing Abdominal Surgery
Abstract
Objective: To compare the following nutritional screening methods - the serum albumin and serum prealbumin levels, the Short Form Mini Nutritional Assessment (MNA-SF), the Nutrition Risk Classification (NRC), the Malnutrition Screening Tool (MST), the Nutrition Risk Score (NRS) and the Subjective Global Assessment (SGA) in the prediction of postoperative infectious and wound complications.
Patients and Methods: Nutritional assessment was performed on 103 patients undergoing major abdominal surgery between November and December 2002. All patients were followed postoperatively for 30 days or till the occurrence of postoperative complications. The ability of the "at-risk" of malnutrition classification to predict postoperative complications was measured by the area under the receiver operating characteristic (ROC) curve for each method and compared.
Results and Conclusions: All nutritional screening methods were capable of predicting postoperative complications reasonably well (ROC area between 0.65 and 0.8) but the best predictor was the NRC (ROC area = 0.78).
Downloads
Download data is not yet available.
References
1. Carney DE, Meguid MM. Current concepts in nutritional assessement. Arch Surg 2002; 137: 42-5.

2. Campos ACL, Meguid MM.A critical appraisal of the usefulness of perioperative nutritional support. Am J Clin Nutr 1992; 55:117-30.

3. Gibbs J, Cull W, Henderson W, Daley J, Hur K, Khuri SF. Preoperative serum albumin level as a predictor of operative mortality and morbidity. Arch Surg 1999; 134: 36-42.

4. Vellas B, Guigoz Y, Garry PJ, et al. The mini nutritional assessment (MNA) and its use in grading the nutritional state of elderly patients. Nutrition 1999; 15: 116-22.

5. Rubenstein LZ, Harker JO, Salva A, Guigoz Y, Vellas B. Screening for undernutrition in geriatric practice; developing the short-form mini-nutritional assessment (MNA-SF). J Gerontol 2001; 6: M366-M372.

6. Kovacevich DS, Boney AR, Braunschweig CL, Perez A, Stevens M. Nutrition risk classification: a reproducible and valid tool for nurses. Nutr Clin Pract 1997; 12: 20-5.

7. Ferguson M, Capra S, Bauer J, Banks M. Development of a valid and reliable malnutrition screening tool for adult acute hospital patients. Nutrition 1999; 15: 458-64.

8. Reilly M, Martineau JK, Moran A, Kennedy H. Nutritional screening - evaluation and implementation of a simple nutrition risk score. Clin Nutr 1995; 14: 269-73.

9. Cohendy R, Gros T, Arnaud-Battandier F, Tran G, Plaze JM, Eledjam JJ. Preoperative nutritional evaluation of elderly patients: the mini nutritional assessment as a practical tool. Clin Nutr 1999; 18: 345-8.

10. Mullen JL, Buzby GP, Matthews DC, Smale BF, Rosato EF. Reduction of operative morbidity and mortality by combined preoperative and postoperative nutritional support. Ann Surg 1980; 192: 604-13.

11. Detsky AS, Baker JP, O'Rourke K, et al. Predicting nutrition- associated complications for patients undergoing gastrointestinal surgery. JPEN 1987; 11: 440-6.

12. Roy MC, Perl TM. Basics of surgical site infection surveillance. Infect Control Hosp Epidemiol 1997; 18: 659-68.

13. Agresti A. Categorical data analysis. 2nd ed. New Jersey: John Wiley & Sons; 2002. p. 137.

14. DeLong ER, DeLong DM, Clarke-Pearson DL. Comparing the areas under two or more correlated receiver operating characteristic curves: a non-parametric approach. Biometrics 1988; 44: 837-45.

15. Junqueira JCS, Soares EC, Filho HRC, Hoehr NF, Magro DO, Ueno M. Nutritional risk factors for postoperative complications in Brazilian elderly patients undergoing major elective surgery. Nutrition 2003; 19: 321-6.

16. Pettigrew RA, Hill GL. Indicators of surgical risk and clinical judgement, Br J Surg 1986; 73: 47-51,

17. Longo WE, Virgo KS, Johnson FE, et al. Risk factors for morbidity and mortality after colectomy for colon cancer. Dis Colon Rectum 2000; 43: 83-91.

18. Suzuki M, Otsuji M, Baba M, et al. Bronchopleural fistula after lung cancer surgery. Multivariate analysis of risk factors. J Cardiovasc Surg (Torino) 2002; 43: 263-7.

19. Yamaguchi K, Chijiwa K, Yamashita H, Ogawa Y, Yoshida J, Tanaka M. Pancreatoduodenectomy for periampullary tumours: a univariate and multivariate analysis of the parameters influencing the morbidity, mortality and survival rates. Int Surg 1995; 80: 211-4.

20. World Health Organization. Physical status. The use and interpretation of anthropometry. World Health Organization Technical Report 854. Geneva: World Health Organization; 1995.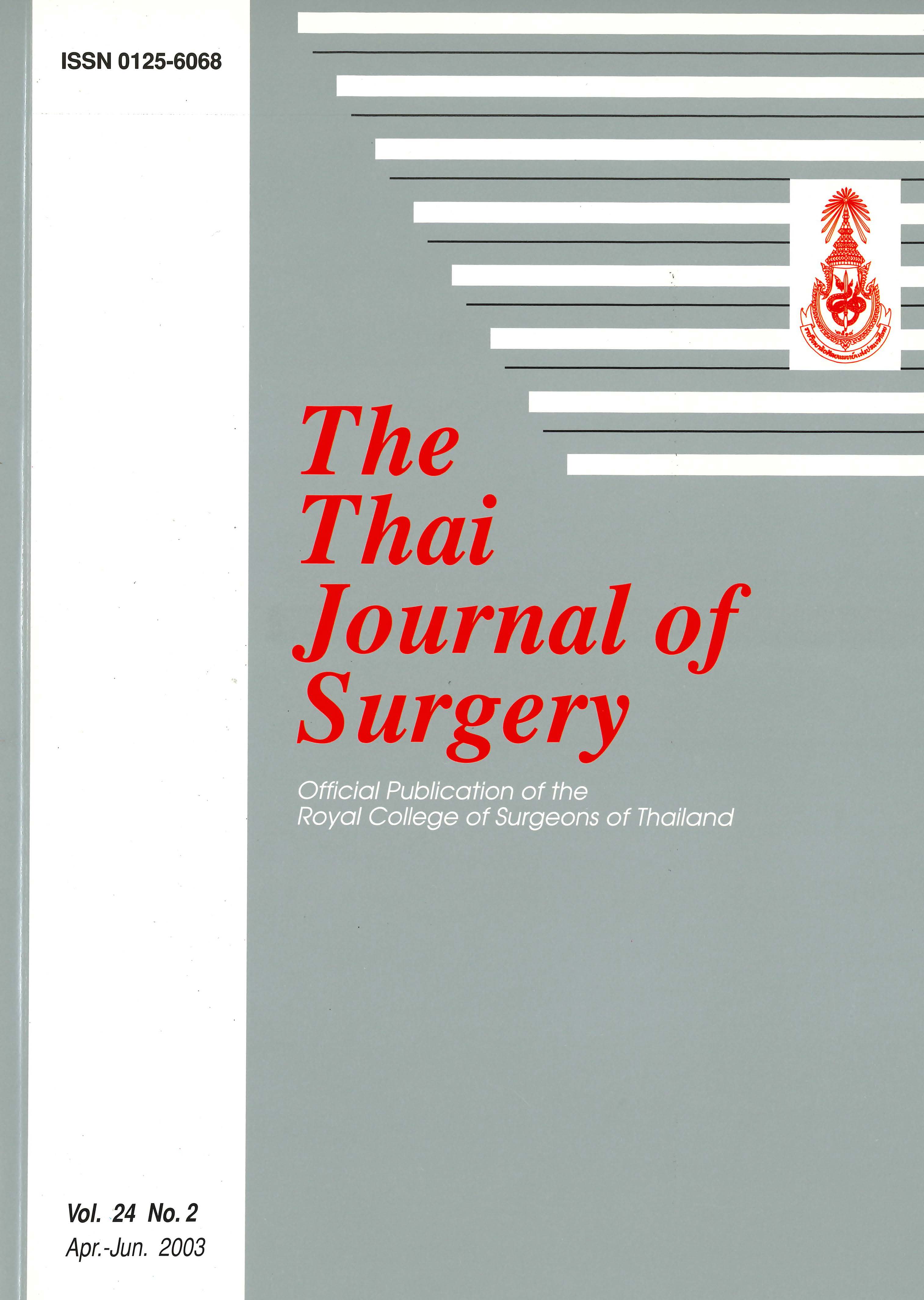 Downloads
How to Cite
1.
Putwatana P, Reodecha P, Sirapo-ngam Y, Lertsithichai P. Comparison of Various Nutritional Screening Methods in Patients Undergoing Abdominal Surgery. Thai J Surg [Internet]. 2003 Jun. 30 [cited 2022 Nov. 29];24(2):45-50. Available from: https://he02.tci-thaijo.org/index.php/ThaiJSurg/article/view/242956
Section
Original Articles
License
Articles must be contributed solely to The Thai Journal of Surgery and when published become the property of the Royal College of Surgeons of Thailand. The Royal College of Surgeons of Thailand reserves copyright on all published materials and such materials may not be reproduced in any form without the written permission.