Surgical Treatment of Mediastinal Tumor in Prince of Songkhla University
Abstract
A retrospective review of mediastinal tumors treated in our surgical unit at Prince of Songkhla University from June 1982 to June 2001 was presented. The aim of this study was to determine the incidence, nature of tumor found in various locations in the mediastinum and to evaluate our surgical results in patients with mediastinal tumors.
During the study period of 19 years, we operated upon 96 cases of mediastinal tumors, 51 males and 45 females, age range from 5 months to 64 years old. There were 85 Thais, 6 Thai-Chineses and 5 Thai-Moslems. The majority of patients (81.25%) were symptomatic and the anterior mediastinum was the most common location (65.6%). Teratoma was the most common tum or in our study (32.29%). The tumor was benign histology in 63.5per cent and malignant histology in 36.5 per cent.
Conclusion: The incidence of anterior mediastinal tumor and teratoma was slightly higher than in other reports. The relation between asymptomatic patients and benign histology was strong in our study. We also found the incidence in Thai-Moslem was lower than Thais because they infrequently has routine chest x-ray check up despite the fact that in some provinces in Southern Thailand the Thai-Moslem population is over 90 percent. The routine chest x-ray check up may increase the chance of diagnosis made for mediastinal tumor and the result of treatment may be improved.
Downloads
Download data is not yet available.
References
1. Wychulis AR, Payne WS, Clagett OT, et al. Surgical treatment of mediastinal tumors. J Thorac Cardiovasc Surg. 1972; 62:379-91.

2. Davis RD, Oldham HN, Sabiston DC. The mediastinum. In: Surgery of the chest. Philadelphia: W.B.Saunders. 1995; 576-611.

3. Benjamin SP, McCormack LJ, Effler DB, et al. Primary tumors of the mediastinum. Chest 1972;62: 297-303.

4. Pokomy WJ, Sherman JO. Mediastinal masses in infants and children. J Thorac Cardiovasc Surg 1973; 68: 869-75.

5. Azarow Ks, Pearl RH, Zurcher R, et al. Primary mediastinal masses: A comparison of adult and pediatric populations. J Thorac Cardiovasc Surg 1993; 106: 67-72.

6. Cohen AJ, Thompson L, Edwards FH, et al. Primary cysts and tumors of the mediastinum. Ann Thorac Surg 1991;51: 378-84.

7. Grosfeld JL, Weinberg M, Kilmann JW, Clatworthy HW. Primary mediastinal neoplasms in infants and children. Ann Thorac Surg. 1971; 12: 170.

8. Davis RD, OIdham HN Jr, Sabiston DC Jr. Primary cysts and neoplasms of the mediastinum: Recent changes in clinical presentation, methods of diagnosis, management and results. Ann Thorac Surg 1987; 44: 229-37.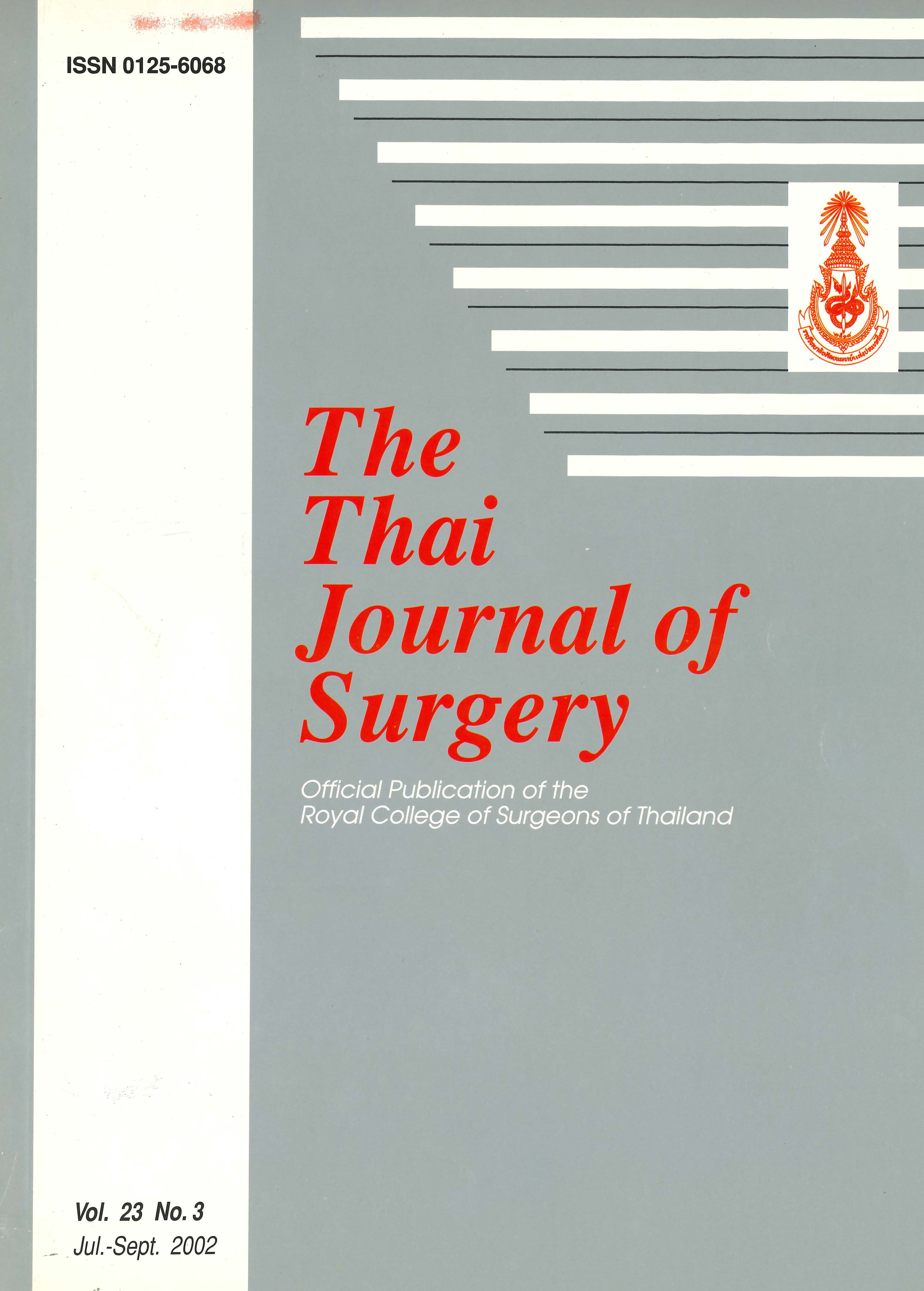 Downloads
How to Cite
1.
Rergkliang C, Vasinanukorn P. Surgical Treatment of Mediastinal Tumor in Prince of Songkhla University. Thai J Surg [Internet]. 2002 Sep. 30 [cited 2022 Nov. 29];23(3):75-8. Available from: https://he02.tci-thaijo.org/index.php/ThaiJSurg/article/view/243065
Section
Original Articles
License
Articles must be contributed solely to The Thai Journal of Surgery and when published become the property of the Royal College of Surgeons of Thailand. The Royal College of Surgeons of Thailand reserves copyright on all published materials and such materials may not be reproduced in any form without the written permission.