Bupivacaine Moistened Dressing for Pain Relief on Skin Graft Donor Sites
Abstract
Background: Pain at the split-thickness skin graft donor site has been a great trouble for some patients especially during the first five postoperative days. Many types of dressings have been used for split skin graft donor site especially in the last twenty years period but it could not provide the effective pain relief for prolonged period.
Patients and Methods: After approvals by the ethics committee of the Faculty of Medicine, Siriraj Hospital, Mahidol University, the study was conducted from December 2000 to December 2001. Forty patients, without previous history of local anesthetic allergy, who required split-thickness skin graft for reconstruction of various defects were prospectively studied. The patients were randomly divided into two groups. Group A received bupivacaine moistened dressing and 0.5% bupivacaine hydrochloride 6 ml/100 cm2 instilled via catheter every 12 hours under aseptic technique. Group B was a control group, had saline moistened dressing and saline 6 ml/100 cm2 instilled in the same method and intervals.
Results: There was no significant difference between the two groups in ages, sex, distribution of disease requiring reconstruction. The donor size was 295 cm2 for group A and 225 cm2 for group B. Pain relief scores in both groups assessed on each day of the first five days were significantly different between the two groups. First to forth day pain relief scores showed p value < 0.001. Fifth day scores showed p value <0.05. Bupivacaine moistened dressing on skin graft donor site can be done safely and satisfactory post operative analgesia can be achieved.
Downloads
Download data is not yet available.
References
1. Barnett A, Berkowitz RL, Milis R, Vistness LM. Comparison of synthetic adhesive moisture vapor permeable and fine mesh gauze dressing for split thickness skin graft donor sites. Am J Surg 1983; 145: 379-81.

2. James JH, Watson ACH. The use of opsite, a vapour permeable dressing, on skin graft donor sites. Br J Plast Surg 1975;28: 107-10.

3. Schouten JJA. Planning group sizes in clinical trials with a continuous outcome and repeated measures. Statistics in Medicine 1999;18: 255-64.

4. Tetzlaff JE, Andrish J, O'Hara J, et al. Effectiveness of bupivacaine administered via femoral nerve catheter for pain control after anterior cruciate ligament repair. J Clin Anesth 1997;9:542-5.

5. Owen TD, Dye D. The value of topical lignocaine gel in pain relief on skin graft donor site, Br. J Plast Surg 1990; 43: 480-2.

6. Jellish WS, Gamelli RL, Furry PA, et al. Effect of topical local anesthesia application to skin harvest sites, for pain management in burn patients undergoing skin-grafting procedure. Ann Surg 1999; 299: 115-20.

7. Butler PEM, Eadle PA, Lawler d, et al. Bupivacaine and kaltostat reduces post-operative donor site pain. Br J Plast Surg 1993; 46: 523-4.

8. Das SK, Munro IR. Painless, wettable split skin graft donor site dressing. Ann Plast Surg 1981;7: 48-53.

9. AIvi R, Jones S, Burrows D, et al. The safety of topical anesthetic and analgesic agents in a gel when used to provide pain relief at split skin donor sites. Burns 1998; 24:54-7

10. Bettinger D, Gore D, Yvonne Humphries. Evaluation of calcium alginate for skin graft donor site. J Burn Care & Rehabil 1995; 16:59-61.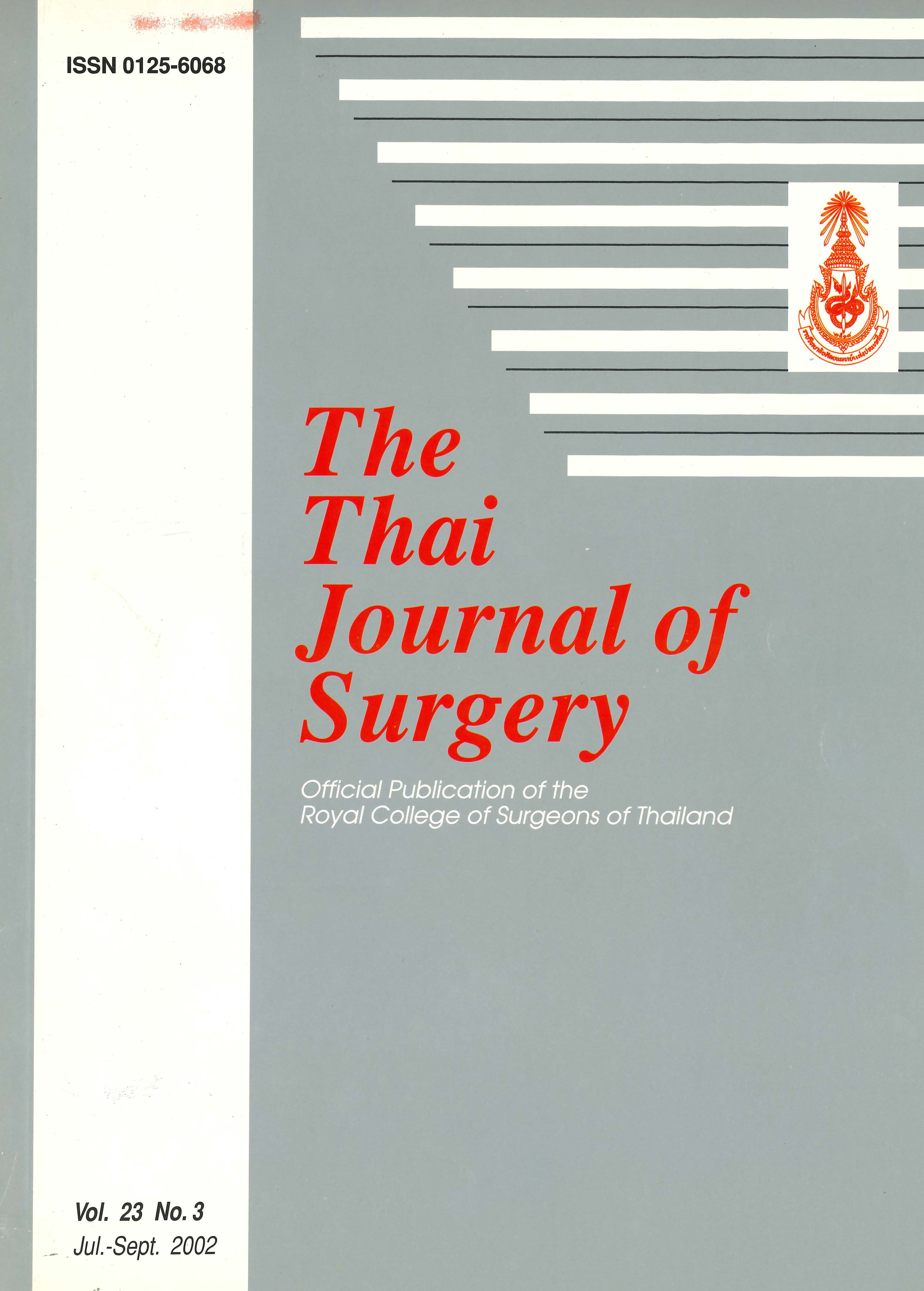 Downloads
How to Cite
1.
Jenwitheesuk K, Chuangsuwanich A, Areewatana S. Bupivacaine Moistened Dressing for Pain Relief on Skin Graft Donor Sites. Thai J Surg [Internet]. 2002 Sep. 30 [cited 2022 Nov. 30];23(3):83-6. Available from: https://he02.tci-thaijo.org/index.php/ThaiJSurg/article/view/243070
Section
Original Articles
License
Articles must be contributed solely to The Thai Journal of Surgery and when published become the property of the Royal College of Surgeons of Thailand. The Royal College of Surgeons of Thailand reserves copyright on all published materials and such materials may not be reproduced in any form without the written permission.