Thoracoscopic Sympathectomy for Primary Hyperhidrosis: A Two-year Experience at Police General Hospital
Abstract
Thoracoscopic sympathectomy is currently the most acceptable surgical treatment for disabling upper limb hyperhidrosis. The procedure is known and had been performed by a very few surgeons in Thailand. The results were never been reported except from our institute.
Objective: To quantitatively evaluate the results of treatment of primary hyperhidrosis with thoracoscopic sympathectomy in our two years experience at Police General Hospital.
Materials and Methods: Two hundred and nine thoracoscopic sympathectomies had been performed for 105 consecutive patients suffered from primary hyperhidrosis during February 1998 to May 2000. To evaluate the results of treatment, side effects, complications, quality of life and satisfaction to the treatment, questionnaires as a form of Linear analogue score was mailed to patients. There were seventy two patients responded to questionnaires and were included to this study.
Statistical Analysis: Linear analogue score with the Student's t test was used for statistical analysis.
Results: Palmar sweating was reduced from a mean score of 9.224 pre-operatively to 0.528 after sympathectomy (P<0.001). For axillae :4.7200 to 3.6900 after T2 sympathectomy(NS) and 8.600 to 3.111 after T2+T3 sympathectomy (P <0.001). Sixty one patients (84.7%) felt their quality of life was markedly improved after the operation, while six (8.3%) felt worsen. Compensatory sweating occurred in more than ninety percent of the patients which was the main cause of dissatisfaction (16.7%) and worsen quality of life (8.3%) in this group. Minor complications occurred in a few patients without major postoperative consequence.
Conclusions: Thoracoscopic sympathectomy is safe and effective for the treatment of primary hyper hidrosis especially for the upper limb. However, compensatory sweating does occur in a significant number of patients and is the cause of dissatisfaction to the treatment in some patients. T2+T3 sympathectomy seems promising to treat severe concomitant axillary hyperhidrosis. Patients should be clearly informed of postoperative compensatory sweating before the operation.
Downloads
Download data is not yet available.
References
1. Thomas SM Chiou, Ko-Kaung Liao. Orientation landmarks of endoscopic sympathectomy for palmar hyperhidrosis. J Neurosurg 1996; 85: 310-5.

2. Shelly WB, Florence R. Compensatory hyperhidrosis of sympathectomy. N Engl J Med 1960; 263: 1056-8.

3. Diarmuid SO, Maher M, Waldron DJ, O'Donovan B, Brady MP. Limiting the anatomic extent of upper thoracic sympathectomy for primary hyperhidrosis. Surg Gynecol Obstet 1993; 176: 151-4.

4. Adar R, Kurchin A, Zweig A, Mozes M. Palmar hyperhidrosis and its surgical treatment: a report of 100 cases. Ann Surg 1977;186: 34-41.

5. Hsu CP, Chien CY, Lin CT, Wang JH, Chen CL, Wang PY. Video-assisted thoracoscopic T2 sympathectomy for hyperhidrosis palmaris. J Am Coll Surg 1994; 179: 59-64.

6. Stolman LP. Treatment of excess sweating of the palms by lontophoresis. Arch Dermatol 1987; 123: 893-6.

7. lb RO. Axillary hyperhidrosis: treatment with botulinum toxin A. Arch Phys Med Rehabil 1998; 79: 350-2.

8. Gassot D, Toledo L, Fritsch S, Ce'le'rier M. Thoracoscopic sympathectomy for upper limb hyperhidrosis: looking for the right operation. Ann Thorac Surg 1997; 64: 975-8.

9. Drott C, Gothberg G, Claes G. Endoscopic transthoracic sympathectomy: an efficient and safe method for the treatment of hyperhidrosis. J Am Dermatol 1995; 33: 78-81.

10. Hyndman OR, Wolkin J. Sympathectomy of the upper extremity. Evidence that only the second dorsal ganglion need to be removed for complete sympathectomy. Arch Surg 1942; 45: 145-55.

11. Kux M. Thoracic endoscopic sympathectomy in palmar and axillary hyperhidrosis. Arch Surg 1978; 113: 264-6.

12. Cloward RB. Hyperhidrosis. J Neurosurg 1960; 30: 545-51.

13. Hederman WP. Present and future trends in thoracoscopic sympathectomy. Eur J Surg Suppl 1994; 572: 17-9.

14. Kao MC, Lee WY, Yip KM, Hsiao YY, Lee YS, Tsai JC. Palmar hyperhidrosis in children: treatment with video endoscopic laser sympathectomy. J Pediatr Surg 1994; 29: 387-91.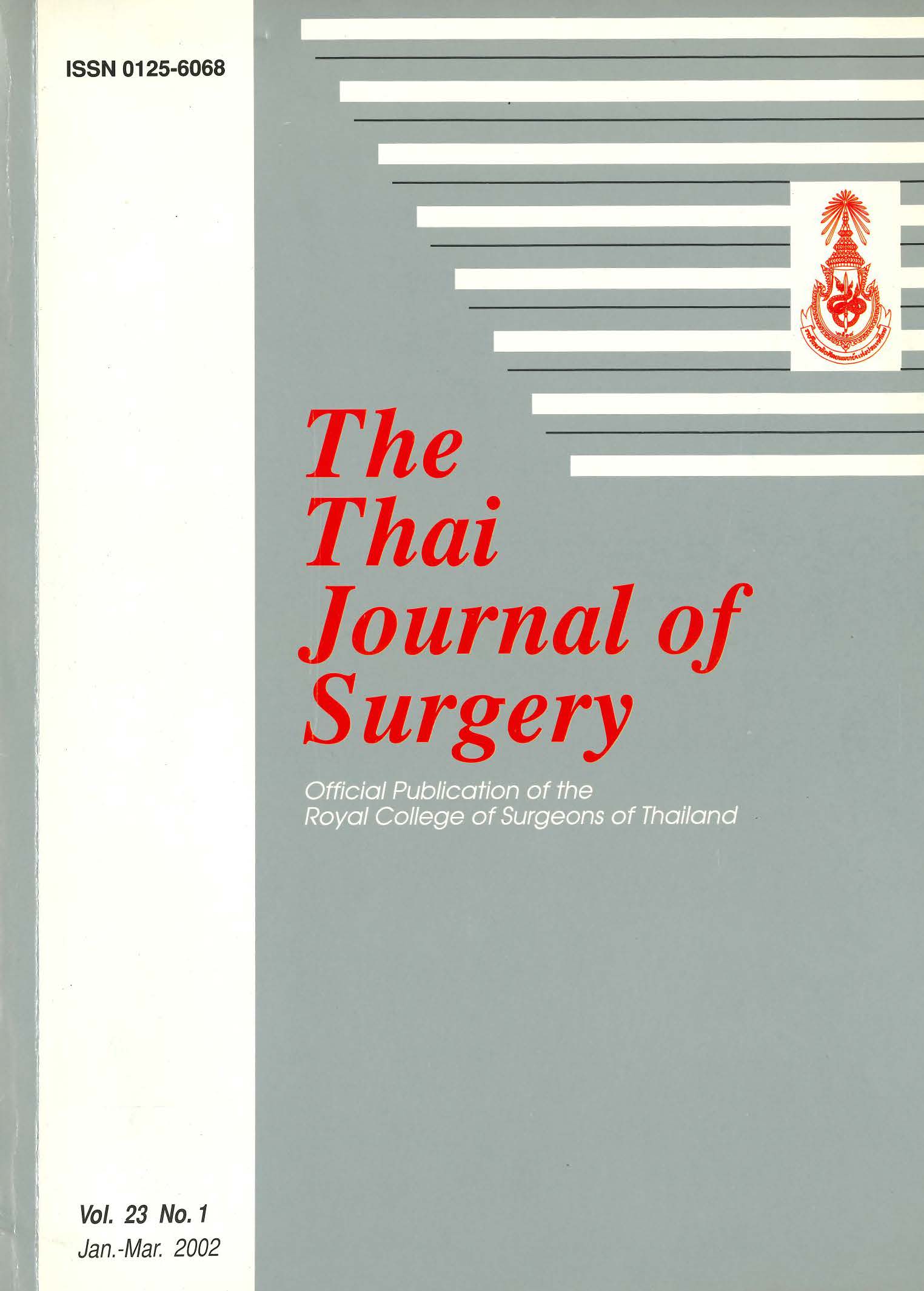 Downloads
How to Cite
1.
Wachirapunyanukul W, Patcharatrakul S, Sukosit P, Hakeem R, Montamara A, Pruksapong C, Poksawat S. Thoracoscopic Sympathectomy for Primary Hyperhidrosis: A Two-year Experience at Police General Hospital. Thai J Surg [Internet]. 2002 Mar. 29 [cited 2022 Dec. 7];23(1):15-20. Available from: https://he02.tci-thaijo.org/index.php/ThaiJSurg/article/view/243115
Section
Original Articles
License
Articles must be contributed solely to The Thai Journal of Surgery and when published become the property of the Royal College of Surgeons of Thailand. The Royal College of Surgeons of Thailand reserves copyright on all published materials and such materials may not be reproduced in any form without the written permission.