Tubularized Incised Plate, Snodgrass Hypospadias Repair: Surin Hospital Experience
Abstract
Purpose: We reported our experience in using tubularized incised plate urethroplasty for correction of hypospadias in Surin Provincial Hospital.
Materials and Methods: From September 2000 to June 2001, tubularized incised plate urethroplasty was performed in 8 boys. Their age ranged from 2 to 15 years. There were 2 cases of subcoronal, 3 cases of midshaft, and 3 cases of penoscrotal meatal hypospadias.
Results: Tubularized incised plate urethroplasty created a functional cosmetic outcome within 2 hours of operative time. Complication develops in one case (12.5 %) with wound dehiscence due to dislodgement of the stent on the second postoperative day.
Conclusion: Tubularized incised urethral plate urethroplasty is a versatile repair that can be applied to a wide range of variety in hypospadia. The procedure reliably creates a functional slit-like vertically oriented meatus following surgical correction.
Downloads
Download data is not yet available.
References
1. Dolk H. Rise in prevalence of hypospadias. Lancet 1998;341:770.

2. Paulozzi LJ, Erickson D, Jackson RJ. Hypospadias trends in two US surveillance systems. Pediatrics, 1997: 100: 5.

3. Duckett JW. Hypospadias, Campbell's Urology. 6th ed. 1992;2:1893-909.

4. Snodgrass WT. Tubularized incised plate hypospadias repair: indications, technique, and complications. Urology 1999;54:6.

5. Rich MA, Keating MA, Snyder H McC, et al. Hinging the urethral plate in hypospadias meatoplasty. J Urol 1989; 142:1551-3.

6. Snodgrass W. Tubularized, incised plate urethroplasty for distal hypospadias. J Urol 1994; 151: 464.

7. Snodgrass W. Tubularized incised plate hypospadias repair for proximal hypospadias. J Urol 1998; 159: 2129-31.

8. Bleustein CB, Esposito MP, Soslow RA, et al. Mechanism of healing following the Snodgrass repair. J Urol 2001; 165:277-9.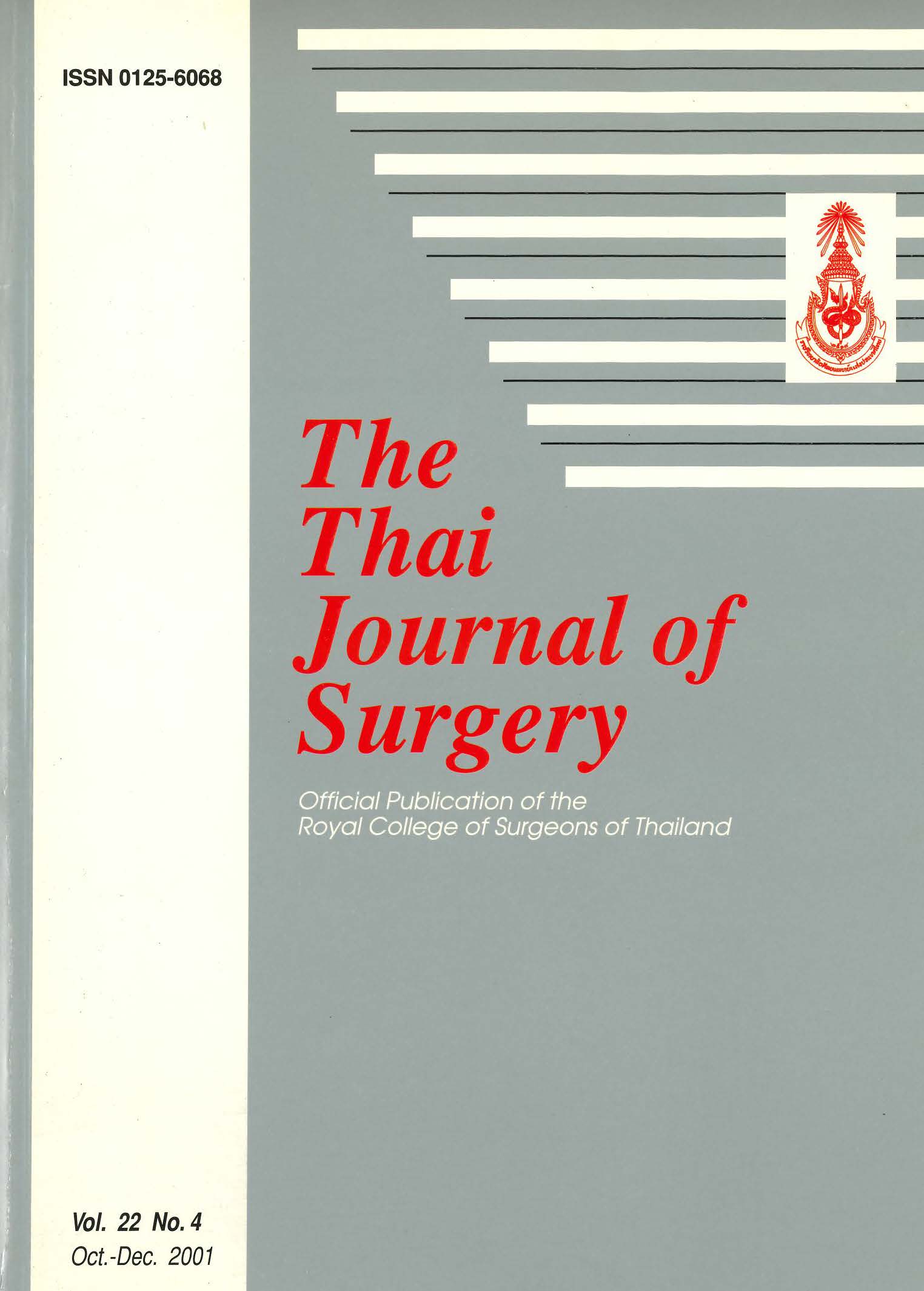 Downloads
How to Cite
1.
Parnitvitidkun S. Tubularized Incised Plate, Snodgrass Hypospadias Repair: Surin Hospital Experience. Thai J Surg [Internet]. 2001 Dec. 28 [cited 2022 Sep. 25];22(4):111-4. Available from: https://he02.tci-thaijo.org/index.php/ThaiJSurg/article/view/243124
Section
Original Articles
License
Articles must be contributed solely to The Thai Journal of Surgery and when published become the property of the Royal College of Surgeons of Thailand. The Royal College of Surgeons of Thailand reserves copyright on all published materials and such materials may not be reproduced in any form without the written permission.