Durability of Mitral Value Repair with Self-Made Annuloplasty Rings
Abstract
Objective: To report the results of our self-made annuloplasty rings and to identify factors influencing the durability of mitral valve repair.
Methods: Between January 1991 and May 1999, 132 patients with mitral insufficiency underwent mitral valve repair with self-made annuloplasty rings. Mitral insufficiency was due to rheumatic disease in 78 patients, degenerative disease in 44 patients, endocarditis in 6 patients, and congenital heart disease in 4 patients. A total of 85 patients were in functional class II or IV preoperatively. Mid-term follow-up was available in 131 patients from 1 month to 8.1 years (average 2.9 years).
Results: Operative mortality was 0.8 per cent. At 5 years, survival and event-free survival rates were 92 and 82 per cent respectively. One hundred and fourteen patients (97%) were in functional class I, 3 patients (3%) were in class II. Echocardiography at follow-up showed satisfactory mitral valve function. Durability of repair was adversely affected by younger age, rheumatic heart disease, atrial fibrillation, associated diseases, and functional class.
Conclusions: Mid-term results of self-made annuloplasty rings are comparable to commercial ones. Durability was adversely affected by multiple factors.
Downloads
Download data is not yet available.
References
1. Carpentier A, Chauvaud S, Fabiani JN, et al. Reconstructive surgery of mitral valve incompetence. Ten-year appraisal. J Thorac Cardiovasc Surg 1980; 79:338-48.

2. Deloche A, Jebara VA, Relland JYM, et al. Valve repair with Carpentier techniques. J Thorac Cardiovasc Surg 1990; 99:990-1002.

3. Cosgrove DM, Chavez AM, Lytle BW, et al. Results of mitral valve reconstruction. Circulation 1986; 74(pt 2):182.

4. Lin FY, Hung, Yang YJ, et al. Mitral valve reconstruction with Carpentier ring for mitral regurgitation: experience with Chinese patients. Taiwan I Hsueh Hui Tsa Chih 1989;88(4):330-5.

5. Kaplan EL, Meier P. Nonparametric estimation from incomplete observations. J Am Statist Assoc 1958; 53:457-81.

6. Galloway AC, Colwin SB, Baumann FG, et al. Long term results of mitral valve reconstruction with Carpentier techniques in 148 patients with mitral insufficiency. Circulation 1988; 74(Pt2):197-105.

7. Duran CG, Pomar JL, Revuelta JM, et al. Conservative operation for mitral insufficiency. J Thorac Cardiovasc Surg 1980;79:326-37.

8. Antunes MJ, Magahaes MP, Colsen PR, et al. Valvuloplasty of rheumatic mitral valve disease. J Thorac Cardiovasc Surg 1987;94:44-56.

9. Duran CG, Revuelta JM, Gait L, et al. Stability of mitral reconstructive surgery at 10-12 years of predominantly rheumatic valvular disease. Circulation 1988; 78(Pt2):191-6.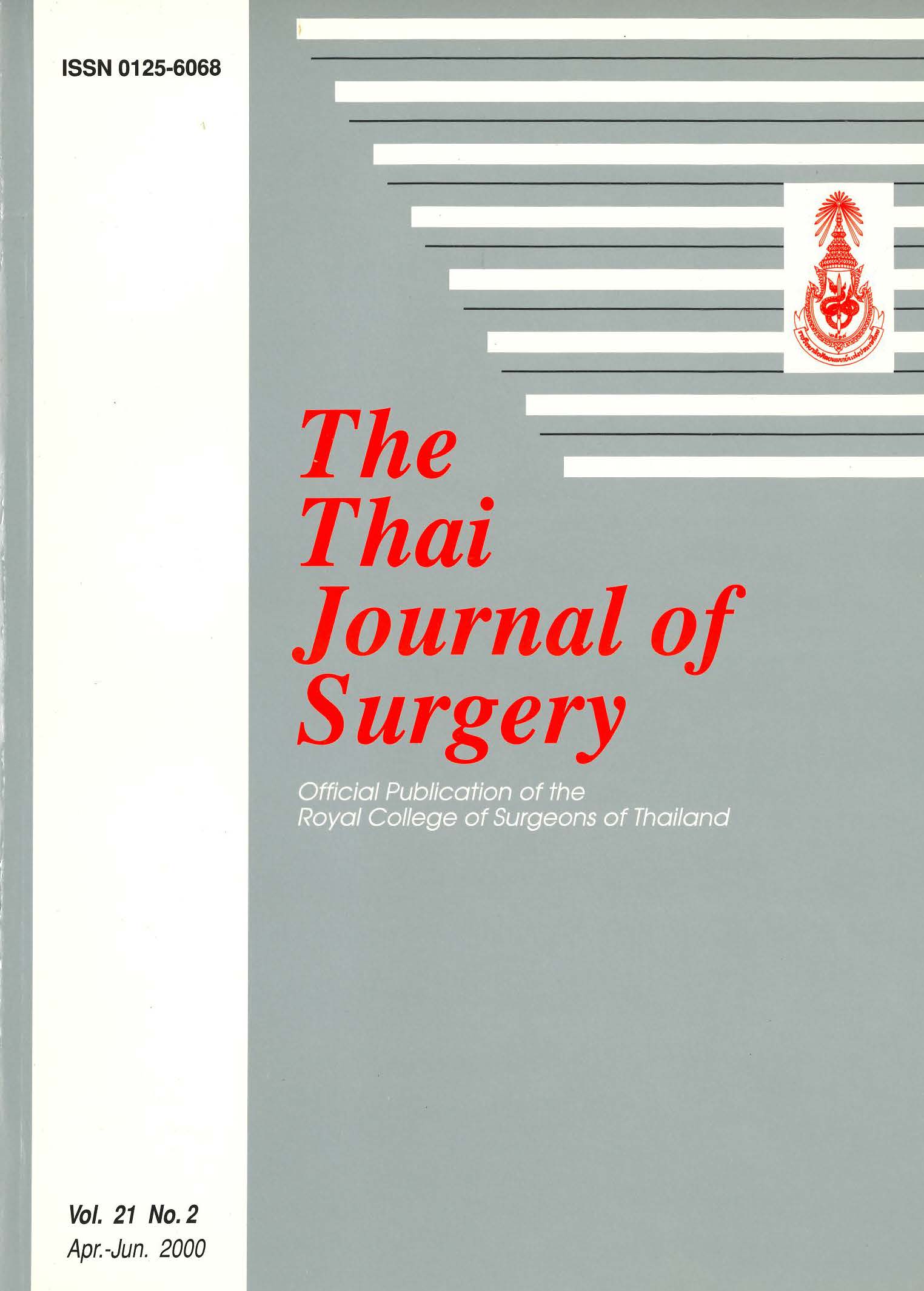 Downloads
How to Cite
1.
Warinsirikul W, Mokarapong P, Sangchote S, Chaiyodsilp S, Tanamai S. Durability of Mitral Value Repair with Self-Made Annuloplasty Rings. Thai J Surg [Internet]. 2000 Jun. 30 [cited 2022 Sep. 27];21(2):41-6. Available from: https://he02.tci-thaijo.org/index.php/ThaiJSurg/article/view/243349
Section
Original Articles
License
Articles must be contributed solely to The Thai Journal of Surgery and when published become the property of the Royal College of Surgeons of Thailand. The Royal College of Surgeons of Thailand reserves copyright on all published materials and such materials may not be reproduced in any form without the written permission.