Two-staged Keyhole Approach for Skull Base Tumors
Keywords:
petroclival tumor, anterior foramen magnum tumor, keyhole approach, minimally invasive technique
Abstract
              Most of skull base tumors are conventionally approached by skull base technique. During a two-year period (1998-1999), seven skull base tumors comprised of 6 petroclival tumors and one anterior foramen magnum tumor were operated by a two-staged keyhole approach at Prasat Neurological Institute, Bangkok, Thailand. The patients' age range was 6-75 years. They were 5 males and 2 females. Total tumor removal was achieved in 4 cases. All patients except one which preoperatively bed ridden, showed improvement their neurological functions. There was no mortality except some morbidities; 2 brainstem ischemia which persisted in 1 case, 1 transient cranial nerve III deficit, and 1 cranial nerve V dysfunction that caused facial numbness. This 2-staged keyhole approach is an alternative approach for some skull base tumors and is a minimally invasive technique comparing to other approaches.
Downloads
Download data is not yet available.
References
1. Perneczky A. Planning strategies for the suprasellar region; Philosophy of approaches. Proceeding of the Japanese Congress of Neurological Surgeons 1992; 11: 343-8.

2. Taniguchi M, Perneczky A. Subtemporal keyhole approach to the suprasellar and petroclival region: microanatomic considerations and clinical application. Neurosurgery 1997 Sep; 41(3): 592-601.

3. Sen C, Snyderman CH, Sekhar LN. Complications of skull base operations. In: Laligam N Sekhar, Ivo P Janecka, Eds. Surgery of cranial base tumors, Raven press, N.Y., 1993: 831-9.

4. Couldwell WT, Fukushima T, Giannotta SL, Weiss MH. Petroclival meningiomas; surgical experience in 109 cases. J Neurosurg 1996 Jan; 84(1): 20-8.

5. Samii M, Tatagiba M. Experience with 36 surgical cases of petroclival meningiomas. Acta Neurochir (Wien) 1992;118(1-2):27-32.

6. Bricolo AP, Turazzi S, Talacchi A, Cristofori L. Microsurgical removal of petroclival meningiomas: a report of 33 patients. Neurosurgery 1992 Nov; 31(5): 813-28.

7. Subach BR, Lunsford LD, Konziolka D, Maitz AH, Flickinger JC. Management of petroclival meningiomas by stereotactic radiosurgery. Neurosurgery 1998 Mar: 437-43.

8. Iwai Y, Yamanaka K, Yasui T, Komiyama M, Nishikawa M, Nakajima H, Kishi H. Gamma knife surgery for skull base meningiomas. The effectiveness of low-dose treatment.
Surg Neurol 1999 Jul; 52(1): 40-4.

9. Nicolato A, Ferraresi P, Foroni R, Pasqualin A, Piovan E, Severi F, Masotto B, Gerosa M. Gamma Knife radiosurgery in skull base meningiomas. Preliminary experience with 50 cases. Stereotact Funct Neurosurg 1996;66 Suppl 1:112-20.

10. Muthukumar N, Konziolka D, Lundsford LD, Flickinger JC. Stereotactic radiosurgery for anterior foramen magnum meningiomas. Surg Neurol 1999 Mar; 51 (3): 268-73.

11. Jung HW, Yoo H, Paek SH, Choi KS. Long term outcome and growth rate of subtotally resected petroclival meningiomas: experience with 38 cases. Neurosurgery 2000 Mar; 46(3):567-74.

12. Perneczky A, van Lindert E, Muller-Forell W, Fries G. Definition of minimally invasive-maximally effective procedures in microneurosurgery. In:Perneczky A, van Lindert E, Muller-Forell W, Fries G. eds Keyhole concept in neurosurgery, Thieme Stuttgarty. New York 1999: 3-55.

13. AI-Mefty o, Fox JL, Smith RR. Petrosal approach for petroclival meningiomas. Neurosurgery 1988; 22: 510-7.

14. AI-Mefty O, Schenk MP, Smith RR. Petroclival meningiomas. In: Rengachary SS,ed. Neurosurgical operative atlas. Baltimore: Williams &Wilkins; 1991.

15. Hakuba A, Nishimura S, Jang BJ. A combined retroauricular and preauricular transpetrosal-transtentorial approach toclivus meningiiomas. Surg Neurol 1988; 30: 108-16.

16. Samii M, Ammirati M, Mahran A, Bini W. Sepehrnia A. Surgery of petroclival meningiomas: Report of 24 cases. Neurosurgery1989; 24:12-7.

17. House WF, De La Cruz A, Hitselberger WE. Surgery of the skullbase: transcochlear approach to petrous apex and clivus. ORL J Otorhinolaryngol Relat Spec 1978; 86: 770-9.

18. Samii M, Tatagiba M, Carvalho GA. Resection of large petroclival meningiomas by the simple retromastoid route. J Clin Neurosci 1999 Jan; 6(1): 27-30.

19. Arnautovic KI, AI-Mefty O, Husain M. Ventral foramen magnum meningiomas. J Neurosurg 2000 Jan; 92 (1Suppl):71-80.

20. Sekhar LN, Wright DC, Richardson R, Monacci W. Petroclival and foramen magnum meningiomas: surgical approaches and pitfalls. J Neurooncol 1996 Sep; 29(3): 249-59.

21. Bertalanffy H, Gilsbach JM, Mayfrank L, Klein HM, Kawase T, Seeger W. Microsurgical management of ventral and ventrolateral foramen magnum meningiomas. Acta Neurochir Suppl (Wien) 1996;65: 82-5.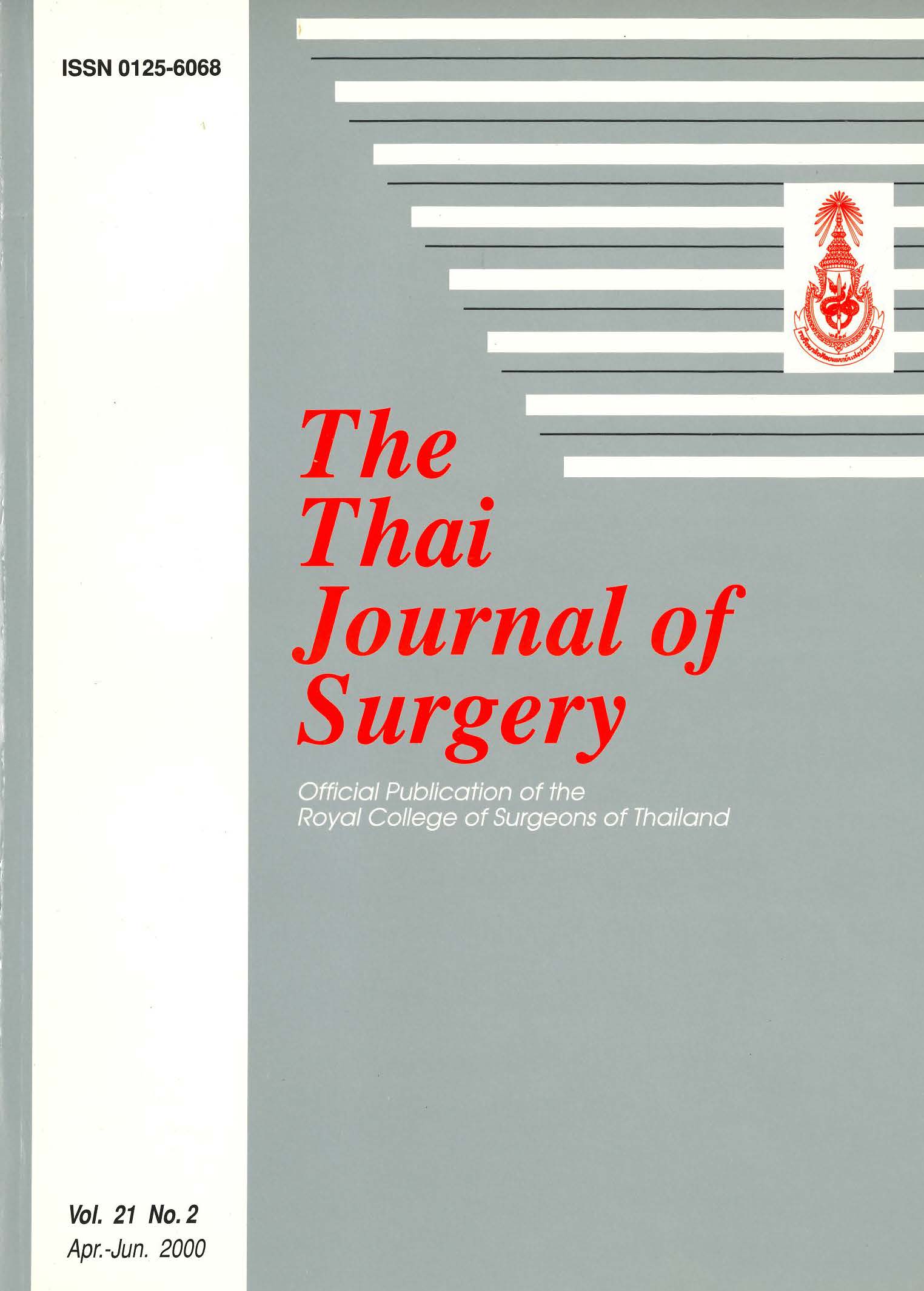 Downloads
How to Cite
1.
Puenngarm T. Two-staged Keyhole Approach for Skull Base Tumors. Thai J Surg [Internet]. 2000 Jun. 30 [cited 2022 Oct. 6];21(2):55-64. Available from: https://he02.tci-thaijo.org/index.php/ThaiJSurg/article/view/243354
Section
Original Articles
License
Articles must be contributed solely to The Thai Journal of Surgery and when published become the property of the Royal College of Surgeons of Thailand. The Royal College of Surgeons of Thailand reserves copyright on all published materials and such materials may not be reproduced in any form without the written permission.