Brain Needle Biopsy
Keywords:
Brain biopsy, computerized tomography
Abstract
               Though the advance in neuroradiological technique have provided a sensitive tools for early detection of intracranial lesions, histological diagnosis is still necessary for definitive and proper management.
                Needle biopsy of the brain utilizing computerized tomography (CT) scan data was performed in 41 patients at Songklanagarind Hospital during April 1987 to March 1995. The size of lesion ranged from 20 mm to 90 mm. There was 88 per cent accuracy in histologic diagnosis. In the nondiagnostic group, the lesions were at brain stem in four and cerebellar in one. Tabulation of complication revealed no  incidence of scalp or bone infection, 3 per cent incidence of insignificant postoperative bleeding and one patient developed postoperative hemorrhage leading to coma and died at 1 month later. We concluded that: where stereotactic surgery is not available, the freehand technique assisted by CT scan, data can be an extremely useful for performing biopsies of many brain lesions.
Downloads
Download data is not yet available.
References
1. Goldstein S, Gumerlock MK, Neuwelt EA. Comparison of CT. guided and stereotaxis cranial diagnostic needle biopsies. J Neurosurg 1987;67:341-8.

2. Greenblatt SH, Rayport M, Savolaine ER, et al. Computed tomography-guided intracranial biopsy and cyst aspiration. Neurosurgery 1982;11:589-98.

3. Hahn JF, Lery WJ, Weinstein MJ. Needle biopsy of intracranial lesions guided by computerized tomography. Neurosurgery 1979;5:11-5.

4. Maroon JC, Bank WO, Drayer BP, Roseubaum AE. Intracranial biopsy assisted by computerized tomography. J Neurosurg 1977;46:740-4.

5. Moran CJ, Naidick TP, Marchooki JA. CT-guided needle placement in the central nervous system. Results in 146 consecutive patients. AJR 1984; 143:861-8.

6 Piskum WS, Stevens EA, La Morgese JR, et al. A simplified method of CT assisted localization and biopsy of intracranial lesions. Surg Neurol 1979; 11:413-7.

7. Wen DY, Hall WA, Miller DA, et al. Targeted brain biopsy. A comparison of freehand computed tomography-guided and stereotactic techniques. Neurosurgery 1993; 32:407-13.

8. Yeates A, Enzmann DR, Britt RH, Silverbery G. Simplified and accurate CT-guided needle biopsy of central nervous system lesions. J Neurosurg 1982; 57:390-3.

9. Kondiziolka D, Dempsey PK, Lunsford LD, et al. A comparison between magnetic resonanes imaging and computed tomography for stereotactic coordinate determination. Neurosurgery 1992;30:402-7.

10. Lobato RD, Rivas JJ, Cabello A, et al. Stereotactic biopsy of brain lesions visualized with computed tomography. Appl Neurophysiol 1982; 45:426-30.

11. Cappabianca P, Spaziante R, Caputi F, et al. Acuracy of the analysis of multiple small fragments of glial tumours obtained by stereotectic biopsy. Acta Cytol 1991; 35:505-11.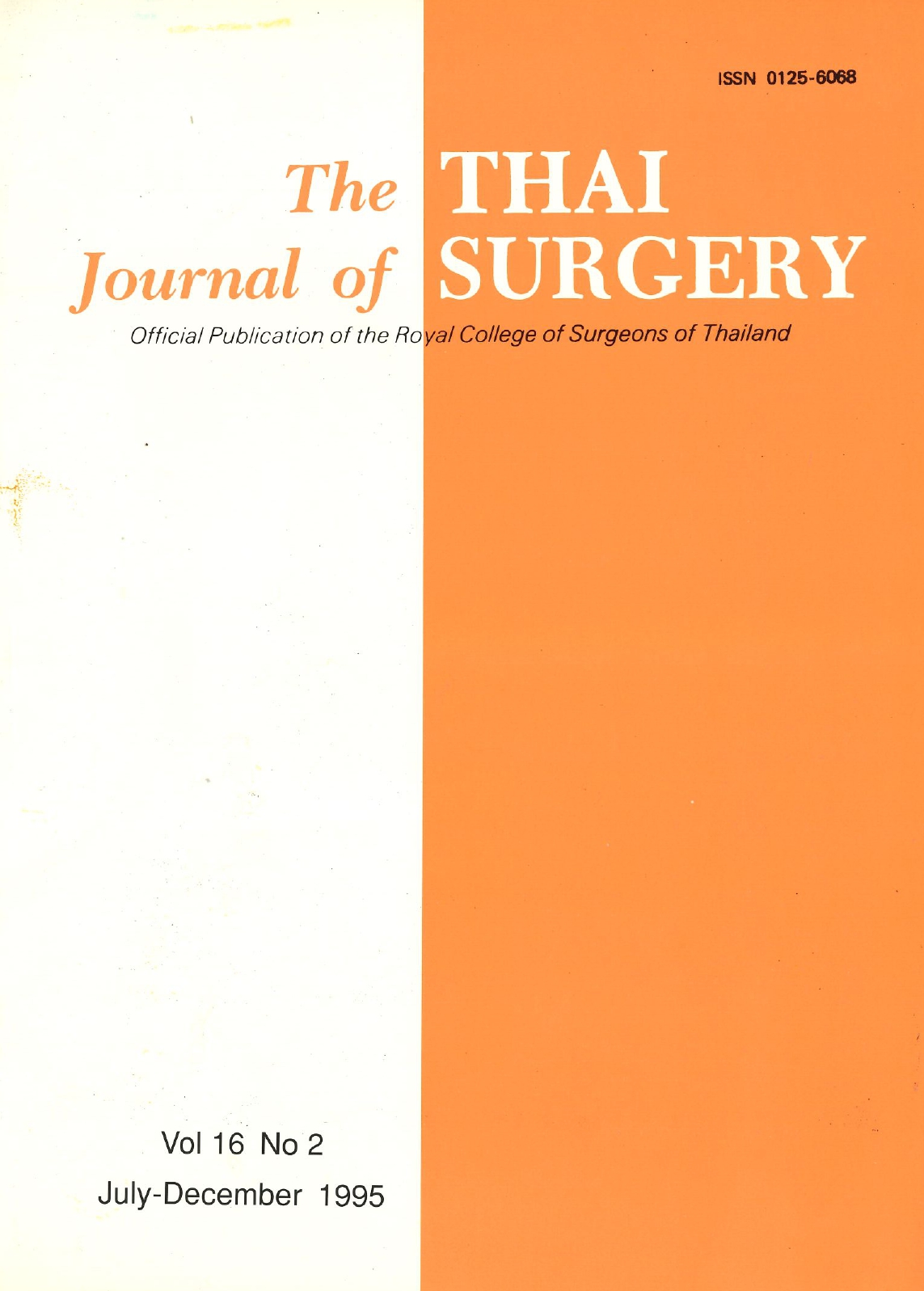 Downloads
How to Cite
1.
Ratanalert S, Puenpathom N. Brain Needle Biopsy. Thai J Surg [Internet]. 1995 Dec. 29 [cited 2022 Nov. 28];16(2):47-50. Available from: https://he02.tci-thaijo.org/index.php/ThaiJSurg/article/view/250210
Section
Original Articles
License
Articles must be contributed solely to The Thai Journal of Surgery and when published become the property of the Royal College of Surgeons of Thailand. The Royal College of Surgeons of Thailand reserves copyright on all published materials and such materials may not be reproduced in any form without the written permission.