Radical Prostatectomy and Oral Flutamide for Prostatic Cancer in Pramongkutklao Hospital
Abstract
Serum prostate-specific antigen (PSA) was used as an outcome measure in new patients who were admitted to Urologic Division since January 1993 with prostatic cancer treated with 1) Retropubic radical prostatectomy (RRP) combined with bilateral orchidectomy, and 2) Flutamide combined with bilateral orchidectomy.
The new cases of prostatic cancer from January 1993 to January 1995, were selected into this prospective study to compare the outcome of two modalities of treatment. There were 12 patients who qualified to enter the study. Two forms of treatments were set for those new and untreated cases. There were 6 radical prostatectomies and 6 cases in oral flutamide. All cases were combined treatment with bilateral orchidectomy. Serum PSA was checked after treatment at 1 month, 3 months, and 6 months follow-up. The cost of treatment, complication and side effect of drug were included in the study.
In RRP and bilateral orchidectomy group, the mean age was 68.1 ± 4.2 yr, preoperative serum PSA was 37 ± 32.7 ng/ml. The mean age in oral Flutamide plus orchidectomy was 66.3 ± 8.8 yr and serum PSA before starting treatment was 50.1 ± 32 ng/ml. The age and pretreatment serum PSA were comparable in both groups. After the treatment in 1 and 3 months, there was significant difference of serum PSA change. The mean serum PSA in RRP group was 0.06 ng/ml in first month and 0.86 ng/ml in third month, while mean serum PSA in oral Flutamide was 11.8 ng/ml in first month and 6.9 ng/ml in third month of follow-up. At sixth month of follow up, there was reverse The mean serum PSA in both groups. serum PSA in oral Flutamide was 6.1 ng/ml while in RRP was 20 ng/ml. The RRP group had poorly differentiated cell type in 4 patients and moderately differentiated adenocarcinoma in 2 cases. There were well differentiated adenocarcinoma in 3 cases and 3 moderately differentiated adenocarcinoma in 3 patients of oral Flutamide group.
The radical prostatectomy would be maximum advantage in young age group of prostatic cancer because of significant cure rate and low cost.  Oral Flutamide would be the alternative treatment of choice in older patients.
Downloads
Download data is not yet available.
References
1. Catalona WJ, Stein AJ, Staging errors in clinically localized prostatic cancer. J Urol 1982; 127:452.

2. Donohue RE, Mani JH, Whitesel A. Intraoperative and early complication of staging pelvic lymph node dissection in prostatic adenocarcinoma. Urology 1990; 35:223

3. Hricak H, Dooms GC, Jefferey RB, et al. Prostate carcinoma. Staging by clinical assessment, CT and MRI. Radiology 1987;162:331.

4. Oesterling JE, Chang DW, Epstein JI. Prostate specific antigen in the preoperative and post operative evaluation of localized prostatic cancer treated with radical prostatectomy. J Urol 1988;139:766.

5. Chybowski FM, Larson Ketler JJ, Oesterling JE. Predicting radionuclide bone scan findings in patients with newly diagnosed untreated prostate cancer: Prostate-specific antigen is superior to all other clinical parameters. J Urol 1991; 145:313.

6. Blute MI, Zincke H, Farrow G. Lon-term follow-up of young patients with stage A adenocarcinoma of the prostate. J Urol 1986:136:840-3.

7. Lehman TH, Kirchheim D, Moore R. An evaluation of radical prostatectomy for incidentally diagnosed carcinoma of the prostate. J Urol 1968; 99:646-50.

8. Kramer SA, Cline WA Jr, Farnham R. Prognosis of patients with stage D1 prostate adenocarcinoma. J Urol 1981;125:817-9.

9. Walsh PC, Lepor H. The role of radical prostatectomy in the management of prostatic cancer. Cancer 1987; 60:526-37.

10. Oesterling JE, Epstein JI, Walsh PC. Long term autopsy findings following radical prostatectromy. Urology 1987;29:584-8.

11. Lange PH, Ercole CJ, Lightner DJ. The value of serum prostatic specific antigen determinations before and after radical prostatectomy. Urol 1989;141:873-9.

12. Montgomery BT, Nativ O, Blute ML. Stage B prostate adenocarcinoma. Arch Surg 1990; 125:327-31.

13. Ponies JE, Wajsman Z, Huben RP, Wolf RM. Prognostic factors in localized prostatic carcinoma. J Urol 1985; 134:1137.

14. Zinke H, Fleming TR, Furlow WL. Radical retropubicprostatectomy and pelvic lymphadenectomy for high stage cancer of the prostate Cancer 1981;47:1901.

15. Myers RP, Zinke H, Fleming TR, Furlow WL, Utz DC. Hormonal treatment at time of radical prostatectomy for stage D1 prostatic cancer. J Urol 1983: 130:99.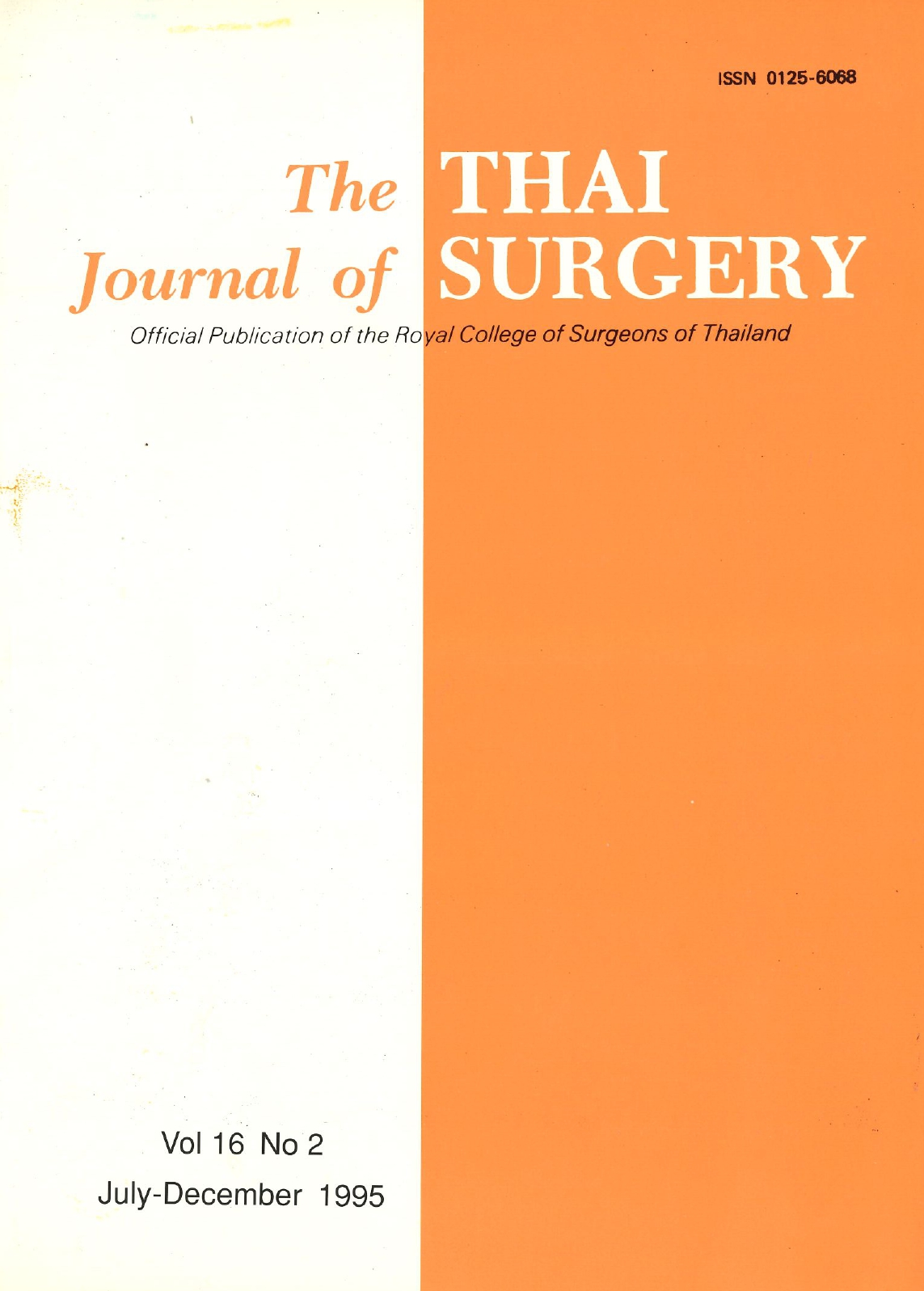 Downloads
How to Cite
1.
Ruangdilokrat S. Radical Prostatectomy and Oral Flutamide for Prostatic Cancer in Pramongkutklao Hospital. Thai J Surg [Internet]. 1995 Dec. 29 [cited 2022 Nov. 28];16(2):56-7. Available from: https://he02.tci-thaijo.org/index.php/ThaiJSurg/article/view/250211
Section
Original Articles
License
Articles must be contributed solely to The Thai Journal of Surgery and when published become the property of the Royal College of Surgeons of Thailand. The Royal College of Surgeons of Thailand reserves copyright on all published materials and such materials may not be reproduced in any form without the written permission.