A Young Man with High-grade Fever and HIV infection
Apichai Leelasiri

Department of Medicine, School of Medicine, Mae Fah Luang University

Tawatchai Pongpruttipan

Department of Pathology, Faculty of Medicine, Siriraj Hospital, Mahidol University
Keywords:
HIV infection, Disseminated talaromycosis, High-grade fever
Abstract
A 23-year-old man, a hilltribe in northern Thailand with HIV infection but poor compliance to antiviral treatment presented with acute onset of fever, fatigue with palpitation. He also experienced easily fatigue and tiredness for 1 month. He went to local hospital and was treated symptomatically without any improvement. Then he went to another hospital for management. Initial investigation showed anemia and thrombocytopenia. The bone marrow examination revealed yeast-like microorganism with binary fission. Final diagnosis of disseminated talaromycosis (penicillosis) was made. So, in case of fever of unknown origin in HIV-infected patients, bone marrow examination should be performed which can be helpful for definite diagnosis.
Downloads
Download data is not yet available.
References
Yilmaz N, Visagie CM, Houbraken J, Frisvad JC, Samson RA. Polyphasic taxonomy of the genus Talaromyces. Stud Mycol 2014; 78: 175-341.
Vanittanakom N, Cooper CR, Jr., Fisher MC, Sirisanthana T. Penicillium marneffei infection and recent advances in the epidemiology and molecular biology aspects. Clin Microbiol Rev 2006; 19: 95-110.
Supparatpinyo K, Khamwan C, Baosoung V, Nelson KE, Sirisanthana T. Disseminated Penicillium marneffei infection in Southeast Asia. Lancet 1994; 344: 110-3.
Zheng J, Gui X, Cao Q, et al. A clinical study of acquired immunodeficiency syndrome associated Penicillium marneffei infection from a non-endemic area in China. PLoS One 2015; 10: e0130376.
Wong SYN, Wong KF. Penicillium marneffei infection in AIDS. Patho Res Int 2011; 2011: Article ID 764293.
Chariyalertsak S, Sirisanthana T, Supparatpinyo K, Praparattanapan J, Nelson KE. Case-control study of risk factors for Penicillium marneffei infection in human immunodeficiency virus-infected patients in northern Thailand. Clin Infect Dis 1997; 24: 1080-6.
Sirisanthana T. Penicillium marneffei infection in patients with AIDS. Emerg Infect Dis 2001; 7: 561.
Kawila R, Chaiwarith R, Supparatpinyo K. Clinical and laboratory characteristics of Penicillium marneffei among patients with and without HIV infection in Northern Thailand: a retrospective study. BMC Infect Dis 2013; 13: 464.
Supparatpinyo K, Nelson KE, Merz WG, et al. Response to antifungal therapy by human immunodeficiency virus-infected patients with disseminated Penicillium marneffei infections and in vitro susceptibilities of isolates from clinical specimens. Antimicrob Agents Chemother 1993; 37: 2407-11.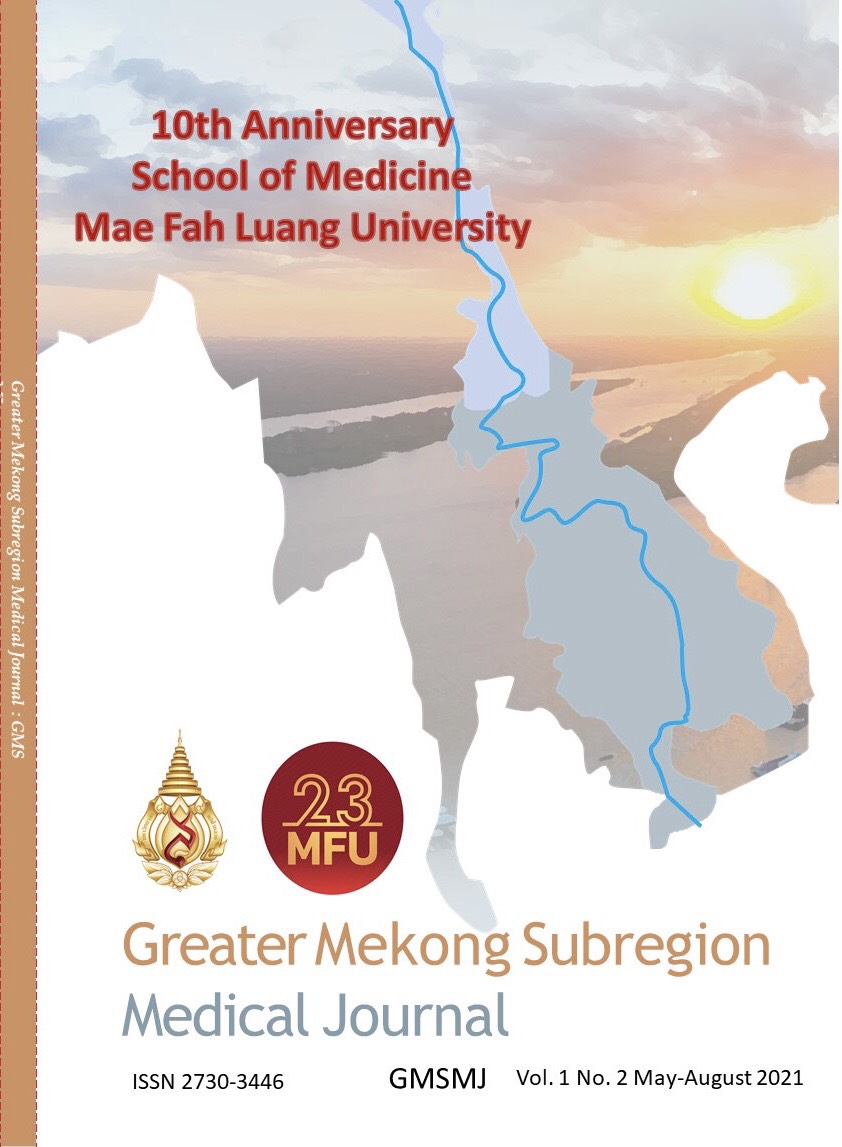 How to Cite
Leelasiri, A., & Pongpruttipan, T. (2021). A Young Man with High-grade Fever and HIV infection. reater ekong ub-egion edical ournal, 1(2), 93-97. etrieved from https://he02.tci-thaijo.org/index.php/gmsmj/article/view/250771
Copyright (c) 2021 Greater Mekong Sub-region Medical Journal
This work is licensed under a Creative Commons Attribution-NonCommercial-NoDerivatives 4.0 International License.