Closed Suction Drain to Prevent Postoperative Seroma after Lichtenstein Hernioplasty in Complete Inguinal Hernia: A Comparative Study
Keywords:
Complete inguinal hernia, Lichtenstein's hernioplasty, Closed suction drain
Abstract
Background: There is 5-12% chance of postoperative scrotal hematoma and seroma formation after Lichtenstein hernioplasty, which is attributed to complete hernia sacs, extensive dissection, and the foreign body reaction due to polypropylene mesh.
Objective: The aim of the study is to evaluate the efficacy of closed suction drain to prevent postoperative seroma after Lichtenstein Hernioplasty.
Methods: This prospective study was conducted in 80 patients of complete inguino-scrotal hernia. We compared incidence of post-operative seroma/hematoma and surgical site infection in drain vs. drainless group.
Results: Incidence of hematoma, seroma and surgical site infection in drain and drainless group was 2.5% vs 17.5%, 2.5% vs 22.5% and 2.5% vs 17.5% respectively.
Conclusion: Closed suction drain placement in the distal sac prevents formation of seroma/ hematoma after Lichtenstein hernioplasty of complete inguino-scrotal hernia.
Downloads
Download data is not yet available.
References
Fitzgibbons RJ, Filipi CJ, Quinn TH. Groin hernias. In: Brunicardi FC, Andersen DK, Billiar TR, DL Dunn, JG Hunter, Pollock RE, Eds. Schwartz's Principles of Surgery. New York, NY: McGraw-Hill 2005; 8th Edition: 1387–1388.
Ran K, Wang X, Zhao Y. Open tensionless repair techniques for inguinal hernia: a meta-analysis of randomized controlled trials. Hernia 2020; 24 (4): 733-45.
Gurusamy KS, Allen VB, Samraj K. Wound drains after incisional hernia repair. Cochrane Database Syst Rev 2012; (2): CD005570.
Peiper C, Conze J, Ponschek N, et al. Value of subcutaneous drainage in repair of primary inguinal hernia. A prospective randomized study of 100 cases. Chirurg 1997; 68 (1): 63-7.
Kuo YC, Mondschein JI, Soulen MC, et al. Drainage of collections associated with hernia mesh: is it worthwhile? J Vasc Interv Radiol 2010; 21 (3): 362-6.
Morales-Conde S. A new classification for seroma after laparoscopic ventral hernia repair. Hernia 2012; 16 (3): 261-7.
Pandey H, Thakur DS, Somashekar U, et al. Use of polypropylene mesh in contaminated and dirty strangulated hernias: short-term results. Hernia 2018; 22 (6): 1045-50.
Tiwari G, Dadoriya A, Thakur DS, et al. Prophylactic mesh placement for emergency midline laparotomy in peptic perforation peritonitis: A prospective observational study of short-term results. Asian J Surg 2020; 43 (2): 456-57.
Stephenson BM. Complications of open groin hernia repairs. Surg Clin North Am 2003 ;83 (5):1255-78.
Bendavid R, Kux M. Seromas. In Abdominal Wall Hernias: Principles and Management. Eds Bendavid R, Abrahamson J, Arregui ME, Flament JB, Phillips EH. New York: Springer; 2001: 753–56.
Awad SS, Yallampalli S, Srour AM, et al. Improved outcomes with the Prolene Hernia System mesh compared with the time-honored Lichtenstein onlay mesh repair for inguinal hernia repair. Am J Surg 2007; 193 (6): 697-701.
Tarchi P, Cosola D, Germani P, et al. Self-adhesive mesh for Lichtenstein inguinal hernia repair. Experience of a single center. Minerva Chir 2014; 69 (3): 167-76.
Savoie PH, Abdalla S, Bordes J, et al. Surgical repair of giant inguinoscrotal hernias in an austere environment: leaving the distal sac limits early complications. Hernia 2014; 18 (1): 113-8.
Demetrashvili Z, Khutsishvili K, Pipia I, et al. Standard polypropylene mesh vs lightweight mesh for Lichtenstein repair of primary inguinal hernia: a randomized controlled trial. Int J Surg 2014; 12 (12):1380-4.
Leibl BJ, Schmedt CG, Kraft K, et al. Scrotal hernias: a contraindication for an endoscopic procedure? Results of a single-institution experience in transabdominal preperitoneal repair. Surg Endosc 2000; 14 (3): 289-92.
Beard JH, Ohene-Yeboah M, Tabiri S, et al. Outcomes after inguinal hernia repair with mesh performed by medical doctors and surgeons in Ghana. JAMA Surg 2019; 154 (9): 853-9.
Ismail M, Garg M, Rajagopal M, et al. Impact of closed-suction drain in preperitoneal space on the incidence of seroma formation after laparoscopic total extraperitoneal inguinal hernia repair. Surg Laparosc Endosc Percutan Tech 2009; 19 (3): 263-6.
Rodrigues AJ Jr, Jin HY, Utiyama EM, et al. The Stoppa procedure in inguinal hernia repair: to drain or not to drain. Rev Hosp Clin Fac Med Sao Paulo 2003; 58 (2): 97-102.
Fan JKM, Liu J, Chen K, et al. Preperitoneal closed-system suction drainage after totally extraperitoneal hernioplasty in the prevention of early seroma formation: a prospective double-blind randomised controlled trial. Hernia 2018; 22 (3): 455-65.
Beacon J, Hoile RW, Ellis H. A trial of suction drainage in inguinal hernia repair. Br J Surg 1980; 67 (8): 554-5.
Garavello A, Manfroni S, Antonellis D. Inguinal hernia in the elderly. Indications, techniques, results. Minerva Chir 2004; 59 (3): 271-6.
Simchen E, Rozin R, Wax Y. The Israeli Study of Surgical Infection of drains and the risk of wound infection in operations for hernia. Surg Gynecol Obstet 1990; 170 (4): 331-7.
Perkins SW, Williams JD, Macdonald K, et al. Prevention of seromas and hematomas after face-lift surgery with the use of postoperative vacuum drains. Arch Otolaryngol Head Neck Surg 1997; 123 (7): 743-5.
Scevola S, Youssef A, Kroll SS, et al. Drains and seromas in TRAM flap breast reconstruction. Ann Plast Surg 2002; 48 (5): 511-4.
Klima DA, Belyansky I, Tsirline VB, et al. Application of subcutaneous talc after axillary dissection in a porcine model safely reduces drain duration and prevents seromas. J Am Coll Surg 2012; 214 (3): 338-47.
Azoury SC, Rodriguez-Unda N, Soares KC, et al. The effect of TISSEEL fibrin sealant on seroma formation following complex abdominal wall hernia repair: a single institutional review and derived cost analysis. Hernia 2015; 19 (6): 935-42.
Sforza M, Husein R, Andjelkov K, et al. Use of quilting sutures during abdominoplasty to prevent seroma formation: Are they really effective? Aesthet Surg J 2015; 35 (5): 574-80.
Choi MS, Kim HK, Kim WS, et al. A comparison of triamcinolone acetonide and fibrin glue for seroma prevention in a rat mastectomy model. Ann Plast Surg 2012; 69 (2): 209-12.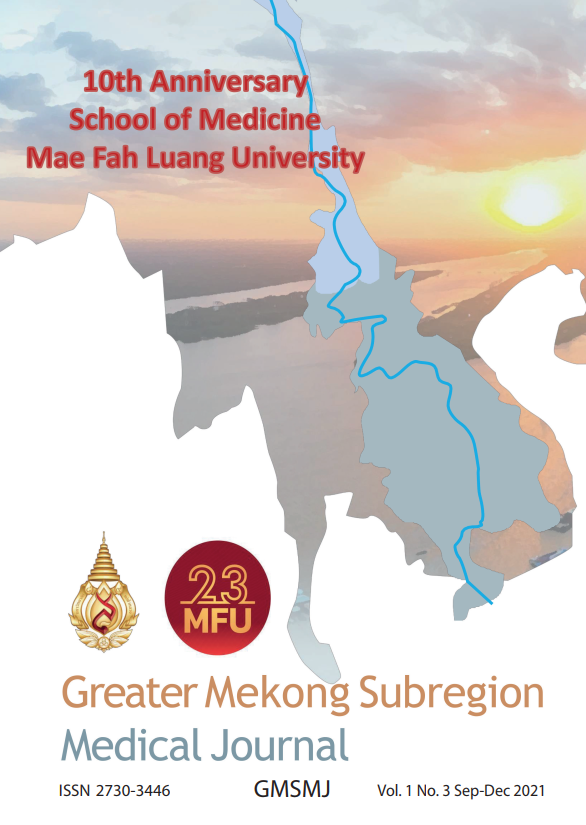 Downloads
How to Cite
Sahu, V., Saxena, A., Agarwal, P., Agrawal, V., & Sharma, D. (2021). Closed Suction Drain to Prevent Postoperative Seroma after Lichtenstein Hernioplasty in Complete Inguinal Hernia: A Comparative Study. Greater Mekong Sub-Region Medical Journal, 1(3), 109–114. Retrieved from https://he02.tci-thaijo.org/index.php/gmsmj/article/view/253067
Section
Original Articles