The Study of Association between COVID-19 Pandemic and Blood Pressure Control among Hypertensive Patients in Tha Luang Hospital, Lopburi Province, Thailand
Chutawat Kookanok

Fort Sunpasitthiprasong Hospital

Piyapon Rojndumronggarn

Hua Hin Hospital

Sakarn Charoensakulchai

Department of Parasitology, Phramongkutklao College of Medicine

Ram Rangsin

Department of Military and Community Medicine, Phramongkutklao College of Medicine

Boonsub Sakboonyarat

Department of Military and Community Medicine, Phramongkutklao College of Medicine
Keywords:
COVID-19, Blood pressure control, Home delivery pharmacy, Lopburi, Thailand
Abstract
Background: COVID-19 infection, a coronavirus (SARS-CoV-2) infection causing severe acute respiratory distress syndrome is pandemic starting in December 2019 in Wuhan, China and then spreading rapidly throughout the world. This has an impact on every aspect of people life. In Thailand, the first case report was in January 2020 and spreading to the whole country rapidly. Due to the policy of Thai government to control this infection such as staying home, wearing masks, social distancing and limited going to any crowded places including hospitals. This would impact on people's health because many underlying diseases needed medical attention and regular medication, one of which was hypertension. However, during this situation, there was hospital service called 'home delivery pharmacy' of which the patients can register their preference with the hospital to deliver their routine medications to their home in order to reduce their risk of exposure to crowded places. However, there was still lack of the studies on the effects of COVID-19 pandemic on blood pressure control as well as efficacy of 'home delivery pharmacy' service.
Objective: The study aimed to study the impact of the COVID-19 pandemic on blood pressure control in hypertensive patients at Tha Luang Hospital, Lopburi Province.
Methods: This was a cross-sectional study conducted in Tha Luang Hospital, Lopburi Province between 2019 and 2020. Demographic data and blood pressure level of hypertensive patients were retrieved from the electronic medical records under the hospital permission. The data was collected into 2 durations 2019 (normal situation) and 2020 (COVID-19 pandemic). Uncontrolled blood pressure (BP) was defined by systolic BP > 140 mmHg, or diastolic BP > 90 mmHg in the latest visit. The demographic and prevalence of uncontrolled blood pressure was analyzed by descriptive statistics. The average of SBP and DBP of hypertensive patients between in normal situation and COVID-19 pandemic were compared and analyzed by independent t-test.
Results: There were 4,045 and 4,063 hypertensive patients attended Tha Luang Hospital in 2019 and 2020 respectively. The prevalence of uncontrolled BP among these patients during 2 durations was 28.00% and 25.00% respectively (P = 0.003). The mean SBP was 132.87 mmHg in 2019 and 132.94 mmHg in 2020 (P < 0.05) and DBP was 74.96 mmHg in 2019 and 75.63 mmHg in 2020 (P < 0.05). The patients with a higher BMI tended to have better control of their blood pressure (P < 0.05).
Conclusion: During COVID-19 pandemic, the prevalence of uncontrolled BP in hypertensive patients attended at Tha Luang Hospital was lower than in 2019. This could be explained by the policy of Tha Luang Hospital that had a home delivery pharmacy to NCD patients, which made it more convenient for patients to access public health services. But during the pandemic, patients tended to have unhealthy lifestyle compared to the normal situation due to the government policy interfering healthy lifestyle such as confinement in home and closed public health care service which could affect blood pressure level. However, the patients with hypertension should have weight reduction for good blood pressure control and decreased further complication.
Downloads
Download data is not yet available.
References
Kluge HHP, Wickramasinghe K, Rippin HL, Mendes R, Peters DH, Kontsevaya A, Breda J. Prevention and control of non-communicable diseases in the COVID-19 response. Lancet 2020; 395: 1678-80.
Riccardo F, Ajelli M, Andrianou XD, Bella A, Manso MD, Fabiani M, Riccardo F, et al. Epidemiological characteristics of COVID-19 cases and estimates of the reproductive numbers 1 month into the epidemic, Italy, 28 January to 31 March 2020. Euro Surveill 2020; 25 (49): 1-11.
Basu S. Non-communicable disease management in vulnerable patients during Covid-19. Indian J Med Ethics 2020; (2):103-5.
Huo Yung Kai S, Ruidavets JB, Carles C, Marquie JC, Bongard V, Leger D, Ferrieres J, Esquirol Y. Impact of occupational environmental stressors on blood pressure changes and on incident cases of hypertension: a 5-year follow-up from the VISAT study. Environ Health 2018; 17(1): 79.
Ruschel KB, Rados DR, Furtado MV, Batista JDL, Katz N, Harzheim E, Polanczyk CA. Transition of care of stable ischaemic heart disease patients from tertiary to primary care with telemedicine support: Randomized noninferiority clinical trial. J Telemed Telecare 2020 Mar 18:1357633X20906648.
Sakboonyarat B, Rangsin R, Kantiwong A, Mungthin M. Prevalence and associated factors of uncontrolled hypertension among hypertensive patients: a nation-wide survey in Thailand. BMC Res Notes 2019; 12 (1): 380-7.
Radwan H, Al Kitbi M, Hasan H, et al. Indirect Health Effects of COVID-19: Unhealthy Lifestyle Behaviors during the Lockdown in the United Arab Emirates. Int J Environ Res Public Health 2021; 18 (4):1964.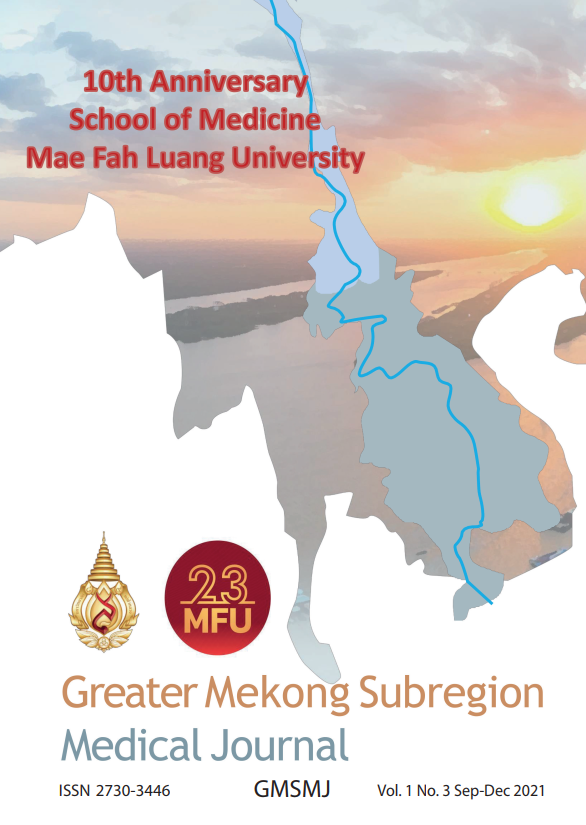 How to Cite
Kookanok, C., Rojndumronggarn, P., Charoensakulchai, S., Rangsin, R., & Sakboonyarat, B. (2021). The Study of Association between COVID-19 Pandemic and Blood Pressure Control among Hypertensive Patients in Tha Luang Hospital, Lopburi Province, Thailand. reater ekong ub-egion edical ournal, 1(3), 115-124. etrieved from https://he02.tci-thaijo.org/index.php/gmsmj/article/view/253073
Section
Community Medicine Article
Copyright (c) 2021 Greater Mekong Sub-region Medical Journal
This work is licensed under a Creative Commons Attribution-NonCommercial-NoDerivatives 4.0 International License.