Rapid Antibiotics Guideline for Treatment and Management of COVID-19 Pneumonia with Bacterial Co-infection
Dhammika Leshan Wannigama

Department of Microbiology, Faculty of Medicine, Chulalongkorn University, King Chulalongkorn Memorial Hospital

Parichart Hongsing

School of Integrative Medicine, Mae Fah Luang University

Phatthranit Phattharapornjaroen

Faculty of Medicine Ramathibodi Hospital, Mahidol University

Shuichi Abe

Yamagata Prefectural Central Hospital

Apichai Leelasiri

Department of Medicine, School of Medicine, Mae Fah Luang University

Tanittha Chatsuwan

Antimicrobial Resistance and Stewardship Research Unit, Faculty of Medicine, Chulalongkorn University
Keywords:
COVID-19 infection, Pneumonia, Antibiotics
Abstract
Background: There are many patients having serious or critical illness will require hospital admission due to SARS-CoV-2 pneumonia. While antibiotics are ineffective for treatment of viral infections, they are prescribed in patients with suspected or documented SARS-CoV-2 for a variety of reasons. This raises concerns of antibiotic overuse or receiving unnecessary antibiotics and increase antimicrobial resistance (AMR).
Objective: The authors would like to develop a rapid antibiotic guideline for the treatment of patients with SARS-CoV-2 who have coinfections. These recommendations are intended to ensure the better antibiotic management of suspected or confirmed bacterial pneumonia in adults during the SARS-CoV-2 pandemic.
Methods: We used MEDLINE, OVID Epub and EMBASE searches complemented with extensive use of Web engine to identify guidelines on empirical treatment of community and hospital-acquired pneumonia in the last 10 years.
Results: We could develop antibiotic prescribing recommendation for patients with suspected community-acquired pneumonia, that has developed before or within 48 hours and patients with suspected hospital acquired pneumonia at more than 48 hours of admission.
Conclusion: Patients who develop SARS-CoV-2 pneumonia can have guideline for antibiotic prescription in case of suspected secondary superimp
Downloads
Download data is not yet available.
References
Hu B, Guo H, Zhou P, Shi Z-L. Characteristics of SARS-CoV-2 and COVID-19. Nat Rev Microbiol 2021; 19 (3): 141-54.
Zhu N, Zhang D, Wang W, Li X, Yang B, Song J, et al. A Novel Coronavirus from Patients with Pneumonia in China, 2019. N Engl J Med 2020; 382 (8): 727-33.
D'Amico F, Baumgart DC, Danese S, Peyrin-Biroulet L. Diarrhea During COVID-19 Infection: Pathogenesis, Epidemiology, Prevention, and Management. Clin Gastroenterol Hepatol 2020; 18 (8):1663-72.
Han C, Duan C, Zhang S, Spiegel B, Shi H, Wang W, et al. Digestive Symptoms in COVID-19 Patients with Mild Disease Severity: Clinical Presentation, Stool Viral RNA Testing, and Outcomes. Am J Gastroenterol 2020; 115 (6): 916-23.
Tabata S, Imai K, Kawano S, Ikeda M, Kodama T, Miyoshi K, et al. Clinical characteristics of COVID-19 in 104 people with SARS-CoV-2 infection on the Diamond Princess cruise ship: a retrospective analysis. Lancet Infect Dis 2020; 20 (9):1043-50.
Chedid M, Waked R, Haddad E, Chetata N, Saliba G, Choucair J. Antibiotics in treatment of COVID-19 complications: a review of frequency, indications, and efficacy. J Infect Public Health 2021; 14 (5): 570-6.
Guan W-j, Ni Z-y, Hu Y, Liang W-h, Ou C-q, He J-x, et al. Clinical Characteristics of Coronavirus Disease 2019 in China. N Engl J Med 2020; 382 (18):1708-20.
Goyal P, Choi JJ, Pinheiro LC, Schenck EJ, Chen R, Jabri A, et al. Clinical Characteristics of Covid-19 in New York City. N Engl J Med 2020; 382 (24):2372-4.
Perlman S, Dandekar AA. Immunopathogenesis of coronavirus infections: implications for SARS. Nat Rev Immunol 2005; 5 (12): 917-27.
Ginsburg AS, Klugman KP. COVID-19 pneumonia and the appropriate use of antibiotics. Lancet Glob Health 2020; 8 (12): e1453-e4.
Armitage R, Nellums LB. Antibiotic prescribing in general practice during COVID-19. Lancet Infect Dis 2020; (20): 30917-8.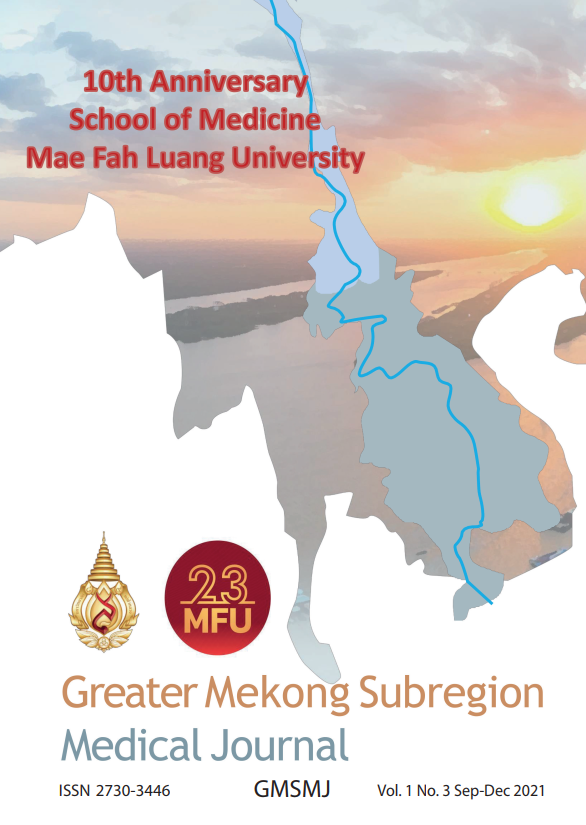 How to Cite
Wannigama, D., Hongsing, P., Phattharapornjaroen, P., Abe, S., Leelasiri, A., & Chatsuwan, T. (2021). Rapid Antibiotics Guideline for Treatment and Management of COVID-19 Pneumonia with Bacterial Co-infection. reater ekong ub-egion edical ournal, 1(3), 139-144. etrieved from https://he02.tci-thaijo.org/index.php/gmsmj/article/view/253084
Section
Short Communication
Copyright (c) 2021 Greater Mekong Sub-region Medical Journal
This work is licensed under a Creative Commons Attribution-NonCommercial-NoDerivatives 4.0 International License.