An Uncommon Presentation of Hypercalcemia in Chronic Lymphocytic Leukemia
Anan Promrattanakun

Department of Medicine, Saraburi Hospital

Pongrat Niramitmahapanya

Department of Medicine, Saraburi Hospital
Keywords:
Chronic lymphocytic leukemia, Hypercalcemia, Paraneoplastic syndrome, Osteolytic lesion
Abstract
Hypercalcemia is a common paraneoplastic syndrome in both solid and hematologic malignancies. There are three mechanisms involving in hypercalcemia. Firstly, the cancer increases the resorption of bone minerals resulting in releasing calcium and phosphate into plasma. Secondly, parathyroid hormone-related peptide (PTHrP) increases a reabsorption of calcium and excretion of phosphate at kidneys. Finally, calcitriol (1,25 dihydroxy vitamin D) induces vitamin D absorption in small bowel. Multiple myeloma or T-cell leukemia-lymphoma are usually presented with a symptomatic hypercalcemia. However, chronic lymphocytic leukemia (CLL) is uncommonly associated with hypercalcemia. Hypercalcemia occurring in CLL patients mostly indicates a relapsed or a refractory disease. In addition, it may imply an advanced stage as well as the transformation of disease to Richter's syndrome. This report presents an 81-year-old woman diagnosed with CLL, Rai stage III. She developed symptomatic hypercalcemia with an osteolytic lesion at left iliac wing together with an increased absolute lymphocyte count.
Downloads
Download data is not yet available.
References
Key Statistics for Chronic Lymphocytic Leukemia United State of America: American cancer society; 2021 [cited 2021 February 27th]. Available from: https://www.cancer.org/cancer/chronic-lymphocyticleukemia/about/key-statistics.html # references.
Cancer Stat Facts: Leukemia — Chronic Lymphocytic Leukemia (CLL) UnitedState of America: National cancer institute; 2021 [cited 2021 February 27th]. Available from: https://seer.cancer.gov/statfacts/html/clyl.html.
Intragumtornchai T, Bunworasate U, Wudhikarn K, Lekhakula A, Julamanee J, Chansung K, et al. NonHodgkin lymphoma in South East Asia: An analysis of the histopathology, clinical features, and survival from Thailand. Hematological oncology 2018; 36 (1): 28-36.
Hallek M. Chronic lymphocytic leukemia: 2020 update on diagnosis, risk stratification and treatment. American journal of hematology 2019; 94 (11): 1266-87.
Eichhorst B, Robak T, Montserrat E, Ghia P, Hillmen P, Hallek M, et al. Chronic lymphocytic leukaemia: ESMO Clinical Practice Guidelines for diagnosis, treatment and follow-up. Annals of Oncology 2015; 26: v78-v84.
Jick S, Li L, Gastanaga VM, Liede A. Prevalence of hypercalcemia of malignancy among cancer patients in the UK: analysis of the Clinical Practice Research Datalink database. Cancer epidemiology 2015; 39 (6): 901-7.
Sriphatphiriyakun T, Auewarakul CU. Clinical presentation and outcome of Thai patients with chronic lymphocytic leukemia: retrospective analysis of 184 cases. Asian Pac J Allergy Immunol 2005; 23 (4): 197-203.
Vaturi M, Prokocimer M, Sidi Y. Hypercalcemia in chronic lymphatic leukemia patients. Am J Hematol 1996; 53 (4): 245-7.
Fain O, el M'Selmi A, Dosquet C, Meseure D, Lejeune F, Garel JM, et al. Hypercalcaemia in B cell chronic lymphocytic leukaemia. Br J Haematol 1994; 87 (4): 856-8.
Koutroumpakis E, Lobe M, McCarthy L, Mehdi S. Symptomatic Hypercalcemia in a Patient with B-cell Chronic Lymphocytic Leukemia - A Case Report and Review of the Literature. In Vivo 2016; 30 (5): 691-4.
Seymour JF, Gagel RF. Calcitriol: the major humoral mediator of hypercalcemia in Hodgkin's disease and non-Hodgkin's lymphomas. Blood 1993; 82 (5): 1383-94.
Briones J, Cervantes F, Montserrat E, Rozman C. Hypercalcemia in a patient with chronic lymphocytic leukemia evolving into Richter's syndrome. Leuk Lymphoma 1996; 21 (5-6): 521-3.
Spell DW, Walker JE, Bueno CL. Hypercalcemia and Richter Syndrome of CLL. Journal of Clinical Oncology 2004; 22 (14_suppl): 6729.
Hua J, Ide S, Ohara S, Uchida T, Inoue M, Ohashi K, et al. Hypercalcemia and osteolytic bone lesions as the major symptoms in a chronic lymphocytic leukemia/small lymphocytic lymphoma patient: a rare case. J Clin Exp Hematop 2018; 58 (4): 171-4.
Brouet J, Fermand J, Laurent G, Grange M, Chevalier A, Jacquillat C, et al. The association of chronic lymphocytic leukaemia and multiple myeloma: a study of eleven patients. British journal of haematology 1985; 59 (1): 55-66.
Chaabouni H, Kacem K, Zriba S, Mansouri R, Ghédira H, Lakhal R, et al. Solid tumors after chronic lymphocytic leukemia patients: Report of six cases and review of the literature. Gulf J Oncolog 2015; 1 (19): 28-32.
Beaudreuil J, Lortholary O, Martin A, Feuillard J, Guillevin L, Lortholary P, et al. Hypercalcemia may indicate Richter's syndrome: report of four cases and review. Cancer 1997; 79 (6): 1211-5.
Copur MS, Wedel W, Jonglertham P, Aprn CS, Horn A. Hypercalcemia in a Patient with Small Lymphocytic Lymphoma/Chronic Lymphocytic Leukemia. Oncology (Williston Park) 2019; 33 (12): 495-9.
Radhakrishnan N, Hoffman MA. Hypercalcemia in B-Cell Chronic Lymphocytic Leukemia: Report of a Case and Review of the Literature. Blood 2005; 106 (11): 5009.
Laugen RH, Carey RM, Wills MR, Hess CE. Hypercalcemia associated with chronic lymphocytic leukemia. Arch Intern Med 1979; 139 (11): 1307-9.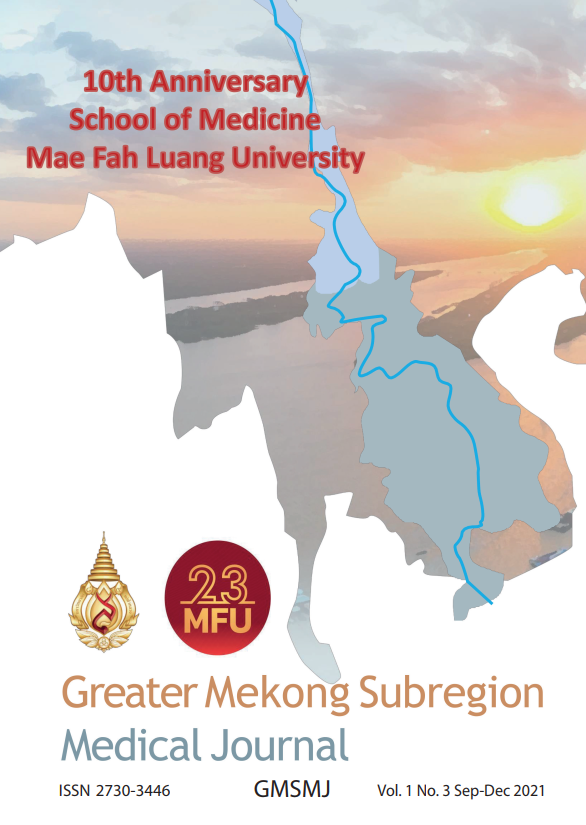 How to Cite
Promrattanakun, A., & Niramitmahapanya, P. (2021). An Uncommon Presentation of Hypercalcemia in Chronic Lymphocytic Leukemia. reater ekong ub-egion edical ournal, 1(3), 157-162. etrieved from https://he02.tci-thaijo.org/index.php/gmsmj/article/view/253091
Copyright (c) 2021 Greater Mekong Sub-region Medical Journal
This work is licensed under a Creative Commons Attribution-NonCommercial-NoDerivatives 4.0 International License.