Cigarette Access and Other Factors Affecting Youth Smoking in Educational Institutions in Uttaradit District Municipality, Uttaradit Province
Keywords:
cigarette access, youth smoking, educational level
Abstract
This cross-sectional study aimed to identify access to cigarettes and factors affecting smoking among youth in educational institutions. There was a representative sample of 480 youths from educational institutions in Uttaradit district municipality. There were 40 in primary school, 85 in secondary school, 95 in vocational education, and 260 in higher education. Data were collected using questionnaires and analyzed by descriptive statistics, the chi-square test and multiple logistic regression. The study results found that 31.22% of the sample had access to cigarettes and 43.17% had smoked at least once in the past 30 days. In terms of cigarette access, 86.71% purchased cigarettes from a retail shop and 13.29% obtained their cigarettes from sources of social engagement. Considering smoking rate in different educational levels, the highest rate was in vocational education (65.17%), followed by higher education (44.66%), high school (31.34%), and elementary school (11.43%). Factors affecting youth smoking (p<0.05) consisted of cigarette access (OR=512.19),  vocational education (OR=18.55), high school education (OR=10.55), higher education (OR=3.41), being male (OR=8.25), having income more than 3,000 Baht/month (OR=7.54), and having a  good attitude towards smoking (OR=3.37). The results of this research suggest that government agencies should strengthen law enforcement on restricting access to cigarettes among youth under 20 years of age, and provide activities to change youth attitude towards smoking.
Downloads
Download data is not yet available.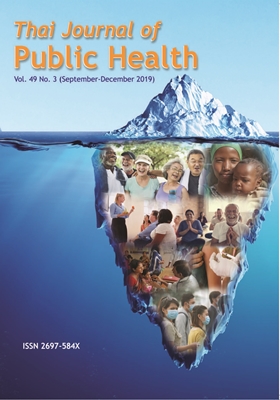 Downloads
Section
Original Articles