The Prevalence of Adult ADHD among Parents of Patients with ADHD at Siriraj Hospital
Parawee Chalotorn

Department of Psychiatry, Faculty of Medicine Siriraj Hospital, Mahidol University

Suporn Apinuntawed

Department of Psychiatry, Faculty of Medicine Siriraj Hospital, Mahidol University

Sirinadda Punyapas

Department of Psychiatry, Faculty of Medicine Siriraj Hospital, Mahidol University
Keywords:
ADHD in adults, adult ADHD, parents of ADHD patient, ASRS screener V1.1, ADHD among adults, parents of patients with ADHD, ADHD among children
Abstract
The aim of this research was to study the prevalence and related factors of attention deficit/hyperactivity disorder (ADHD) among parents of children with ADHD at Siriraj Hospital. This study employed a descriptive research design with simple random sampling among biological parents of children with ADHD who attended the OPD the day of collection research data using accidental selection methods. The instrument comprised the Adult ADHD Self-Report Scale (ASRS) Screener, V1.1 questionnaire. When the score met the criteria for risks, the parents were interviewed to confirm the diagnosis by psychiatrist and data were analyzed using descriptive statistics, the Chi-square test. In all, 281 participants comprised 85 males (30.2%) and 196 females (69.8 %). The mean age was 41.47 years. The prevalence of adult ADHD totaled 8, (2.8 %) i.e., 4 males (50 %) and 4 females (50 %). The factor significantly related to ADHD was psychiatric disorder (p = 0.004). This study showed a lower prevalence than other studies possibly from the large number of females participating and using self-rating questionnaires that may have led to underestimation. Other psychiatric disorders which were concomitants should be further studied.
Downloads
Download data is not yet available.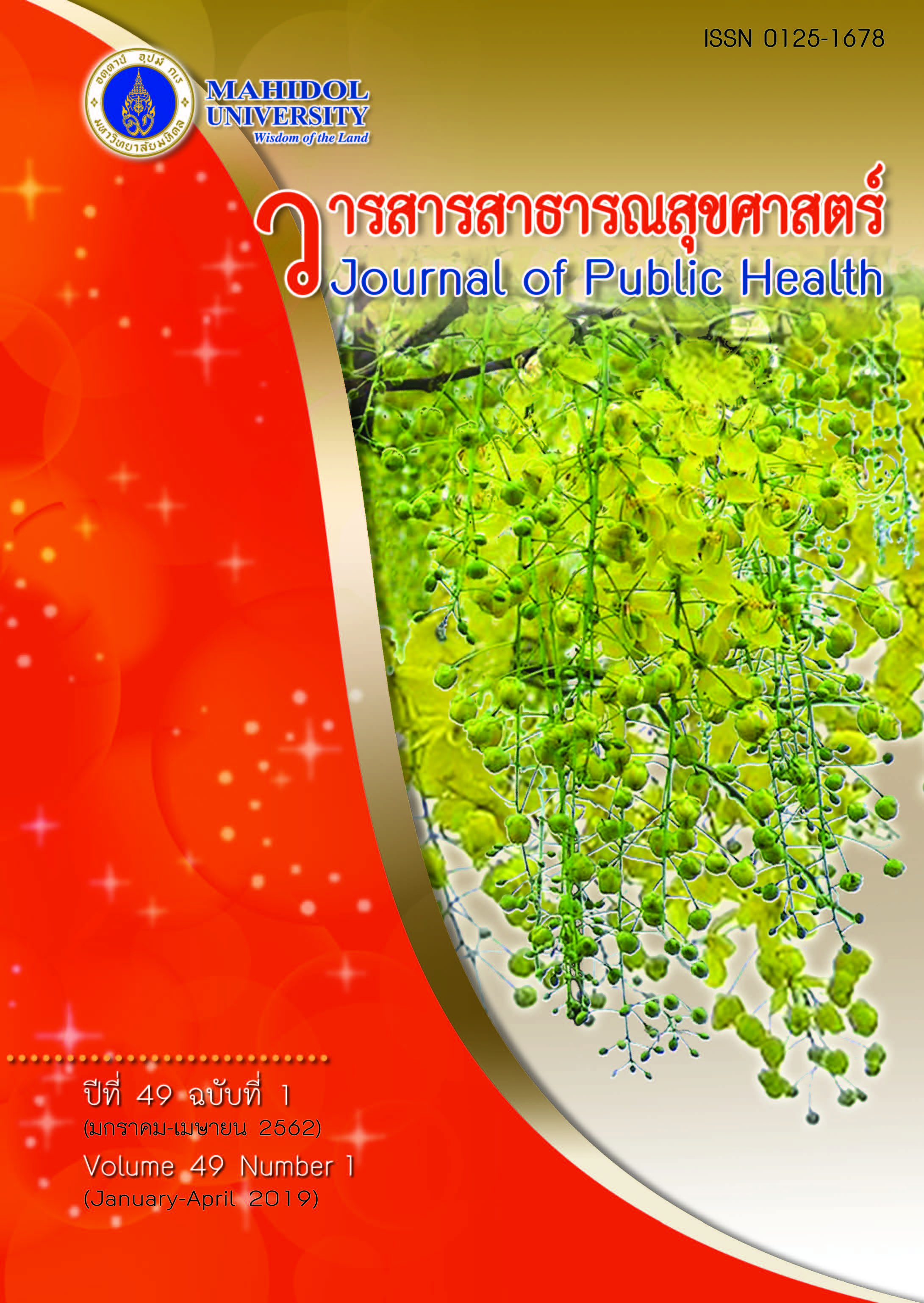 Section
Original Articles
Copyright (c) 2019 Journal of Public Health
This work is licensed under a Creative Commons Attribution-NonCommercial-NoDerivatives 4.0 International License.