Predicting Factors the Provision of Smoking Cessation Services among Dentists
Boonprom Praingam

Phran Kratai Hospital, Kamphaeng Phet Province

Saranya Benjakul

Department of Health Education and Behavioral Sciences, Faculty of Public health, Mahidol University

Wirin Kittipichai

Department of Family Health, Faculty of Public Health, Mahidol University
Keywords:
SMOKING CESSATION/ DENTISTS/ PREDICTING FACTORS, smoking cessation, dentists, prediction factors
Abstract
Dentists can have a hand in helping patients quit smoking. The cross-sectional survey research aimed to describe the smoking cessation service provided by dentists and factors predicting smoking cessation services in the concept of PRECEDE-PROCEED model. The samples were 539 dentists who worked in the secondary care level hospitals, not more than 120 beds under the Ministry of Public Health. Data were collected by self-administered postal and electronic questionnaires. Data were analyzed using descriptive statistics and inferential statistics. The results showed 50.3% of dentists had regularly advised their smoking patients to stop smoking. With regard to 2As smoking cessation services, 23.0% of dentists regularly implemented 2As service. Eight factors were significantly related to 2As smoking cessation service composing of year of graduation, self-efficacy, role perception, intention to provide smoking cessation services, quit smoking clinic, provincial policy, dental setting policy, and reinforcement factors. The intention to provide smoking cessation services could significantly predict 2As smoking cessation service. Therefore, the 2As smoking cessation guidelines including referral service should be developed in accordance with the context of dental practices.
Downloads
Download data is not yet available.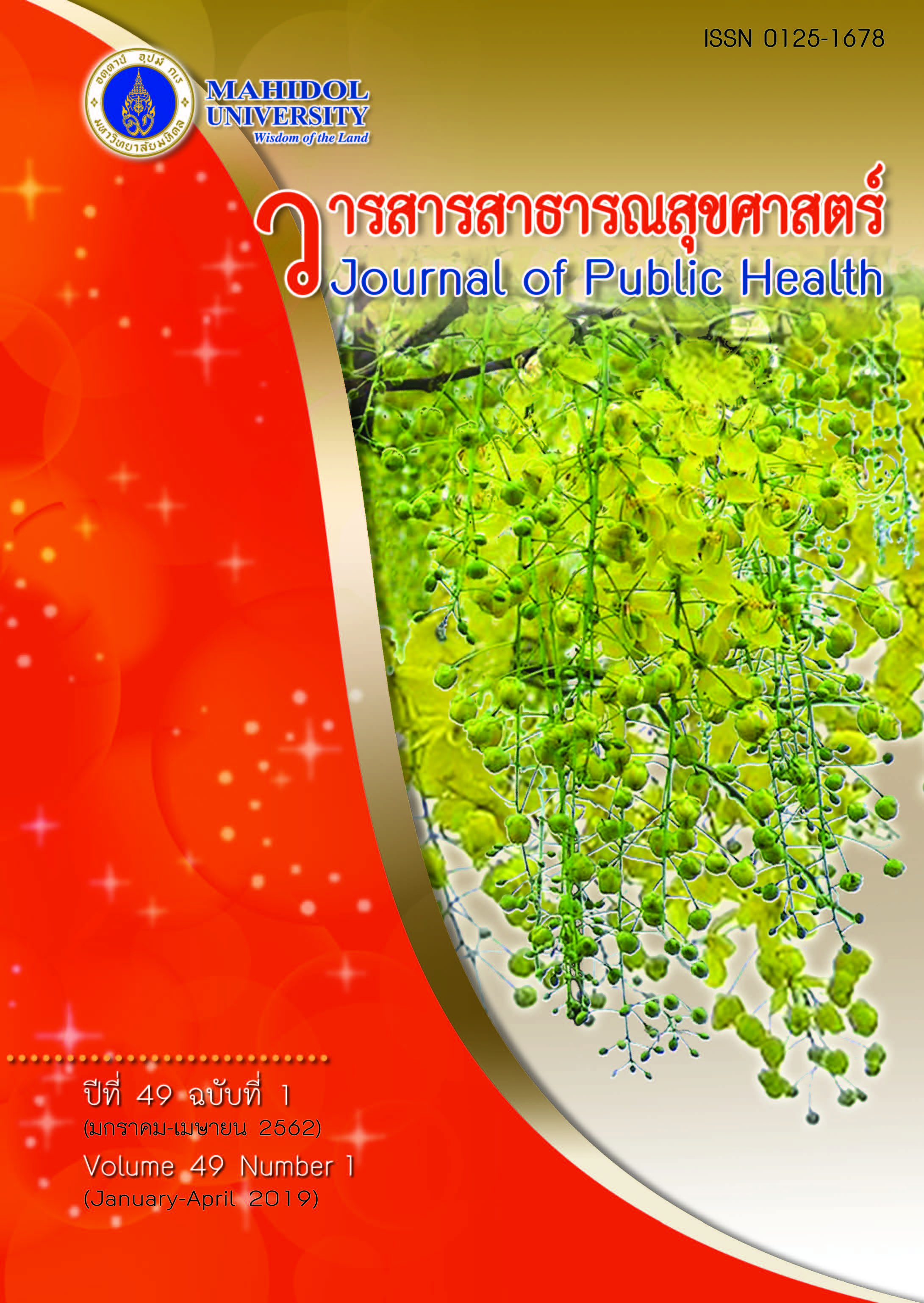 Section
Original Articles
Copyright (c) 2019 Journal of Public Health
This work is licensed under a Creative Commons Attribution-NonCommercial-NoDerivatives 4.0 International License.