Perceived Benefits of Spirituality and Religiosity on Health among Senior Citizens of Bhutan: A Mixed-methods Approach
Keywords:
Spirituality, religiosity, older adults, health conditions, Bhutan
Abstract
Introduction: Spirituality and religiosity are claimed to have a strong positive relationship with physical and mental health outcomes. Evidence suggests that spirituality and religiosity are among many of the modifiable factors concerned with improving health in later life. The influence of spirituality and religiosity is highly visible in the everyday lives of Bhutanese. However, there is a paucity of evidence about spirituality and its health benefits among older adults in Bhutan.
Methods: An exploratory sequential mixed-method design was used to assess spirituality and religiosity, and their perceived benefits and detriments on the health of older adults in Bhutan. Data were collected employing in-depth face-to-face interviews and use of semi-structured questionnaires.
Results: Findings from the qualitative interviews affirmed the benefits of spirituality. Perceived poor health conditions showed significant association with spiritual practices such as meditation (p<0.001) and daily visits to temples (p<0.05). The occasional-daily practice of meditation was also significant among depressed older adults (p<0.05). Perceived worthlessness (p<0.01), feeling that everything was an effort (p<0.001) and nervousness (p<0.05) were significantly associated with low spirituality. The belief in karma for all time was significant among those professing worsened health conditions in the past 12 months (p<0.05) and experiencing more than 5 different health conditions (p<0.05). Spiritual score was also high among participants following Buddhism (p<0.001), attending some form of schooling (p<0.001) and in those with multilingual ability (p<0.01).
Conclusions: Bhutanese older adults perceived the positive influence of spirituality on their health. Efforts to curtail psychological distress and promote spiritual activities would improve psychological well-being and health conditions among older adults in Bhutan.
Downloads
Download data is not yet available.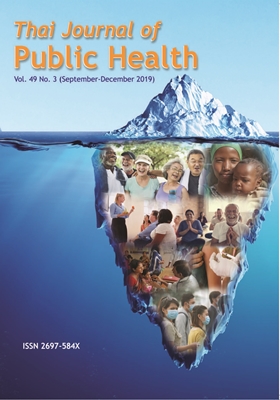 Downloads
Section
Original Articles
License
Creative Commons License CC-BY-ND