Evaluation of image quality from three radiofrequency coils: ACR-MRI phantom study
Keywords:
Magnetic Resonance Image, Radiofrequency coil, ACR MRI phantom
Abstract
Background and Objective: Diagnosis from Magnetic Resonance Imaging (MRI) requires radiofrequency coils to transmit and receive data signals for processing and reconstructing on MR image. There are many radiofrequency (RF) coils used for different organs such as head coil, body coil, and anterior surface coil. The objective of this study was to evaluate the qualities of images using three different radiofrequency coils following to the standard quality control provided by Department of Medical Sciences, Ministry of Public Health. Methods: The ACR phantom was acquired T1 weighted image by using three RF coils following the scanning instructions of Department of Medical Sciences, Ministry of Public Health. Eight MRI system performances were tested to estimate the image quality. In this study, the data collection was performed during May to October 2016. Results: The results showed that the quality of image using head coil passed all eight system performance evaluations. While the image quality from body coil and anterior surface coil passed 6 and 5 of 8 tests of ACR criteria in head coil, respectively. Conclusion: Different types of RF coils are used in MRI systems. Each of RF coil has advantages and disadvantages for various purposes. The ACR MRI phantom is designed to use with a head coil. This study found the ACR tested method can be applied to evaluate the image quality of other RF coils, but not every parameter. The evaluation of image quality can be used as a regular monitoring which provides the detection of changes in performance of the MR images before they can adversely affect clinical images.
Downloads
Download data is not yet available.
References
McGowan JC. Basic Principles of Magnetic Resonance Imaging. Neuroimaging Clin N Am. 2008;18(4):623–36.
Maehara T. MRI: Imaging techniques and clinical indications. Brain Nerve. 2002;54(10):841–9.
Möllenhoff K, Oros-Peusquens A-M, Shah NJ. Introduction to the basics of magnetic resonance imaging. Neuromethods. 2012;71:75–98.
Shah B, Anderson SW, Scalera J, Jara H, Soto JA. Quantitative MR imaging: Physical principles and sequence design in abdominal imaging. Radiographics. 2011;31(3):857–75.
Chen C-C, Wan Y-L, Wai Y-Y, Liu H-L. Quality assurance of clinical MRI scanners using ACR MRI phantom: Preliminary results. J Digit Imaging. 2004;17(4):279–84.
กรมวิทยาศาสตร์ กระทรวงสาธารณสุข. ข้อกำหนดการควบคุมคุณภาพเครื่องเอ็มอาร์ไอ. 1st ed. Vol.2558. โรงพิมพ์ชุมนุมสหกรณ์การเกษตรแห่งประเทศไทย; 32 p.
American College of Radiology. Phantom test guidance for the ACR MRI accreditation program; 2005.
American College of Radiology. Magnetic resonance imaging quality control manual. 2004
Park B-J, Kim K-Y, Kim SJ. Design of RF coils for magnetic resonance imaging. Inf Jpn. 2015;18(12):5117–21.
Sohn S-M, DelaBarre L, Gopinath A, Vaughan JT. RF head coil design with improved RF magnetic near-fields uniformity for magnetic resonance imaging (MRI) systems. IEEE Trans Microw Theory Tech. 2014;62(8):1784–9.
Callaghan PT, Eccles CD. Sensitivity and resolution in NMR imaging. J Magn Reson 1969. 1987;71(3):426–45.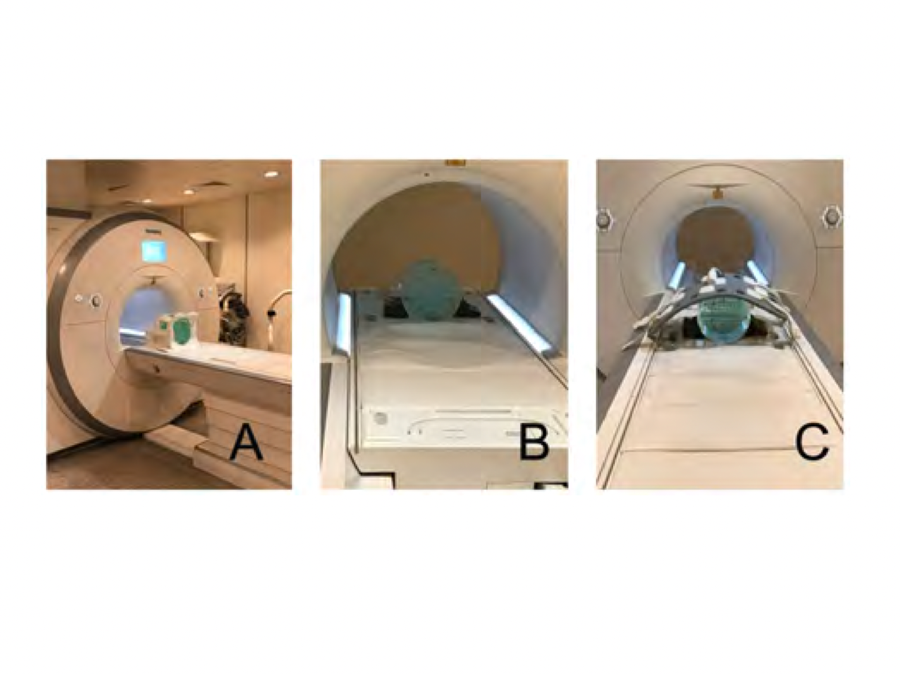 Downloads
How to Cite
1.
Seemoon พ, Boonphongsathian ว, Thammagul เ, Jaruchainiwat ศ, Hanpanich เ. Evaluation of image quality from three radiofrequency coils: ACR-MRI phantom study. Thai J Rad Tech [Internet]. 2018 Dec. 28 [cited 2022 Jul. 5];43(1):29-35. Available from: https://he02.tci-thaijo.org/index.php/tjrt/article/view/246330
Section
Original articles
License
บทความที่ได้รับการตีพิมพ์เป็นลิขสิทธิ์ของสมาคมรังสีเทคนิคแห่งประเทศไทย (The Thai Society of Radiological Technologists)
ข้อความที่ปรากฏในบทความแต่ละเรื่องในวารสารวิชาการเล่มนี้เป็นความคิดเห็นส่วนตัวของผู้เขียนแต่ละท่านไม่เกี่ยวข้องกับสมาคมรังสีเทคนิคแห่งประเทศไทยและบุคคลากรท่านอื่น ๆในสมาคม ฯ แต่อย่างใด ความรับผิดชอบองค์ประกอบทั้งหมดของบทความแต่ละเรื่องเป็นของผู้เขียนแต่ละท่าน หากมีความผิดพลาดใดๆ ผู้เขียนแต่ละท่านจะรับผิดชอบบทความของตนเองแต่ผู้เดียว