Development and assessment of CUFastTech mobile application for plain radiograph
Keywords:
Mobile application/ Radiographic positioning/ Android operating system
Abstract
Background: Radiographer should properly position body parts and select exposure techniques to obtain the best diagnostic radiology. Both routine and special projections for radiographic positioning may cause radiographer to confuse and make some mistakes in practical. Recently, there are several smartphone-based applications for training and learning in many fields including diagnostic radiology.
Objective: The aim of this study was to develop and evaluate this smartphone-based application operated on Android operating system to guide the radiographer for patient positioning and to revise the knowledge. 
Materials and Methods: A mobile application was developed on the computer with the Android Studio software that used to write the command codes for creating an application and inserting x-ray images derived from the database of King Chulalongkorn Memorial Hospital. The procedures for patient positioning were performed with the presenter. The mobile application was tested on Genymotion software before assessing the usability and satisfactory by undergraduate students.
Results: CUFastTech application installed on smartphone with Android operating system can be used to guide the radiographer for patient positioning and to learning by yourself. It composed of the functions of learning and prompt-searching. The content and format of this mobile application was satisfied, however the SUS score was lower than the acceptable values.
Conclusion: CUFastTech application can be used as an appropriate tool for patient positioning in clinical practice. 
Downloads
Download data is not yet available.
References
Long BW, Rollins JH, Smith BJ. Merrill's atlas of radiographic positioning and procedures. 13th ed. Elsevier; 2016.
Szekely A, Talanow R, Bagyi P. Smartphones, tablets and mobile applications for radiology. European Journal of Radiology. 2013; 82: 829-836.
Fernández-Lao C, Cantarero-Villanueva I, Galiano-Castillo N, Caro-Morán E, Díaz-Rodríguez L, Arroyo-Morales MJBME. The effectiveness of a mobile application for the development of palpation and ultrasound imaging skills to supplement the traditional learning of physiotherapy students. BMC Med Educ. 2016; 16(1): DOI 10.1186/s12909-016-0775-1.
Kim MS, Aro MR, Lage KJ, Ingalls KL, Sindhwani V, Markey MK. Exploring the Usability of Mobile Apps Supporting Radiologists' Training in Diagnostic Decision Making. Journal of the American College of Radiology. 2016; 13(3): 335-43.
iMedicalApps. 2020. Available from: https://www.imedicalapps.com/specialty/radiology/
Lee D, Moon J, Kim YJ, Yi MY. Antecedants and consequences of mobile phone usability: Linking simplicity and interactivity to satisfaction, trust, and brand loyalty. Information & Management. 2015; 52: 295-304.
Hoehle H, Ajafari R, Venkatesh V. Leveraging Microsoft's mobile usability guidelines: Conceptualizing and developing scales for mobile application usability. Int. J. Human-Computer Studies. 2016; 89: 35-53.
Ahn C., Cho Y., Oh J., Song Y., Lim TH., Kang H., et al. Evaluation of smartphone applications for cardiopulmonary resuscitation training in South Korea. BioMed Research International. 2016; DOI 10.1155/2016/6418710.
Veazie S, Winchell K, Gilbert J, et al. Mobile applications for self-management of databases. Technical Brief. 2018; 31.
Zhou L., Bao J., Setiawan MA., Saptono A., Parmanto B. The mHealth App usability questionnaire (MAUQ): development and validation study. JMIR Mhealth Uhealth. 2019; 7(4): e11500.
Gali RL, Smith E. RadTechPro App Review. J Digit Imaging. 2016; 29(4): 403-405.
Iradtech mobile application. 2018. Available from: https://iradtech.com
Android developers. 2020. Available from: https://develop.android.com/guide
Genymotion Android emulator. 2014-2020. Available from: https://www.genymotion.com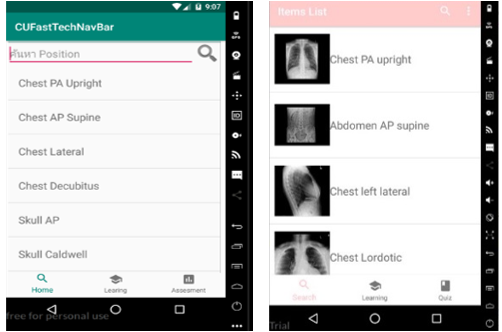 Downloads
How to Cite
1.
Nittayasupaporn B, Tohsen F, Poungpum T, Apipunyasopon L. Development and assessment of CUFastTech mobile application for plain radiograph. Thai J Rad Tech [Internet]. 2021 Feb. 1 [cited 2023 Feb. 2];45(1):1-7. Available from: https://he02.tci-thaijo.org/index.php/tjrt/article/view/246635
Section
Original articles
License
บทความที่ได้รับการตีพิมพ์เป็นลิขสิทธิ์ของสมาคมรังสีเทคนิคแห่งประเทศไทย (The Thai Society of Radiological Technologists)
ข้อความที่ปรากฏในบทความแต่ละเรื่องในวารสารวิชาการเล่มนี้เป็นความคิดเห็นส่วนตัวของผู้เขียนแต่ละท่านไม่เกี่ยวข้องกับสมาคมรังสีเทคนิคแห่งประเทศไทยและบุคคลากรท่านอื่น ๆในสมาคม ฯ แต่อย่างใด ความรับผิดชอบองค์ประกอบทั้งหมดของบทความแต่ละเรื่องเป็นของผู้เขียนแต่ละท่าน หากมีความผิดพลาดใดๆ ผู้เขียนแต่ละท่านจะรับผิดชอบบทความของตนเองแต่ผู้เดียว