The innovative inlet and outlet positioning device for pelvic X-ray imaging at Songklanagarind Hospital
Keywords:
Pelvis x-ray positioning device, Pelvic radiograph, Reducing repeat rate
Abstract
The purposes of this study were to invent a pelvic x-ray imaging device in the Inlet and outlet positions, and to determine the optimal operating distance of the device as well as evaluation of device used by students and radiological technologists. We studied using pelvis phantom in the pelvis inlet and outlet x-ray to determine the criteria. Then let the third-year radiological technology students (n=30) and the radiological technologists at Songklanagarind Hospital (n=9) used the innovation with pelvis phantom to compare the repeated rate before and after using the innovation along with a satisfaction assessment after use the device. We found that the setting criteria of this innovation for pelvis inlet x-ray were the top border at 1 inch above iliac crest and the bottom border at level of groin or 5 inches under anterior superior iliac spine (ASIS). For pelvis outlet x-ray is sets the top border at 1 inch above Iliac crest and the bottom border at 1 inch below the groin. Then set the center ray between the top and bottom border of the device. After the radiological technologists have used the device with pelvis phantom, the results showed that the repeated rate of pelvis inlet x-ray decreased from 64.00% to 0% and pelvis outlet x-ray decreased from 47.06% to 0% with cover the desired area.
Downloads
Download data is not yet available.
References
Mostafavi HR, Tornetta P 3rd. Radiologic evaluation of the pelvis. Clin Orthop Relat Res 1996;329:6-14.
Pekmezci M, Kandemir U, Toogood P, Morshed S. Are conventional inlet and outlet radiographs obsolete in the evaluation of pelvis fractures? J Trauma Acute Care Surg 2013;74:1510-1515.
Karkhur Y, Tiwari A, Maini L, Bannsal V, Kakralia A. Radiological evaluation of pelvic inlet and outlet radiographic view in Indian population. J Clin Orthop Trauma 2018;9:334-337.
Snell RS. Clinical anatomy for medical students. 5th Edition; Little Brown & Co;1995.
Lampignano J, Kendrick L. Bontrager's Textbook of Radiographic Positioning and Related Anatomy-E-Book. 9th Edition; Elsevier Health Sciences; 2017.
Mostafavi HR, Tornetta P 3rd. Radiologic evaluation of the pelvis. Clin Orthop Relat Res 1996;329:6-14.
Ballinger PW, Frank ED. Merrill's atlas of radiographic positions and radiologic procedures. Vol. 3. Mosby 10th Edition;1999.
Ricci WM, Mamczak C, Tynan M, Streubel P, Gardnner M. Pelvic inlet and outlet radiographs redefined. J Bone Joint Surg Am 2010;92:1947-1953.
บริษัทไชยเจริญเทคจำกัด. สแตนเลส เหล็กกล้าไร้สนิม ประเภทและคุณสมบัติที่น่ารู้หลายประการ (บทความออนไลน์). [สืบค้น 8 มี.ค. 2564]. เข้าถึงได้ที่ URL: https://www.chi.co.th/article/article- 853/
Lin CS, et al. Guidelines for reducing image retakes of general digital radiography. Advances in Mechanical Engineering 2016;8:1-6.
Subinmongkol I. The device design allows positioning of the x-ray knee and hip joints. Journal of the Department of Medical Science 2018;43:51-55.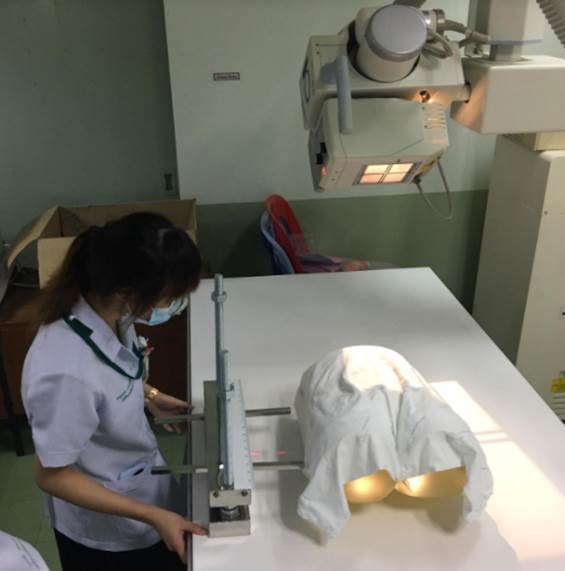 Downloads
How to Cite
1.
Ina N, Kongchaiwat P, Nantasri N, Chanchayanon T, Cheewakul J, Thiangsook W. The innovative inlet and outlet positioning device for pelvic X-ray imaging at Songklanagarind Hospital. Thai J Rad Tech [Internet]. 2021 Sep. 17 [cited 2022 Nov. 28];46(1):26-34. Available from: https://he02.tci-thaijo.org/index.php/tjrt/article/view/251327
Section
Original articles
License
บทความที่ได้รับการตีพิมพ์เป็นลิขสิทธิ์ของสมาคมรังสีเทคนิคแห่งประเทศไทย (The Thai Society of Radiological Technologists)
ข้อความที่ปรากฏในบทความแต่ละเรื่องในวารสารวิชาการเล่มนี้เป็นความคิดเห็นส่วนตัวของผู้เขียนแต่ละท่านไม่เกี่ยวข้องกับสมาคมรังสีเทคนิคแห่งประเทศไทยและบุคคลากรท่านอื่น ๆในสมาคม ฯ แต่อย่างใด ความรับผิดชอบองค์ประกอบทั้งหมดของบทความแต่ละเรื่องเป็นของผู้เขียนแต่ละท่าน หากมีความผิดพลาดใดๆ ผู้เขียนแต่ละท่านจะรับผิดชอบบทความของตนเองแต่ผู้เดียว