Potentials of Community in Community-Based Health Promotion for Pregnant Woman
Onanong Buala

Khanitta Nuntaboot
Keywords:
potentials, community-based, health promotion, pregnant woman
Abstract
This focused ethnography aimed to explore the potential of community-based health
promotion for pregnant woman. The participants were pregnant women and those involved in health
promotion for pregnant women in the community, a total of 150 people. Data were collected by
observation, interviews and group discussions. Content analysis was used for data analysis.
The results reflected the social, economic and health conditions of pregnant women. Pregnant
women and people in the community had the potential to learn and take care of their own health
and that of family members. Community Organizations and the Local Administrative Organization
engaged in health promotion activities for pregnant women in the community. Activities during
pregnancy included: developing personal skills, especially in poor mothers, single mothers and those
with their first pregnancy; providing health services and emergency assistance services; managing the
environment, and; supporting access to rights and welfare from the government and community.
Activities in the postpartum period and the child-rearing period; developing maternal skills and
culturally-appropriate health services and care were provided, and a budget was allocated for health
insurance. The interoperability of all sectors drives the promotion of pregnant women's health in the
community across all dimensions. Recommendations include preparing a strategic plan for the care
of pregnant women in the community, especially underprivileged pregnant women, and developing
the competency and potential of nurses to better fulfill their roles in accordance with the strategic
plan for health promotion.
Downloads
Download data is not yet available.
References
Anderson, E.T., & McFarlane, J. M. (2015). Community as partner: theory and practice in nursing (7th ed.). Philadelphia: Lippincott Williams & Wilkins.

Department of children and youth. (2016). A policy on financial support support for raising the new born. Retrieved from http://www.prachuapkhirikhan.m-society.go.th/? wpfb_dl=221. Retrieved July 29, 2018. [In Thai]

Fetterman, D.M. (1998). Ethnography: Step-by-Step (2nd ed.). California: SAGE Publications.

Guba, E.G. & Lincoln, Y.S. (1985). Naturalistic inquiry. Newbury Park, CA.: SAGE.

Lecompte, M.D., & Schensul, J.J. (1999). Analyzing and Interpreting Ethnographic Data. Canada: AltaMira Press.

Marmot, M., & Wilkinson, G.R. (2006). Social determinants of health (2nd ed.). Hampshire (UK): Ashford Colour Press.

Ministry of Public Health. (2017). Twenty-Year National Strategic Plan. Retrieved from https://waa.inter.nstda.or.th/stks/pub/2017/20171117-Ministry of PublicHealth.pdf. Retrieved June 29, 2018. [In Thai]

Morse, J.M. (2012). Qualitative health research creative a new discipline. California: Left Coast.

National Health Commission Office. (2009). The National Health System Constitution. Retrieved from https://www.nationalhealth.or.th/sites/default/files/upload_files/dmdocs/Tum_finalNH_resize.pdf. Retrieved June 29, 2018. [In Thai]

Nuntaboot, K. (2010). Community health system the collaborative process of 3 major systems in the community. Nonthaburi: The Graphic Go Systems. [In Thai]

Nuntaboot, K. (2013). Rapid Ethnographic Community Assessment: RECAP. Bangkok: Thai Health Promotion Foundation. [In Thai]

Raingruber, B. (2017). Contemporary Health Promotion in nursing practice. John & Bartlett Learning. LLC, an Ascent Learning Company.

Schreier, M. (2012). Qualitative content analysis in practice. London: Sage.

United Nations. (2019). Sustainable Development Goals. Retrieved from https://www.un.org/sustainabledevelopment/health/. Retrieved March 29, 2019.

World Health Organization. (2009). Milestones in Health promotionstatements from global conferences. Retrieved from http://www.who.int/healthpromotion/Milestones_Health_Promotion_05022010.pdf. Retrieved March 15, 2019.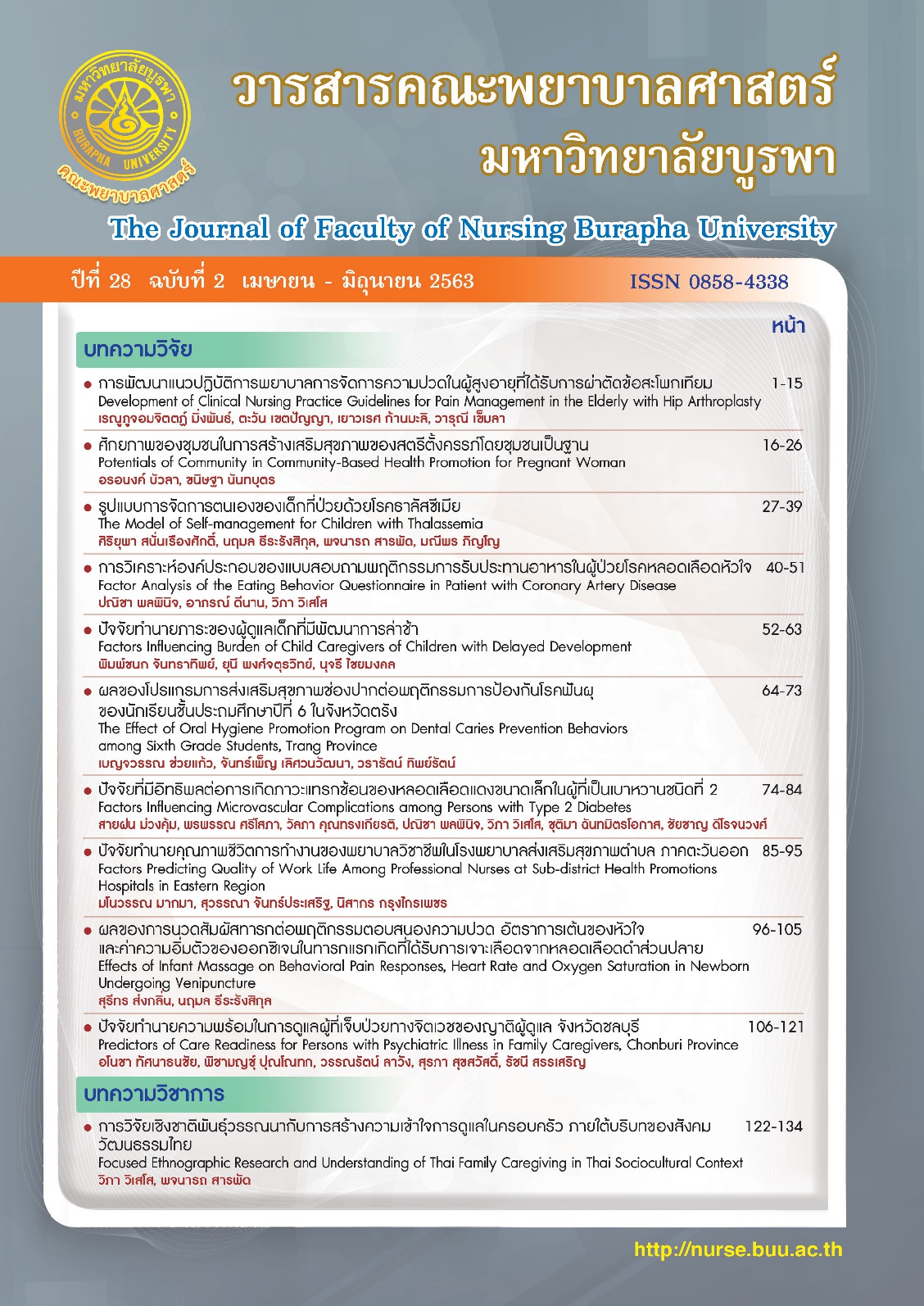 How to Cite
Buala, O., & Nuntaboot, K. (2020). Potentials of Community in Community-Based Health Promotion for Pregnant Woman. The Journal of Faculty of Nursing Burapha University, 28(2), 16-26. Retrieved from https://he02.tci-thaijo.org/index.php/Nubuu/article/view/242867