Comparison efficiency centrifuge for coagulation testing between speed 4,000 rpm in 5 minutes and standard method
Keywords:
Coagulation tests, Centrifugation, Hemolysis
Abstract
Background: Prothrombin time (PT), International normalized ratio (INR) and Activated  partial thromboplastin time (APTT) are the commonly requested routine coagulation tests for the screening of acquired and inherited coagulation disorders and the monitoring of anticoagulation therapy. The clinical and laboratory standard institute (CLSI) require routine coagulation test are performed with platelet-poor plasma (<10,000 platelets/Ul) at low speed for 15 minutes at 1,500g (3,500rpm).
Objective: To compare results obtain from plasma centrifuge for 5 minutes at 4,000 rpm and standard method for coagulation testing to provide faster laboratory reports.
Material and methods: The blood samples were collected from 60 healthy volunteer age of 18-25 years old. There were prospectively assayed simultaneously for the Prothrombin time (PT), Activated partial thromboplastin time (APTT), International    normalized ratio (INR),platelet count, potassium (K+) and lactate dehydrogenase (LDH) comparing centrifugation at 4,000 rpm for 5 minutes with centrifugation at 3,500 rpm for 15 minutes.
Result: Excellent correlation of method was observed for the PT, APTT and INR. Platelet count, K+ and LDH on the plasma supernatant showed no significant difference between the two centrifugation methods.
Conclusion: Five minutes centrifugation at 4,000 rpm is a reliable and useful option to decrease the specimen preparation time for routine coagulation testing.
Downloads
Download data is not yet available.
References
สถาบันประสาทวิทยา กรมการแพทย์. แนวทางการพยาบาลผู้ป่วยโรคหลอดเลือดสมอง สำหรับพยาบาลทั่วไป. พิมพ์ครั้งที่ 1. กรุงเทพฯ: ธนาเพรสการพิมพ์; 2559.
Clinical and Laboratory Standards Institute. Collection, Transport, and Processing of Blood Specimens for Testing Plasma-Based Coagulation Assays and Molecular Hemostasis Assays; Approved Guideline. 5th ed. CLSI Document H21–A5. Wayne, PA: Clinical and Laboratory Standards Institute; 2009.
พิสุทธินี กันธารักษ์, กนกวรรณ ใจพิงค์ และ สุรศักดิ์ เรือนกองเงิน. การศึกษาเวลาที่เหมาะสมในการปั่นแยกพลาสมาจากหลอด 3.2% Sodium Citrate เพื่อลดเวลาในการตรวจวิเคราะห์ PT, INR. [อินเทอร์เน็ต]. 2559 [เข้าถึงเมื่อ 2 ส.ค.2561]. เข้าถึงได้จาก: http: //www.zrolsoft.com/lpnhresearch/index.php/th/2559/39-3-2-sodium-citrate-pt-inr
Mansour MM, Azzazy HM, Kazmierczak SC. Correction factors for estimating potassium concentration in samples with in vitro hemolysis. Arch Pathol Lab Med 2009; 133:960-6.
Sweeney JD, Cheves TA, Laga AC. The effect of specimen hemolysis on coagulation test results. Am J Clin Pathol 2006; 126:748-55.
พัชราวดี ศรีงาม, จิราพร สิทธิถาวร, ภานุทรรศน์ กฤชเพชรรัตน์.การประเมินประสิทธิภาพการปั่นแยกพลาสม สำหรับการทดสอบการแข็งตัวของเลือดด้วยเครื่องปั่นเหวี่ยงความเร็วสูง. วารสารโลหิตวิทยาและเวชศาสตร์ บริการโลหิต 2556; 23:211-16
Chih HK, Ling CS, Wen HY. Evaluation of a high-speed centrifuge with rapid preparation of plasma for coagulation testing to improve turnaround time. J Biomed Lab Sci 2010; 22:23-7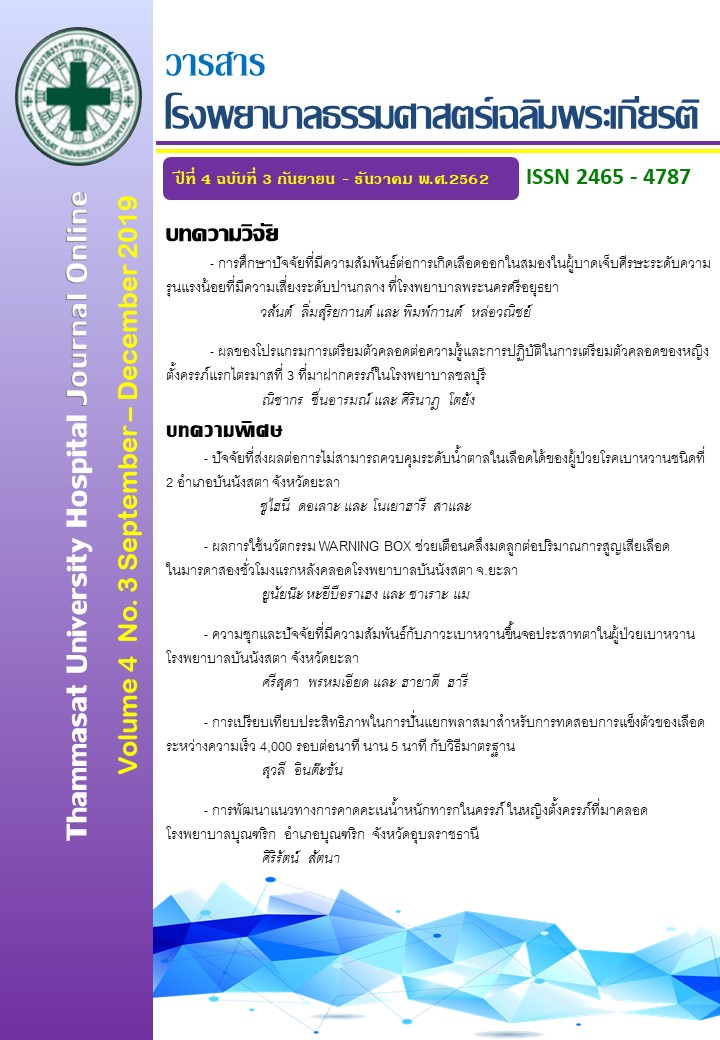 Downloads