A Case Report : A Live Intracameral Angiostrongyliasis with Anterior Uveitis
รัตนาภรณ์ โรจนทัพพะ

โรงพยาบาลอรัญประเทศ
Keywords:
Angiostrongylus spp., ocular angiostrongyliasis, intracameral
Abstract
Angiostrongylus spp. is a filiform nematode which is the causative organism in ocular angiostrongyliasis. It
commonly affects various parts of the eye such as anterior chamber, vitreous cavity, subretina and optic
nerve. We report the case of a 38-year-old Thai man presenting with eye irritation and photophobia on his
right eye. The examination shows a live intracameral nematode with anterior uveitis. We performed surgical
removal immediately. Finally the nematode was identified as Angiostrongylus spp. by a parasitologist.
Downloads
Download data is not yet available.
References
Feng Y, Nawa Y, Sawanyavisuth K, Lv Z, Wu ZD. Comprehensive review of ocular angiostrongyliasis with special reference to optic neuritis. Korean J Parasitol. 2013; 51: 613-619.
น.ศพ.อัจฉบุณณ์ แสงศิริรักษ์. โรคพยาธิหอยโข่ง. จุลสารศูนย์วิจัยและพัฒนาการสัตวแพทย์ภาคเหนือตอนล่าง 2557;41-42:1-2
Makerras MJ, Sandras DF. The life history of the rat lungworm Angiostrongylus cantonmesis (Chen).Aust J Zool. 1995; 3:1-25.
รศ.ดร.ประภาทิพย์ เอี่ยมโสภณา. (2555).พยาธิขึ้นสมองกับอาหารสุกๆดิบๆ. retrived January 18, 2020, Website : https://www.si.mahidol.ac.th/th/department/parasitology/articledetail.asp?ac_id=13&pageno=1
Sawanyavisuth K, Kitthaweesin K, Limpawattana P, Intapan PM, Tiamkao S, Jitpimolmard S et al. Intraocular angiostongyliasis: clinical finding, treatments and outcomes. Trans R Soc Trop Med Hyg. 2017; 101:497-501.
Kumar V, Kyprianou I, Keenan JM. Ocular angiostrongyliasis: removal of a live nematode from the anterior chamber. Eye (Lond). 2005; 19:229-230.
Prommindaroj K, Leelawong N, Pradatsundarasar A. Human angiostrongyliasis of the eye in Bangkok. Am J Trop Med Hyg. 1962;1:759-761.
Sinawat S, Trisakul T, Choi S, Morley M, Yospaiboon Y.Ocular angiostrongyliasis in Thailand: a retrospective analysis over two decades.Clinical Ophthalmology.2019;13:1027-1031.
Sirawat S, Sanguansak T, Angkawinnijwong T, Ratanapakorn T, Tntapan PM, Sinawat S, Yospaiboon Y. Ocular angiostrongyliasis: clinical study of three cases.Eye /(Lond) . 2008; 22:1446-1448.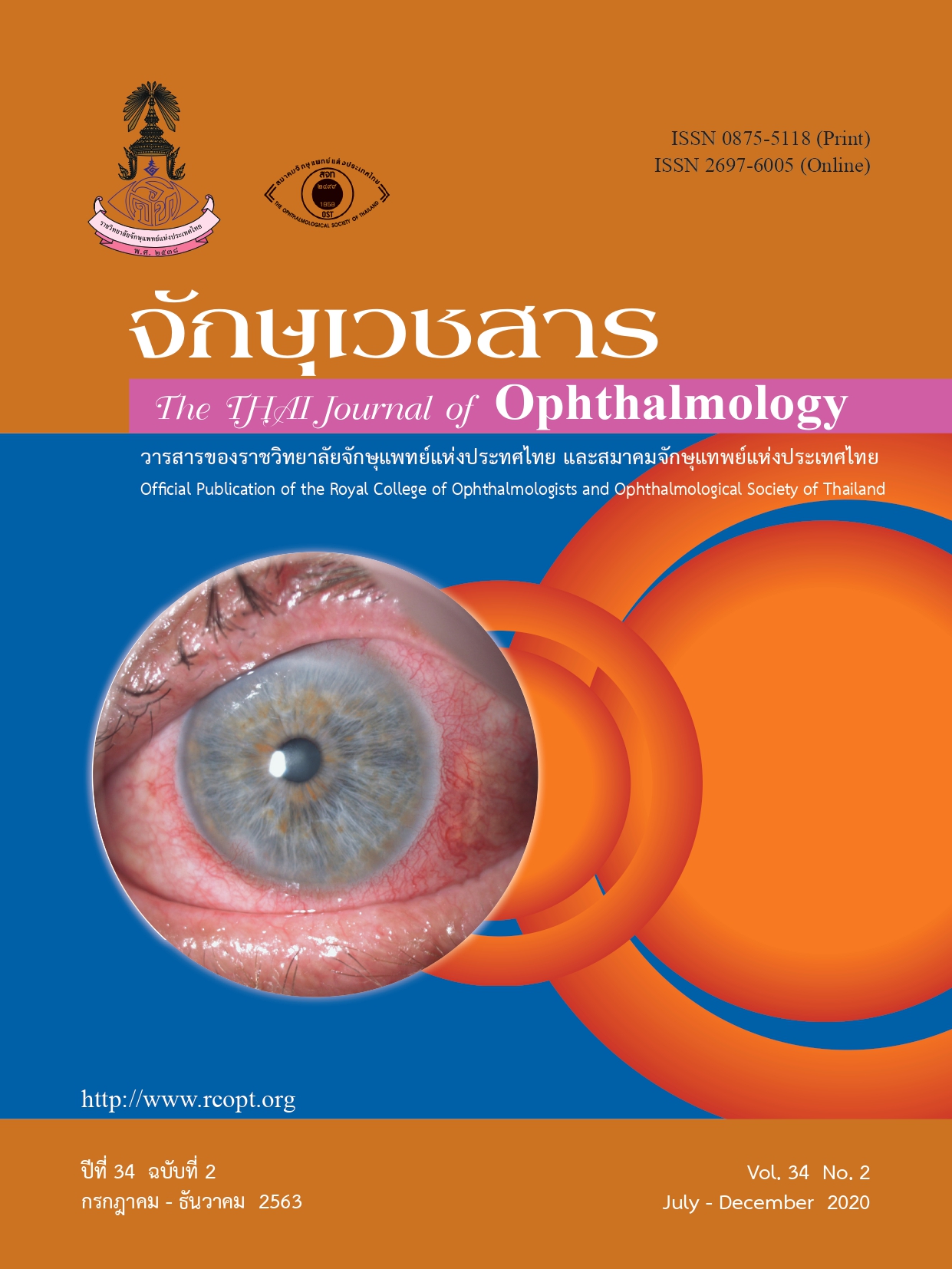 Section
Original Articles
Copyright (c) 2020 The THAI Journal of OPHTHALMOLOGY
This work is licensed under a Creative Commons Attribution-NonCommercial-NoDerivatives 4.0 International License.
The Thai Journal of Ophthalmology (TJO) is a peer-reviewed, scientific journal published biannually for the Royal College of Ophthalmologists of Thailand. The objectives of the journal is to provide up to date scientific knowledge in the field of ophthalmology, provide ophthalmologists with continuing education, promote cooperation, and sharing of opinion among readers.
The copyright of the published article belongs to the Thai Journal of Ophthalmology. However the content, ideas and the opinions in the article are from the author(s). The editorial board does not have to agree with the authors' ideas and opinions.
The authors or readers may contact the editorial board via email at admin@rcopt.org.