COVID-19 and the Department of Ophthalmology, Maharaj Nakorn Chiang Mai Hospital 2020-2021
Prapassorn Patikuksila

Department of Ophthalmology, Faculty of Medicine, Chiang Mai University
Abstract
โลกเปลี่ยนไป ใครเล่าจะคิดว่าจะมีเชื้อโรคขนาดจิ๋ว มาทำให้เกิดโรคระบาด ลุกลามไปทั่วโลก จำนวนผู้ติดเชื้อมหาศาลล้มตายก็มากโข และยังไม่มีใครทราบว่าเรื่องจะจบเมื่อไร และจบอย่างไร ผ่านไปครบปีแล้ว เมื่อไรหนอที่เราจะกลับมาใช้ชีวิตแบบเดิมอีก เชื้อไวรัสตัวจิ๋ว ที่เรียกว่า SARS-CoV-2 นี้ ทำให้คนเราอยู่ยากทีเดียว ไม่ว่าหญิงหรือชาย เด็กหรือผู้ใหญ่ คนมีหรือคนยากไร้ ล้วนแต่ได้รับผลกระทบทั้งสิ้น ก็ต้องปรับกันไป รวมทั้งภาควิชาจักษุ เชียงใหม่ของเรา ทั้งด้านการเรียนการสอนทุกระดับ ไม่ว่าจะเป็นนักศึกษาแพทย์ แพทย์ประจำบ้าน หรือแพทย์ประจำบ้านต่อยอด ด้านการบริการตรวจรักษาและผ่าตัดผู้ป่วยจักษุ การวิจัย และการทำงานของบุคลากรฝ่ายสนับสนุน
Downloads
Download data is not yet available.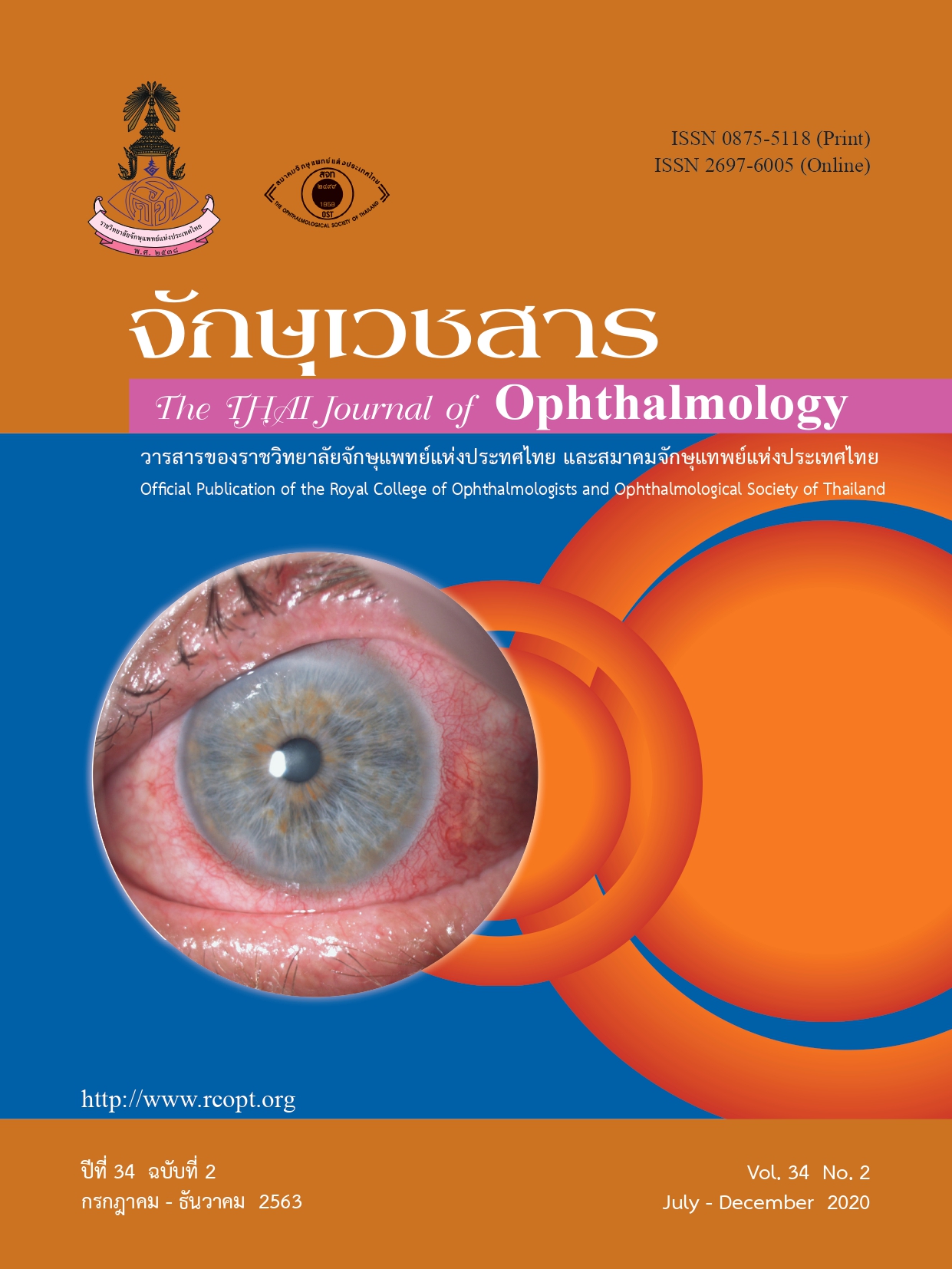 Copyright (c) 2020 Thai J Ophthalmol
This work is licensed under a Creative Commons Attribution-NonCommercial-NoDerivatives 4.0 International License.
The Thai Journal of Ophthalmology (TJO) is a peer-reviewed, scientific journal published biannually for the Royal College of Ophthalmologists of Thailand. The objectives of the journal is to provide up to date scientific knowledge in the field of ophthalmology, provide ophthalmologists with continuing education, promote cooperation, and sharing of opinion among readers.
The copyright of the published article belongs to the Thai Journal of Ophthalmology. However the content, ideas and the opinions in the article are from the author(s). The editorial board does not have to agree with the authors' ideas and opinions.
The authors or readers may contact the editorial board via email at admin@rcopt.org.