Biometric and Refractive Changes after Trabeculectomy with Mitomycin C
Jomkwan Hengsawat

Department of Ophthalmology, Phramongkutklao Hospital

Wallop Iemsomboon

Department of Ophthalmology, Phramongkutklao Hospital

Raveewan Choontanom

Department of Ophthalmology, Phramongkutklao Hospital

Ornwasee Jatuthong

Department of Ophthalmology, Phramongkutklao Hospital
Keywords:
Biometric, Keratometry, Anterior chamber depth, Axial length, Refraction, Glaucoma
Abstract
Objective: The study aimed to evaluate the biometric and refractive changes after trabeculectomy with
mitomycin C ( MMC ) among patients with primary glaucoma.
Design: The study employed a prospective, observational design.
Materials and Methods: We recruited 24 patients with primary glaucoma, scheduled for trabeculectomy
with MMC. Best corrected visual acuity (BCVA), intraocular pressure (IOP), auto-refraction, keratometry,
anterior chamber depth (ACD) and axial length (AXL) were evaluated pre- and postoperatively at 2 weeks,
1, 3 and 6 months.
Results: BCVA, auto-refraction, keratometry (K1, K2) , AXL and ACD showed no significant change over
the course of the study, however postoperative mean IOP significantly decreased at 2weeks, 1, 3 and 6
months of the follow-up period when compared with the pre-operative IOP (p value <0.005), .
Conclusion: No significant difference was found regarding biometric and refractive changes after
trabeculectomy with MMC in patients with glaucoma .
Keywords: , , , , , ,
Trabeculectomy


Downloads
Download data is not yet available.
References
Kingman S. Glaucoma is second leading cause of blindness globally. Bull World Health Organ 2004;82(11):887-8.
Leske MC, Heij A, Hussein M, et al. Factors for Glaucoma progression and the effect of treatment. The Early Manifest Glaucoma Trial. Arch Ophthalmol 2003;12 (1):48-56.
Watson PG, Grierson I. The place of trabeculectomy in the treatment of glaucoma. Am Acad Ophthalmol 1981;88(3):175-96.
Cashwell LF, Martin CA. Axial length decrease accompanying successful glaucoma filtration surgery. Ophthalmology 1999;106:2307-11.
Kook MS, Kim HB, Lee SU. Short-term effect of mitomycin-C augmented trabeculectomy on axial length and corneal astigmatism. J Cataract Refract Surg 2001;27:518-23.
Nemeth J, Horoczi Z. Changes in the ocular dimensions after trabeculectomy. Intl Ophthalmol 1992; 16:355-7.
Lamoureux EL, Saw SM, JThumboo J, Wee HL, Aung T, Mitchell P, et al. The impact of corrected and uncorrected refractiveerror on visual functioning: The Singapore Malay Eye Study. Invest Ophthalmol Vis Sci 2009;50:2614-20.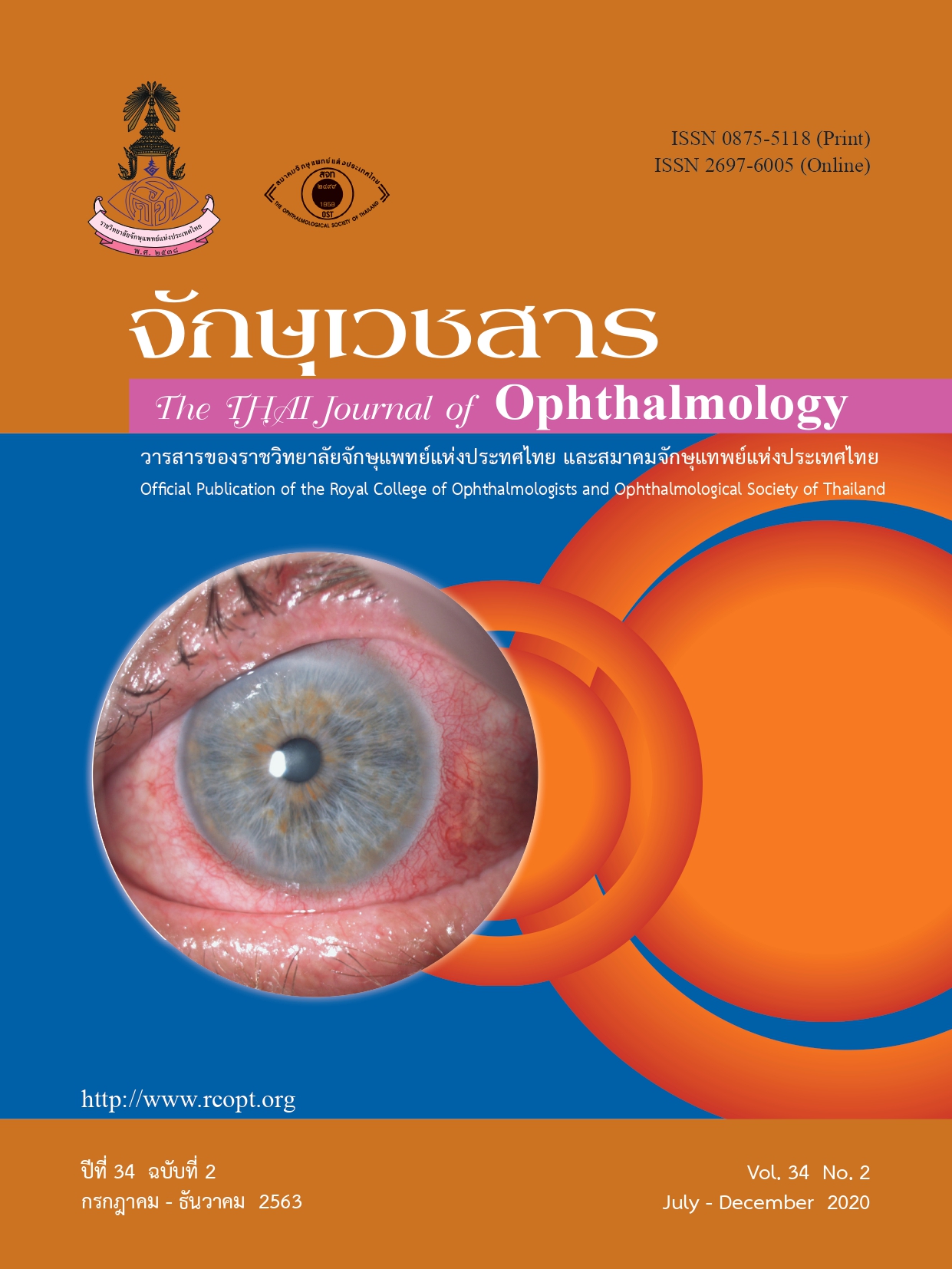 Section
Original Articles
Copyright (c) 2020 Thai J Ophthalmol
This work is licensed under a Creative Commons Attribution-NonCommercial-NoDerivatives 4.0 International License.
The Thai Journal of Ophthalmology (TJO) is a peer-reviewed, scientific journal published biannually for the Royal College of Ophthalmologists of Thailand. The objectives of the journal is to provide up to date scientific knowledge in the field of ophthalmology, provide ophthalmologists with continuing education, promote cooperation, and sharing of opinion among readers.
The copyright of the published article belongs to the Thai Journal of Ophthalmology. However the content, ideas and the opinions in the article are from the author(s). The editorial board does not have to agree with the authors' ideas and opinions.
The authors or readers may contact the editorial board via email at admin@rcopt.org.